"So far, there is no information on the authenticity of the report, or any details about the sensor in question"
2020 is expected to be a big year for smartphone photography, with image sensors of over 100 megapixel resolution expected to go mainstream. In fact, we may see a smartphone or two with image sensors going all the way up to a whopping 256 megapixels. A new post from a Weibo user has hinted at an unnamed smartphone with a 256MP image sensor is being tested. No further details regarding the make and model of either the smartphone or the sensor itself were shared alongside this post, making it considerably doubtful, and one that may or may not be entirely factual.
The post in question was shared with what appears to be a screenshot of a smartphone's camera app. While most of the interface is in Mandarin, the screenshot appears to highlight a mode that is titled '256M'. The interface is in line with new camera interfaces found in smartphones by the likes of Xiaomi, OPPO, Realme and others, where the camera app typically features a separate mode for the high resolution sensor's max resolution output.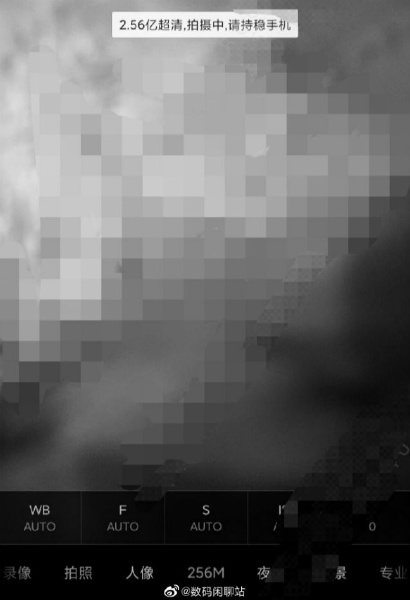 Interestingly, there is no chipset as of now that can support up to 256MP camera sensor. The latest Snapdragon 865 SoC can support up to 200MP sensor on a single camera. That said, there is a good chance that the screenshot shared here belongs to a prototype of an image sensor that is being tested internally, and isn't necessarily ready for real world implementation.
In recent times, there has been a growing debate regarding the use of high resolution image sensors. While many have been quick to highlight the benefits of pixel binning coupled with the advantage of more pixels in producing more detail, others have argued against the smaller individual pixel size, and the impact of high resolution sensors on individual file sizes. It is likely that sensor manufacturers like Sony and Samsung may be looking at technologies beyond quad pixel arrays to address the present shortcomings of high resolution sensors, by increasing the pixel count further. All of this, however, is purely speculative, since doing so would also require addressing even more engineering barriers, beginning with the size constraint of a phone's image sensor.
While this solitary screenshot doesn't particularly reveal much, it now remains to be seen whether further reports surface regarding the purported 256-megapixel image sensor, substantiating what presents remains a mostly sketchy piece of rumour.