"According to a Gartner report, the increase in 5G phones this year will be key to drive overall device shipments"
5G iPhones will reportedly boost the overall devices ecosystem in terms of shipments this year, according Gartner's latest market prediction report. According to the market research firm, 2020 will see roughly 2.16 billion devices shipped, including PCs, tablets and smartphones. This is a slight increase of 0.9 percent from the total of 2.15 billion devices that were shipped in 2019, and much of this increase will be seemingly attributed to the introduction of 5G equipped iPhones by Apple. The upcoming iPhone 12 series is expected to support both sub-6GHz and mmWave 5G connectivity.
Gartner has further stated when it comes to just smartphones, the industry will see a growth of 1.7 percent in 2019, after seeing constant decline over the past few years. In 2019, the smartphone industry saw an overall global decline of 2 percent in shipments, but the introduction of 5G devices by various OEMs such as Xiaomi, OPPO, Vivo and the likes this year, headlined by Apple's introduction of 5G iPhones, will turn the tides into a positive growth market.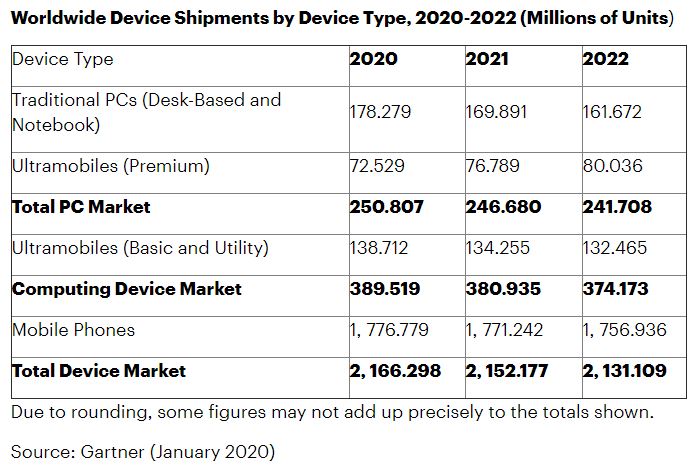 According to Gartner, 5G device shipments will account for 12 percent of all smartphones in 2020, and rise steadily up to 43 percent of all devices by 2022. This is perhaps a strong indicator of the nature of 5G rollout across the world. 5G has been seen as a pivotal technology, but one that requires considerably higher investments, all the while offering specialised use cases in industrial ends.
More interestingly, Gartner's report states that the 5G device-supported growth will not be sustained beyond 2020, and device shipments are expected to decline again from 2021. While the smartphone industry may see growth for the longer term, PC and tablets industries will likely lead to more declines. The PC industry saw a momentary revival in 2019, with Microsoft ending support for Windows 7 this year. While the same may impact the market in 2020 as well, it remains to be seen how the market fluctuates beyond 2020.