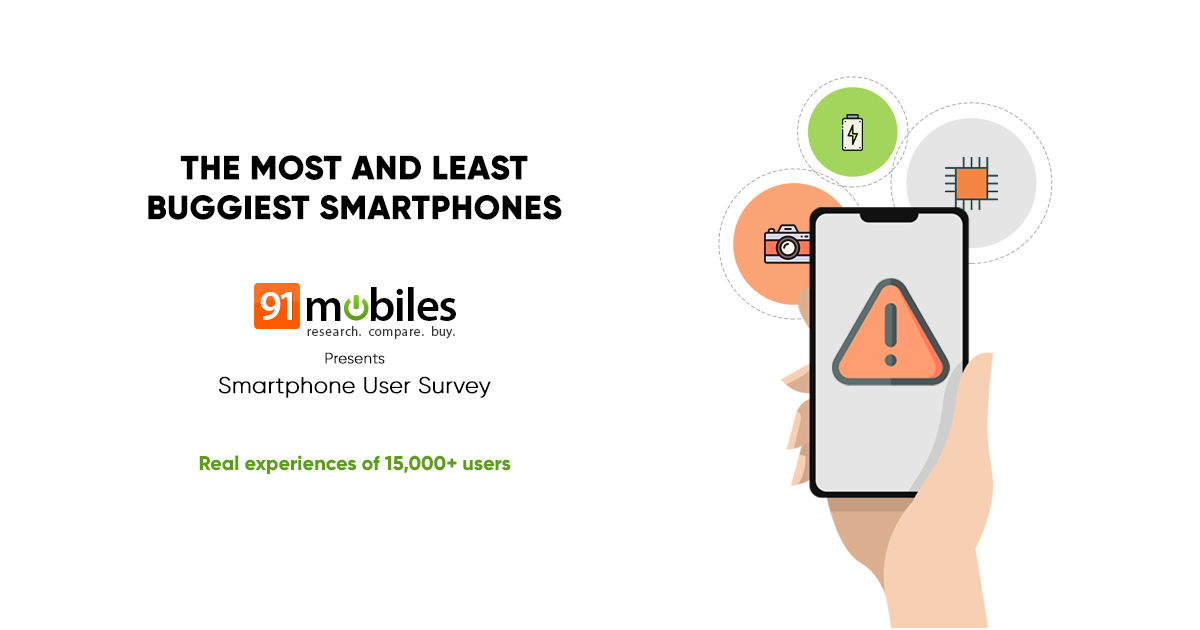 "These are the most and least buggy smartphones as per 15,000+ respondents"
The importance of our smartphones in our daily lives can't be over-emphasised – it's the most personal of our gadgets, stores all our personal and financial information, and is the go-to device for everything from communication to photography. Needless to say, any issue that crops up on our smartphone would be a matter of great concern. Let's take a look at some of the most common issues users faced when we surveyed them as part of 91mobiles Consumer Insights Study 2018.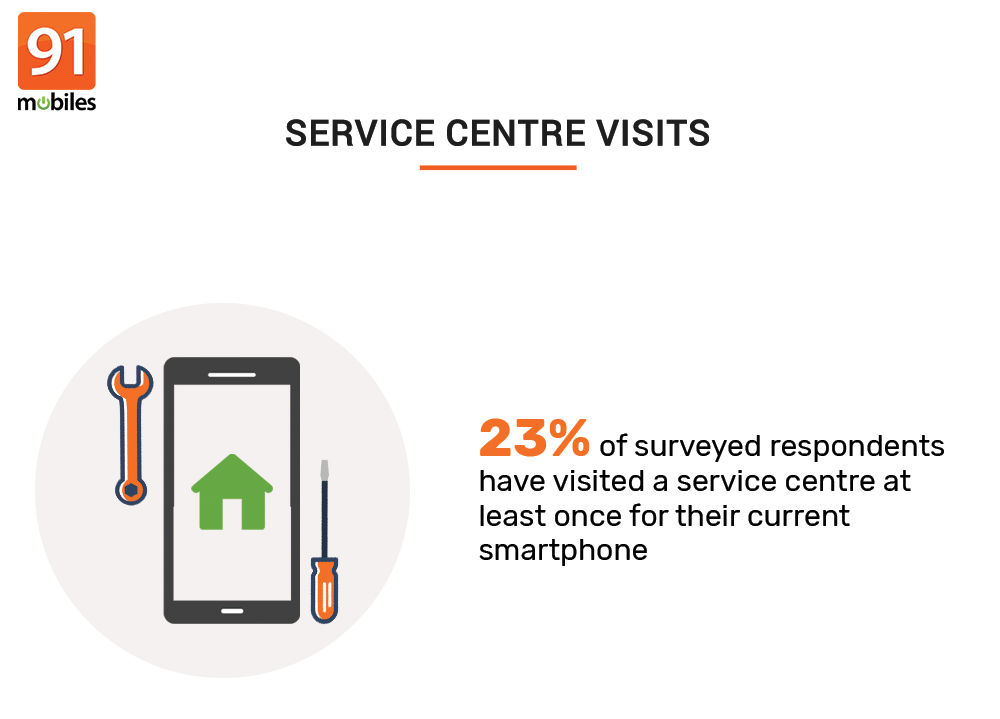 Based on replies to the question whether the users had to take their phones in for service at least once, the number of people who replied saying yes is 23 percent. To put it in a more straightforward manner, about a quarter of the respondents had to make a visit to the service centre. The percentage seems quite high if you ask us, and brands definitely need to improve manufacturing quality and use better components to ensure their users don't need to make the dreaded trip to the service centre.
After we broke up the data on service centre visits, the insights that appeared were quite interesting. Turns out, just 12.6 percent Honor users had to visit a service centre. Even OnePlus scored well here, as just 15.5 percent of its users had to make the trip. These figures for other key brands, including ASUS, LG, Xiaomi, Nokia, Apple and Samsung seem to be around the average 23 percent mark. On the negative side though, a whopping 33 percent Lenovo users had to take their phones to a service centre to get issues fixed, and this could be one of the reasons why Lenovo doesn't fare too well in other aspects of the survey.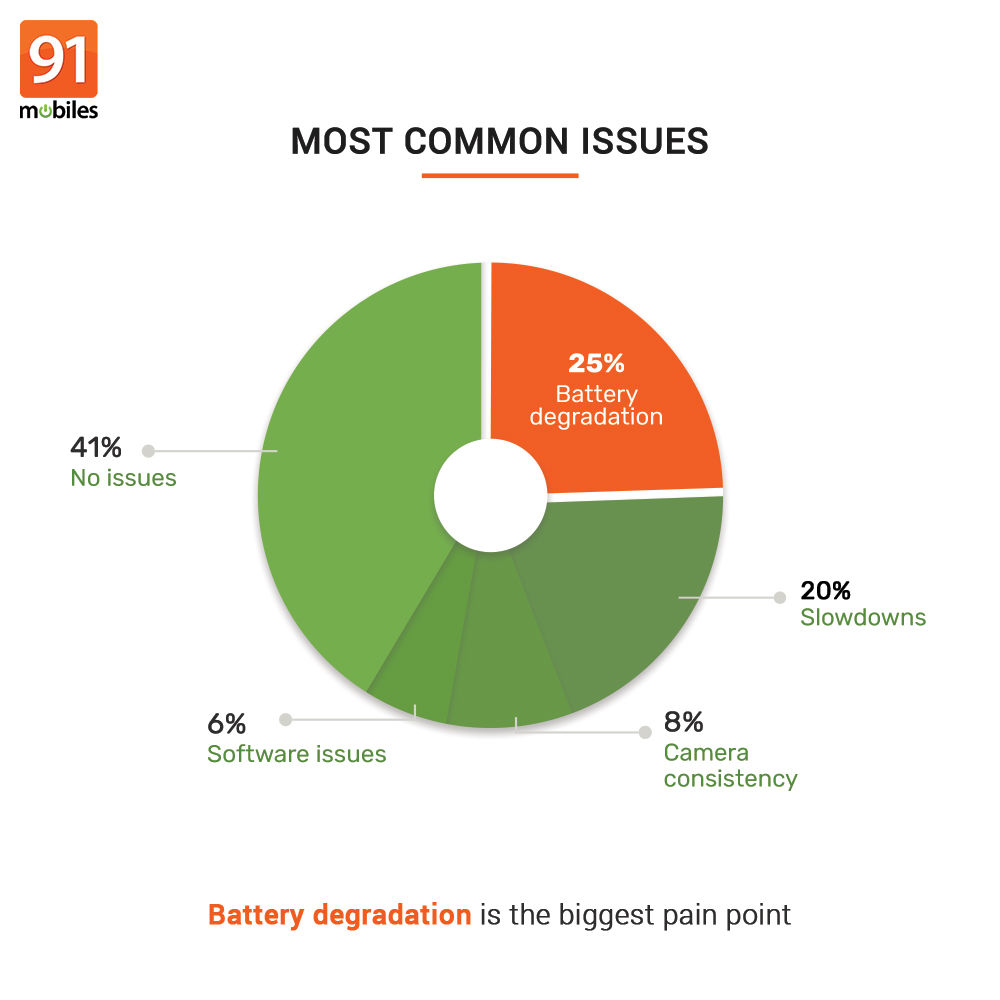 In general, battery-related concerns seem to be widespread, with a quarter of all respondents facing problems. Slowdowns and performance-related issues are pretty common too, with 20 percent users reporting these.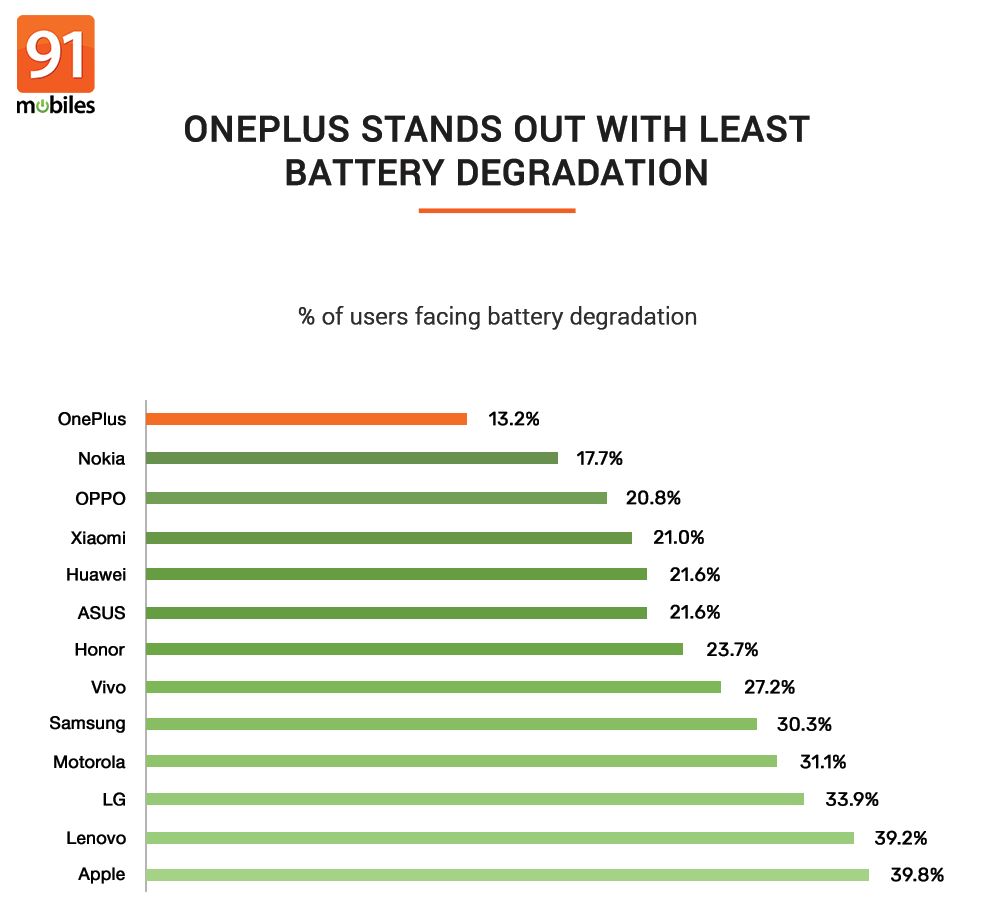 Breaking this data by brand, we came up with some other interesting insights too. Talking about battery reliability first, it's OnePlus that fares the best, with just a little over 13 percent users reporting problems. Nokia fares well here too, with less than 18 percent of its users reporting battery issues. However, users of smartphones from brands like Samsung, Motorola, and LG seem to be more affected by battery-related problems. In fact, Lenovo and Apple fare the worst here, with almost 40 percent users reporting issues. Apple iPhones aren't really known for their battery life, especially the smaller-sized variants that seem to be more popular. In fact, Apple's move of throttling performance based on battery degradation had snowballed into a big issue last year, though that may or may not have played a part in these survey results we're seeing now.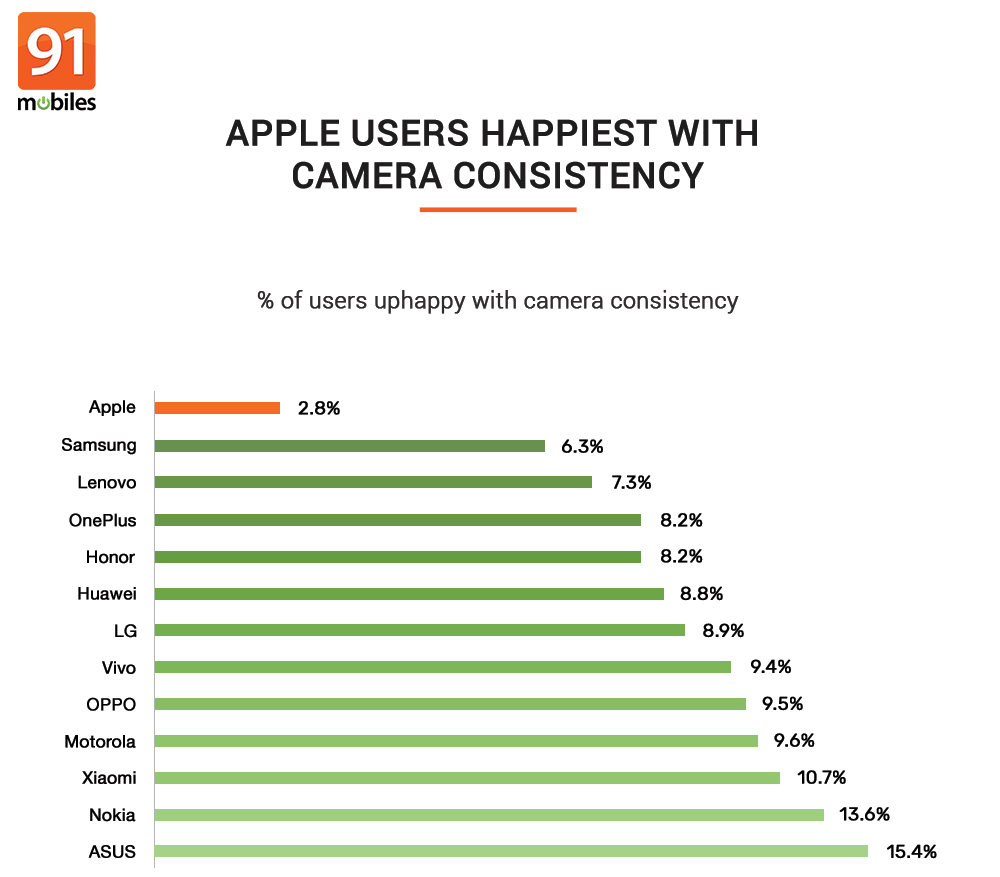 Moving to camera-related concerns, it's Apple that fares the best, with just 3 percent users facing problems related to the snapper. Samsung scores high too. Both of these brands are known for the camera prowess on their smartphone offerings, so this doesn't really come as a surprise. What does come as a surprise is that both Nokia and ASUS don't fare well here, with over 15 percent ASUS users saying they faced issues related to the cameras on their phones.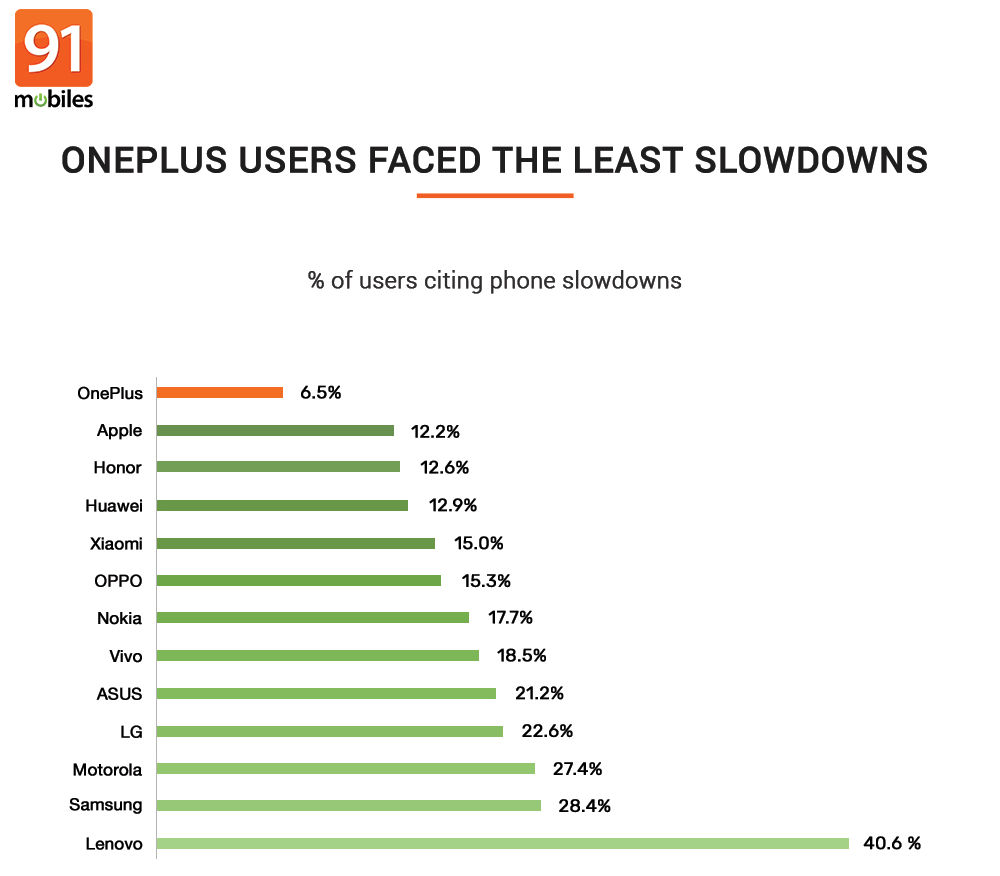 Up next is the all-important performance. Talking about performance-related concerns, it's OnePlus that takes the crown yet again, with just about 6.5 percent users saying they faced slowdowns. Of course, OnePlus smartphones, with their high-end specs and fluid OxygenOS, are known for their smooth user experience. Apple users seemed to have a good run too, with just over 12 percent users they experience slowdowns. Again, Apple's hardware-software optimisation, and the smoothness that iOS brings to smartphone usage could be the reasons for this. Xiaomi sits somewhere in the middle of the pile with 15 percent of its users reported slowdowns. Samsung does't fare well here, with almost 30 percent of its users reporting performance-related problems, and we'd have to blame the software here. TouchWiz, Samsung's custom Android skin, was known for its feature spam and slowing down over time, especially before the brand moved to a cleaner platform with Experience UI. However, it's Lenovo that sits at the bottom, with a whopping 40 percent of its users saying their phones displayed signs of slowing down.
The most desired features
We asked respondents about features they miss the most on their current smartphones, and while most of the replies we received were in line with expectations, there were a few interesting highlights. The data shows that waterproofing and quick charge support are the two most desired features, with 21 percent and 19 percent users expressing interest in them respectively. This is understandable, as waterproofing is a feature which is still limited to premium flagships. While brands like Motorola do provide a splash-resistant coating on most of their devices, these phones generally do not have any sort of IP ratings. An IP rating definitely adds to peace of mind for most users. Quick charge support is more common in comparison, but the fact is that many popular phones, such as those from Xiaomi's Redmi series for example, do not offer proper quick charge support.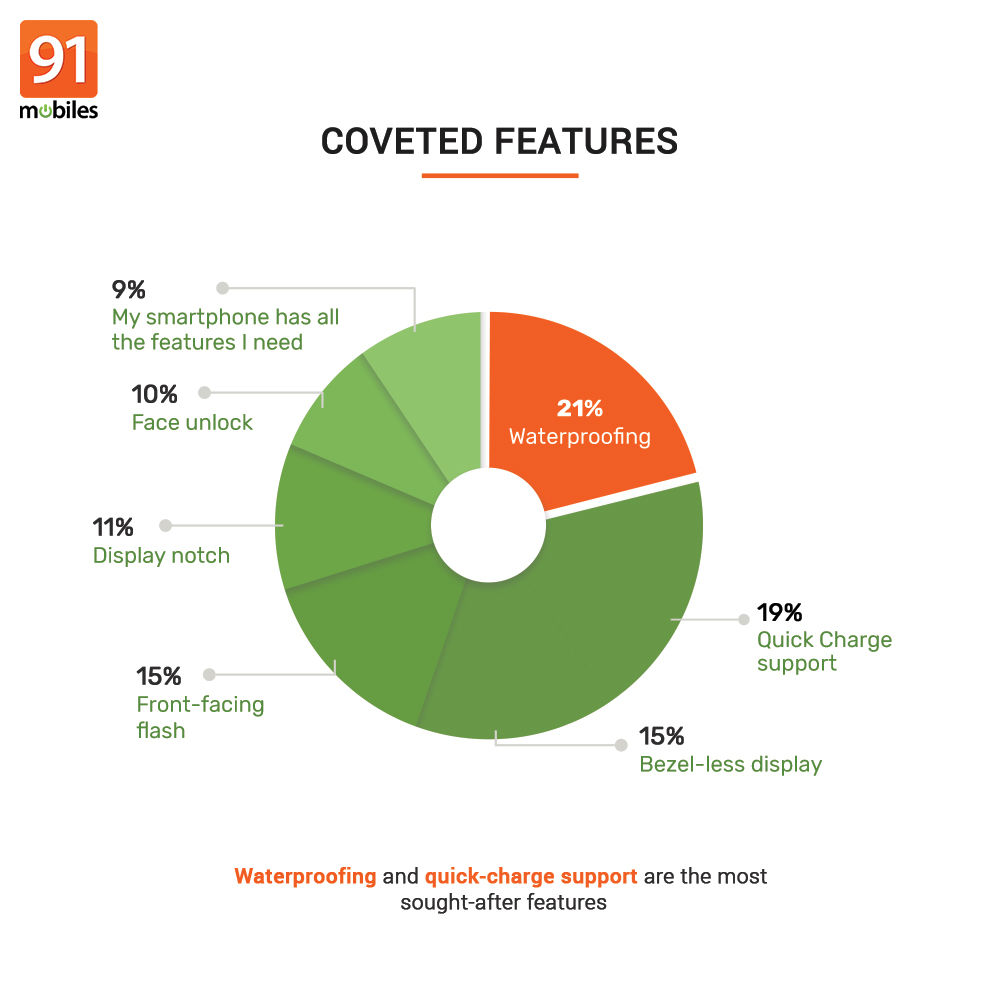 In sum, we'd like to reiterate that smartphone brands need to make sure the usage experience offered by their devices is smooth. Thanks to the availability of a smorgasbord of new options across price segments, users who face issues with their smartphones are very likely to move to a different brand quickly.