We've just wrapped up one of our most exhaustive surveys on aspects related to purchase of new smartphones, and it's now time to summarise the key points and lay them all out for you at one place for easy reference. Among the key points addressed in the 91mobiles Smartphone Buyer Insights Survey 2020 are details on current and future smartphone ownership, how brand loyalty is shifting, smartphone aspects that matter to people, how they research and how they make the actual purchase.
Here, we'll be summarising all of the above in a concise, at-a-glance format. The full report is also embedded below for your reference.
Current ownership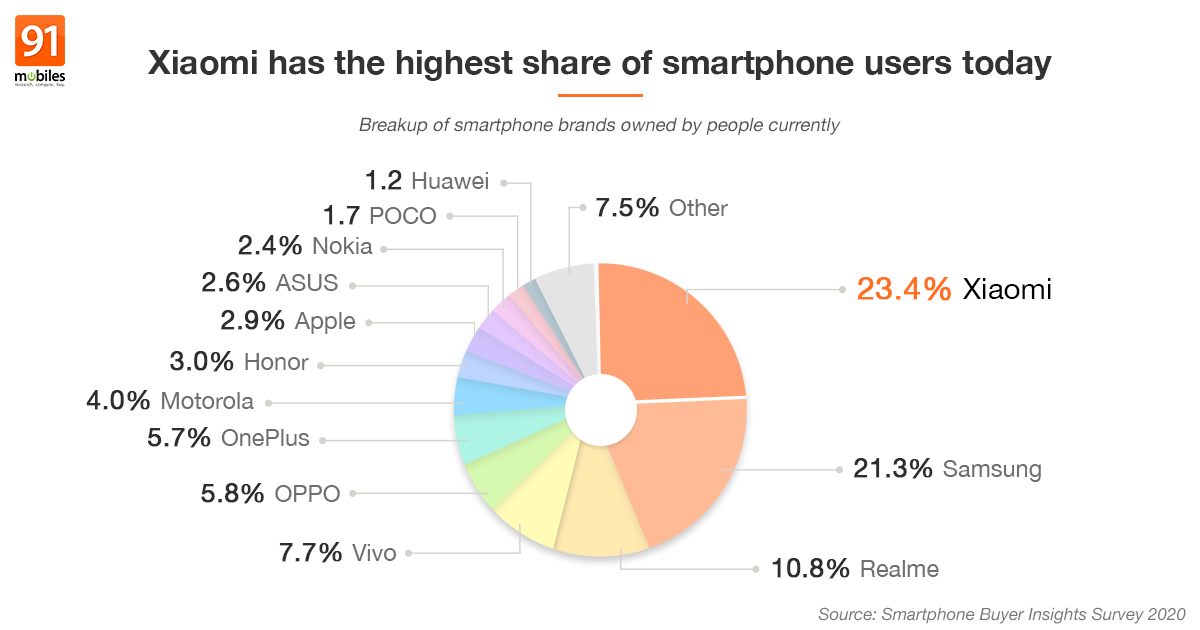 In terms of current ownership, Xiaomi is at the top of the charts, with 23 percent survey respondents owning and using the brand's smartphones currently. Xiaomi is followed by Samsung, with over 21 percent share. Next up is Realme, with almost 11 percent users owning the brand's smartphones.
Worth noting is the fact that from a 5 percent share (as per survey data from 2019), Realme has leaped to a significant 11 percent in 2020.
From 19 percent in 2019 to 21 percent in 2020, Samsung has also shown a big jump in ownership. The other brands that have shown more than 10 percent increase in share as compared to last year are Vivo, OPPO and OnePlus.
Brands that have shown a decline in ownership share this year as compared to 2019 are Xiaomi, Motorola, ASUS, Honor and Nokia.
Brand preferences: smartphones brands users plan on buying next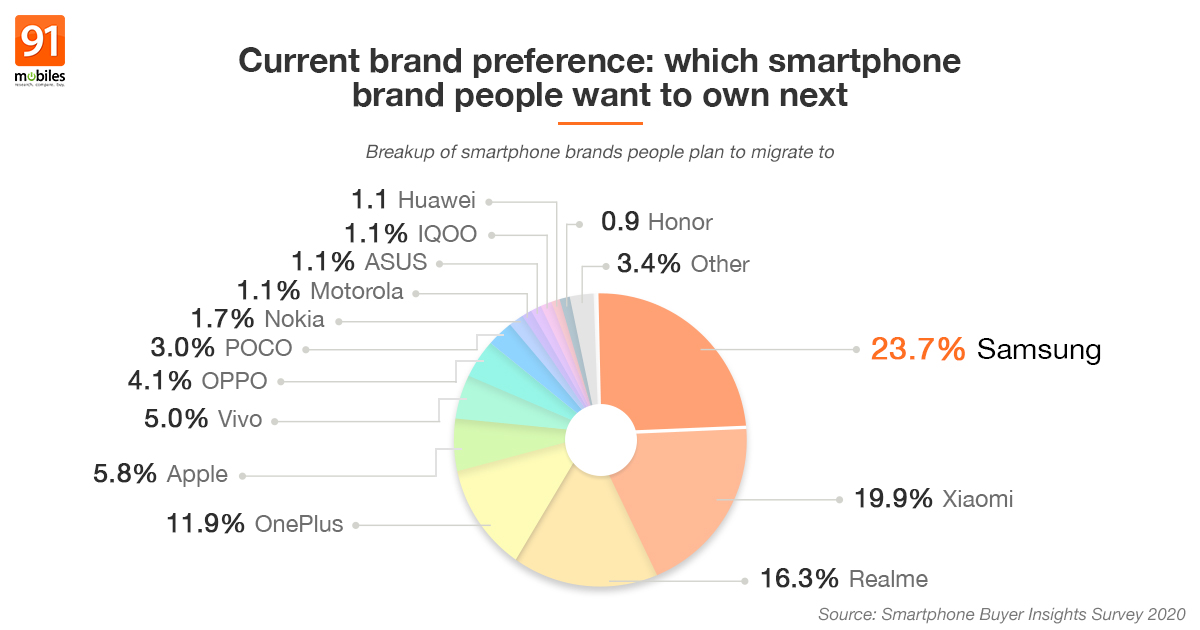 With almost 24 percent share, Samsung appears on the top when it comes to the smartphone brands users want to buy next, with Xiaomi coming in at second place with 20 percent share. In fact, as compared to brand preferences of users last year, Samsung and Xiaomi have switched positions this time, since Xiaomi topped the charts last year.
About 6 percent users expressed interest in switching to a Realme phone last year, whereas the same figure has jumped to over 16 percent this time.
The other brands that have grown in terms of user preferences are OnePlus, OPPO, Vivo and Apple.
The brands that have declined (as compared to last year) when it comes to the phone model people want to buy next include Xiaomi, ASUS, Motorola, Nokia, Huawei and Honor. In fact, in Xiaomi's case, the drop is the highest (over 4 percent).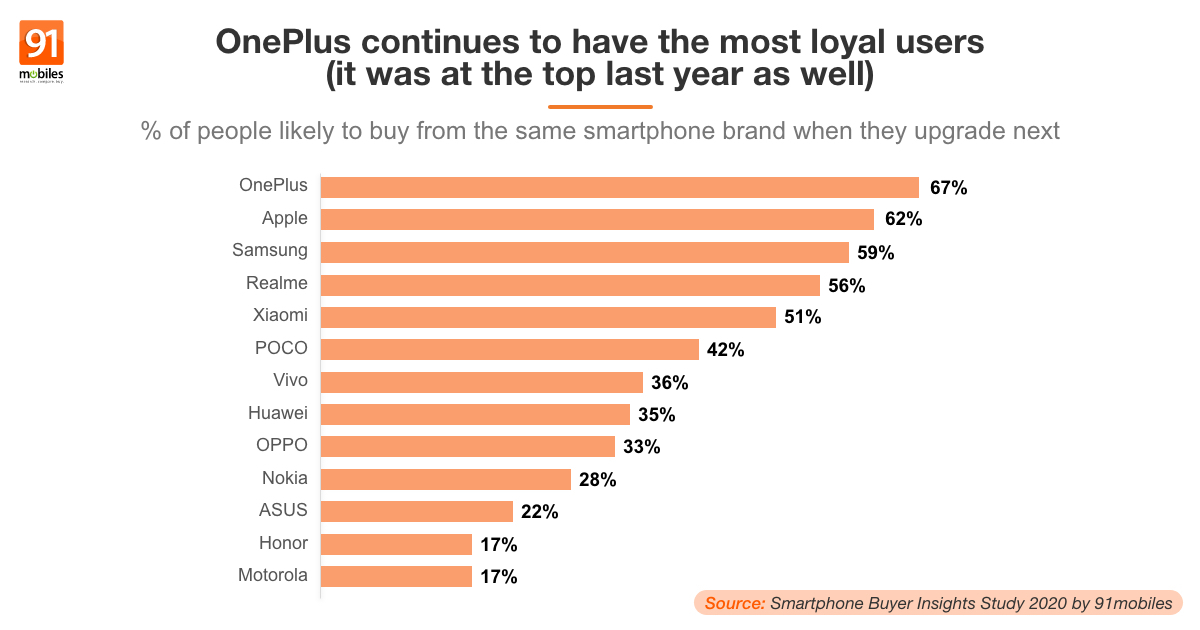 OnePlus leads in terms of brand loyalty, with 67 percent of its current users saying they'll buy a OnePlus phone whenever they upgrade next.
OnePlus is followed by Apple and Samsung. 62 percent current iPhone owners have said they'll upgrade to another iPhone next, while 59 percent Samsung users want a new phone from the same brand again.
At fourth place is Realme, with 56 percent of its users saying they plan to buy a phone from the same brand again.
Change in brand loyalty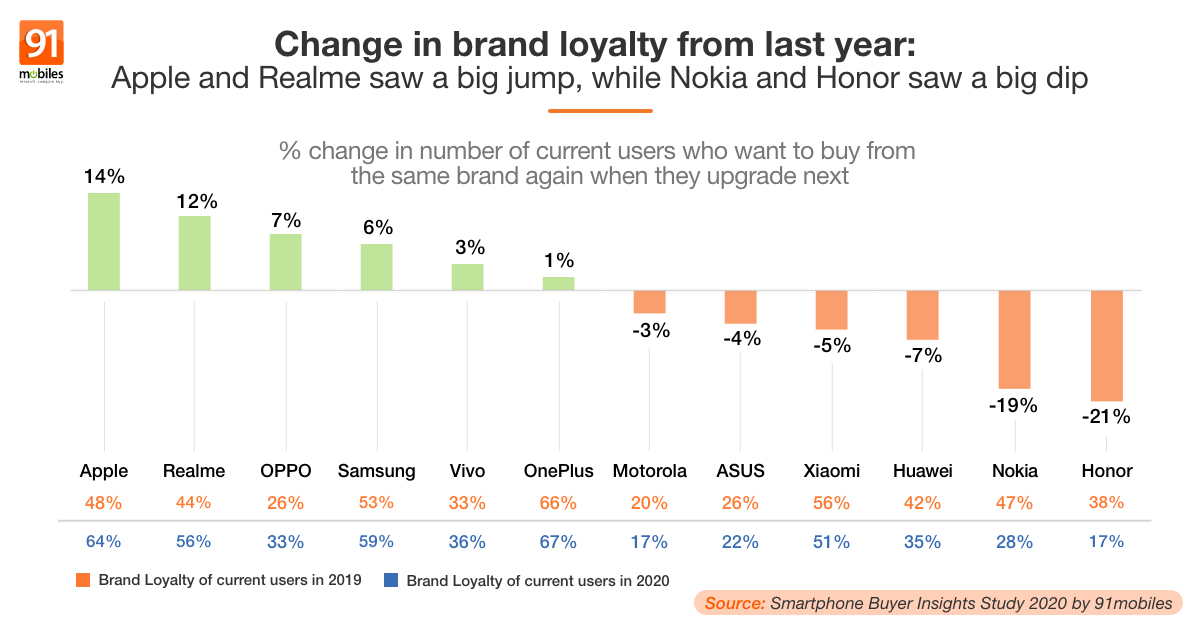 During the survey we conducted last year, we asked survey respondents which smartphone brand they plan to buy next. And since we posed the same question this year again, we can compare the date and draw insights on how brand loyalty is shifting.
Apple, Realme, OPPO and Samsung show the highest jump when data from 2019 is compared against the responses we received this year.
Apple's brand loyalty has increased by 14 percent, followed by Realme that has shown a growth of 12 percent.
Honor, Nokia, and Huawei have appeared as smartphone brands that don't seem to be faring well in terms of changing brand loyalty. Honor and Nokia show the most significant decline, dropping by 21 percent and 19 percent respectively.
Xiaomi, ASUS, and Motorola are in the red too, when we compare data from last year to the responses we received this time.
How brands will gain when users migrate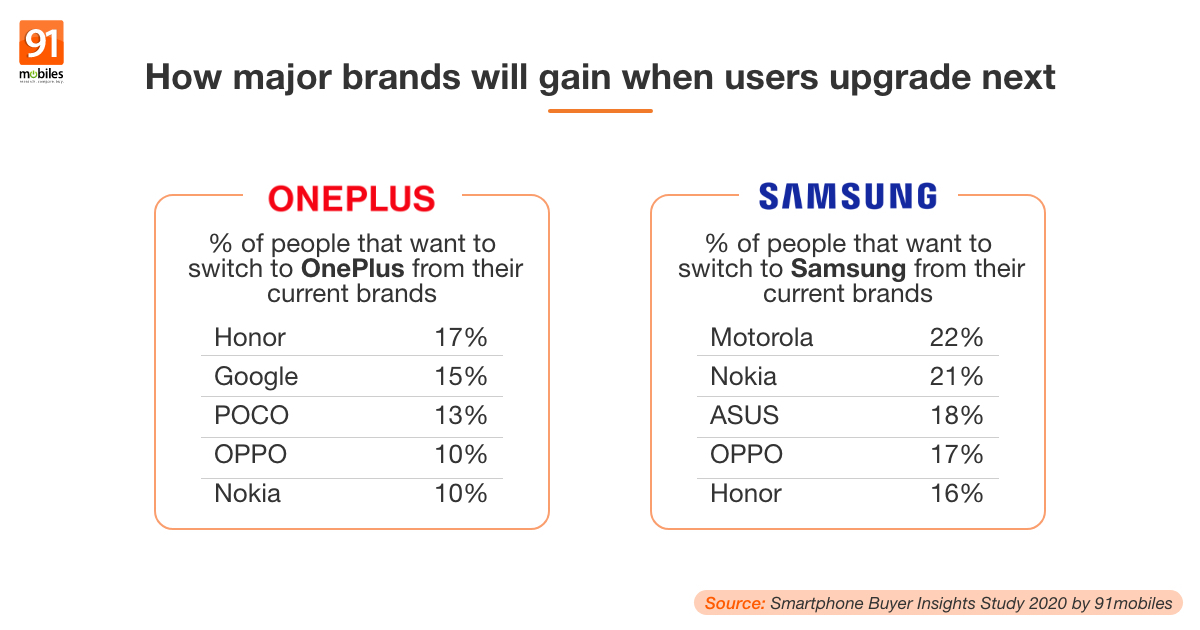 Looking at the percentage of users that wish to opt for a smartphone from a different brand than the one they're currently using, Samsung is appearing very strong, with a large number of people using other brands saying they plan to buy a Samsung phone next. Among those who plan to shift to Samsung, 22 percent currently use Motorola, 21 percent use Nokia, 18 percent use ASUS, 17 percent use OPPO and 16 percent use Honor.
OnePlus also stands to gain quite a bit when users upgrade their smartphones. Current users of Honor and Google-branded phones top the list of those coveting OnePlus phones, but interestingly, 13 percent POCO users are there too.


Factors that matter the most to people while buying a new phone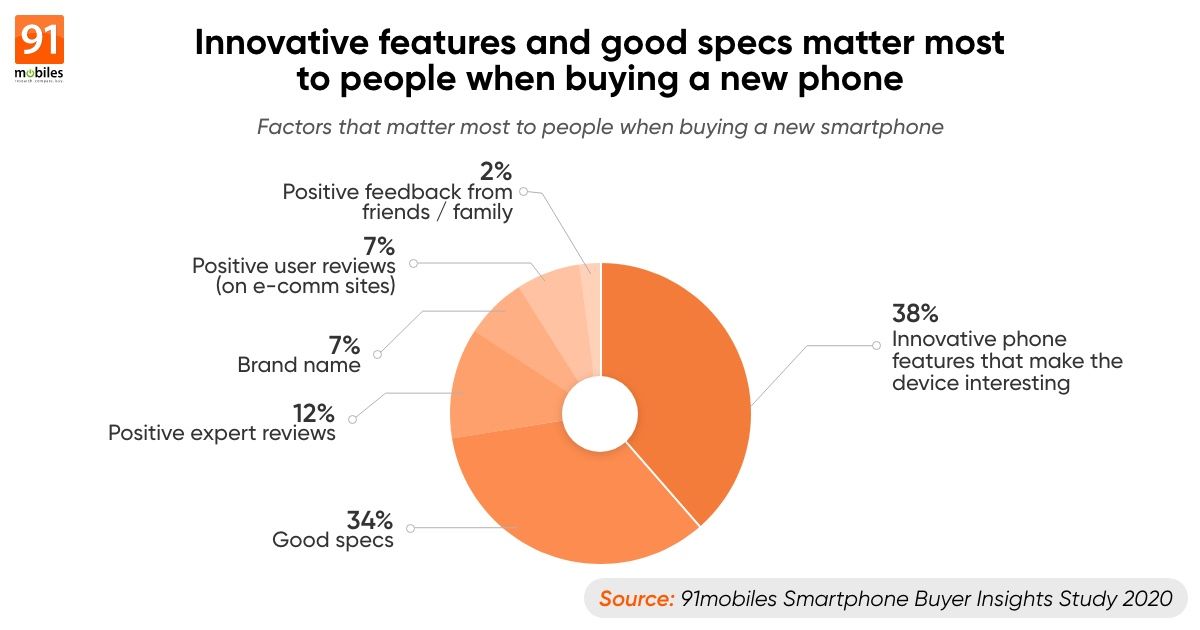 Busting the myth that specs are the most important factor for potential smartphone buyers, 38 percent users said they'd give more weightage to innovative features that make the phone interesting. Users below the age of 25 years do care more about specs as compared to users of older age groups though. On the other hand, those aged between 25 and 44 care more about innovative features while buying a new phone as compared to users of other age groups.
Frequency of smartphone upgrade
More than 50 percent smartphone users upgrade their devices within two years of purchase, with 23 percent (about a fourth) upgrading within the first year itself.
Primary reason for buying a new smartphone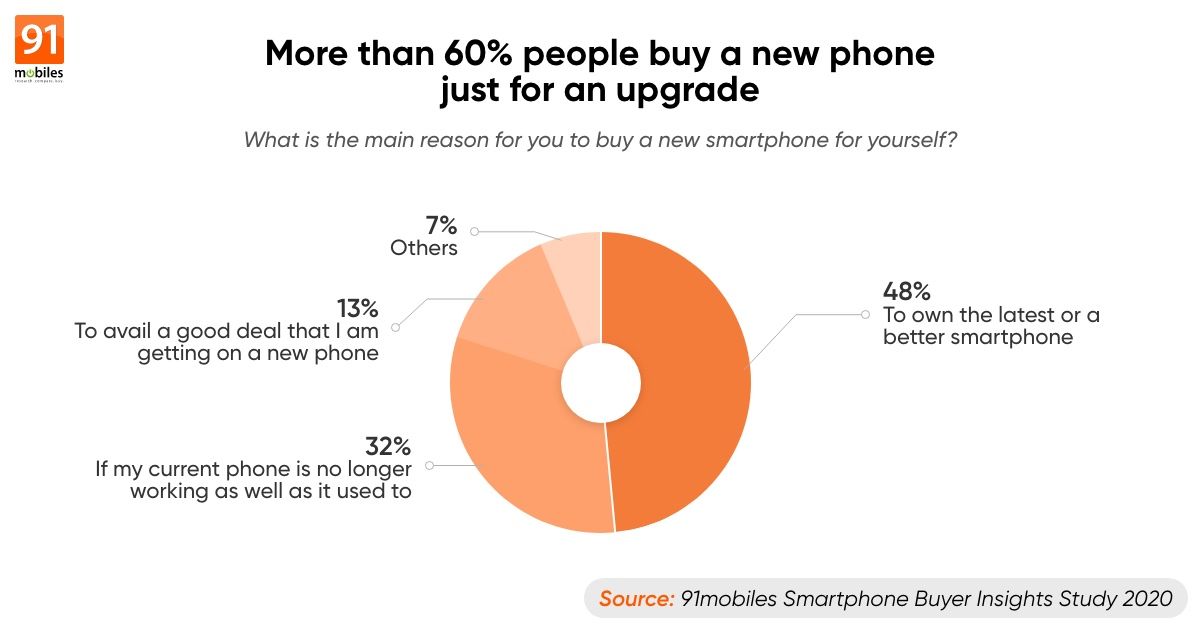 While 32 percent users said they'd buy a new smartphone when their current one starts giving problems, over 60 percent users said they'd purchase a new phone just to experience new features or avail a good deal.
65 percent respondents said they take more than a week to decide and finalise their next smartphone purchase.
People spend more time on research as the price of the device increases. Almost 50 percent of buyers seeking phones priced upwards of Rs 30k said they'd take more than 2 weeks to decide.
How users do their research while buying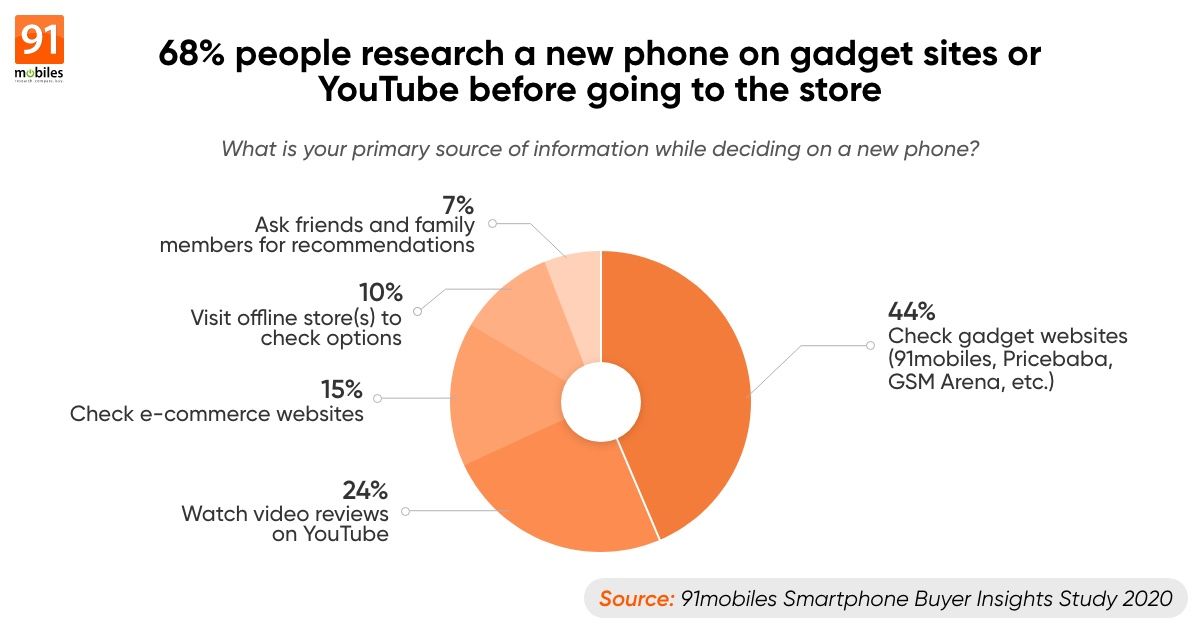 68 percent survey respondents said they use gadget websites or YouTube to research and shortlist smartphone models for purchase. Out if this, 44 percent users said they refer to gadget websites like 91mobiles. Pricebaba and GSMArena.
24 percent users said they refer to YouTube videos and 15 percent check user reviews on e-commerce platforms like Amazon and Flipkart.
Over 70 percent refer to two or more expert reviews before purchasing a new phone.
90 percent users compare at least two devices before buying.
More than 90 percent check smartphone prices online before buying, regardless of where they might buy from.
Smartphone attributes that matter most to people while buying a new phone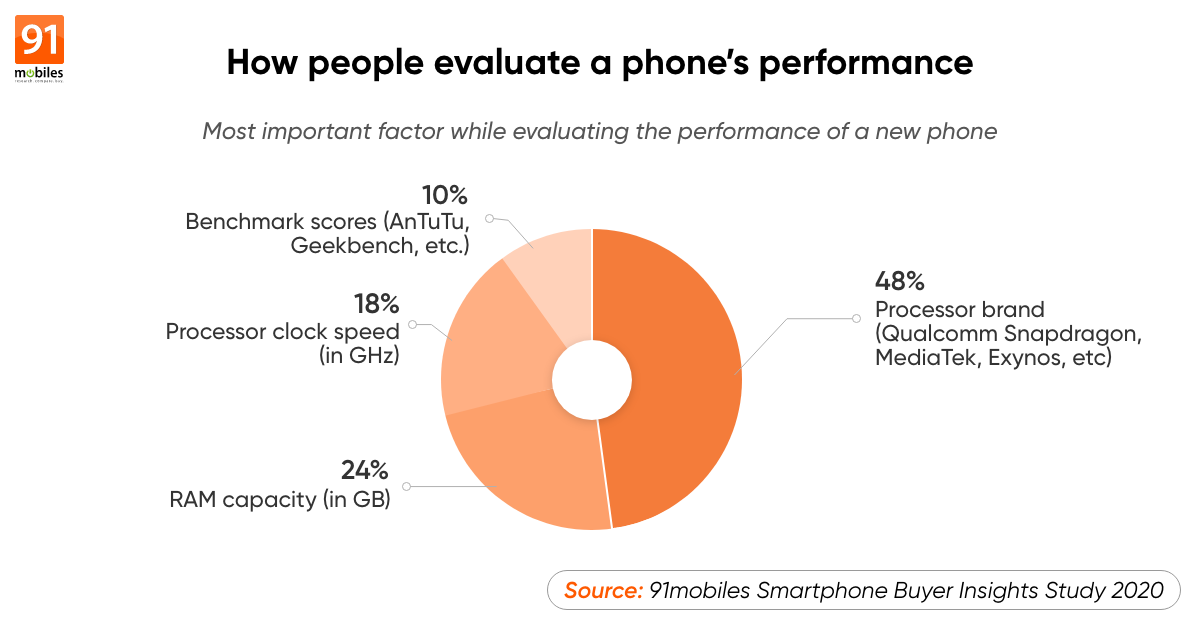 Over 56 percent users chose performance when asked about the smartphone attribute that mattered the most to them while buying a new phone. Camera capabilities were a distant second, with 14 percent users voting for those. Just 11 percent chose brand name, indicating that they might not be loyal towards a particular manufacturer.
While evaluating performance, almost 50 percent users feel that the chipset brand is the most important. 24 percent put emphasis on RAM capacity, 18 percent on processor clock speed, and just about 10 percent on benchmark scores.
For evaluating camera performance while buying a new smartphone, 42 percent users consider camera megapixels as the most important, followed by 26 percent who feel AI capabilities and software features are the most vital. 15 percent consider aperture the most important, while just 11 percent look at the number of rear cameras. Just 6 percent users consider selfie capabilities the most important while evaluating the cameras.
Fast charging has emerged as the feature most people would want in their new smartphone, with 27 percent respondents voting in its favour. 5G capabilities come in a close second, with 26 percent votes.


Popular price segments


Based on the amounts people paid for their current smartphones, the Rs 10k-Rs 20k price segment has emerged as the most popular, given that 55 percent users own smartphones in that bracket.
Budget smartphones (sub Rs 10k) make up about 19 percent of users. 13 percent users own smartphones priced between Rs 20k and Rs 30k, while another 13 percent own handsets priced above Rs 30k.
Online vs offline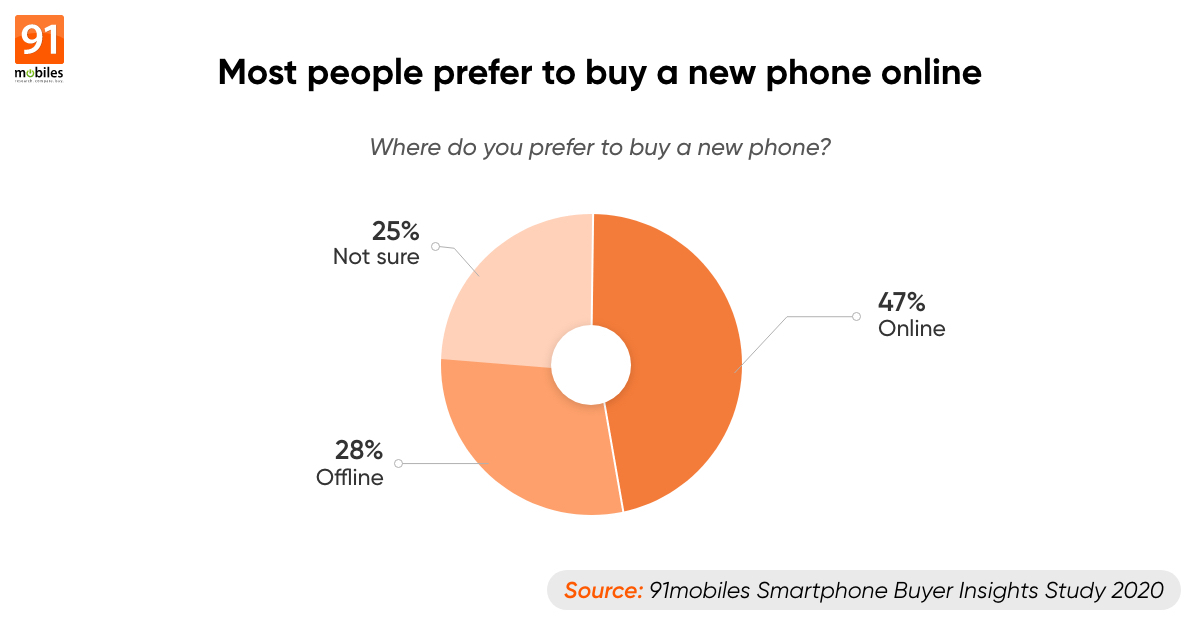 47 percent respondents said they'd prefer purchasing a new smartphone online, as against 28 percent who said they'd buy offline. About 25 percent weren't sure where they'd buy from.
Last year, 44 percent users had said they'd buy online, so a larger chunk of people seem to be now taking the online route.
Preferred modes of payment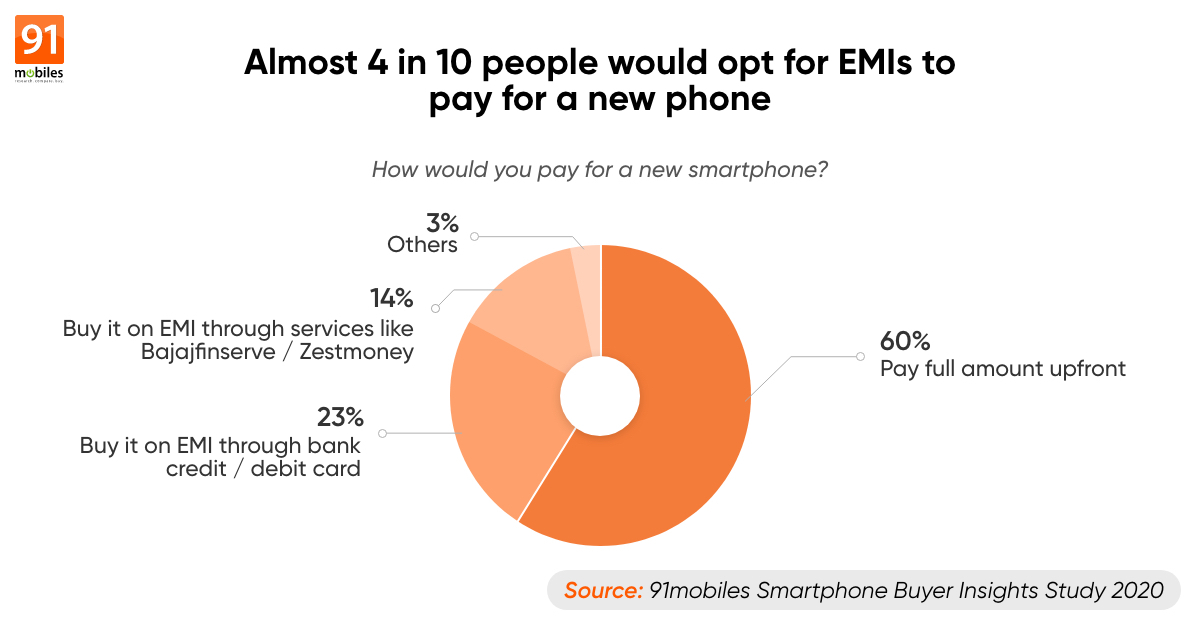 While 60 percent users said they prefer paying the full amount upfront while buying a new phone, a significant 37 percent said they'd opt for EMIs. Within this, there are 27 percent who'd opt for EMIs on credit or debit cards, while 14 percent said they'd opt for cardless EMI solutions like ZestMoney or Bajaj Finserv.
People aged below 25 are more likely to pay the full amount upfront as compared to older age groups, while those between 25 and 44 are more likely to buy smartphones on EMI. Also, men are more likely to buy a new smartphone on EMI as compared to women.
Renting smartphones, extended warranty and other aspects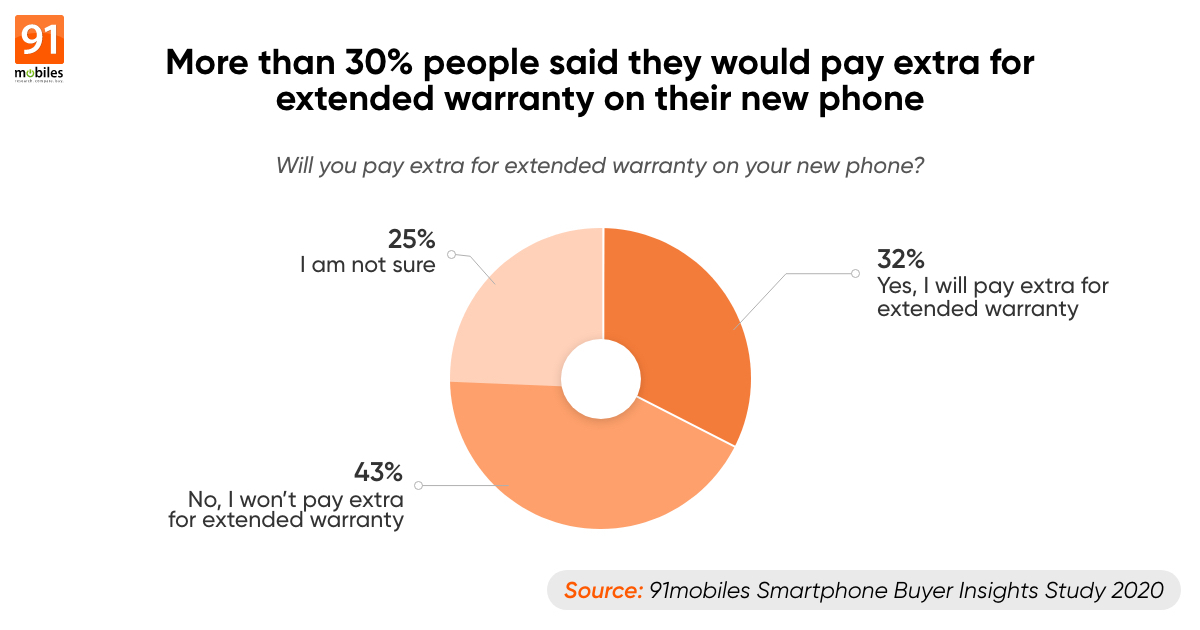 15 percent users said they'd be open to the idea of renting a smartphone instead of buying one. About 30 percent users said they'd be willing to rent a smartphone if they see clear benefits of doing so.
32 percent respondents would like to opt for extended warranty on their new smartphone, knowing that the cost of the same is likely to be 5 to 7 percent of the phone's price.
49 percent survey respondents said they'd wait for a sale before buying their chosen phone, so that they can save some money. 32 percent users said they'd buy a smartphone right away, after deciding and shortlisting the one they want.
30 percent users said they'd be willing to get a new credit card just because it offers a healthy discount on a phone they want to buy.
What people do with their old devices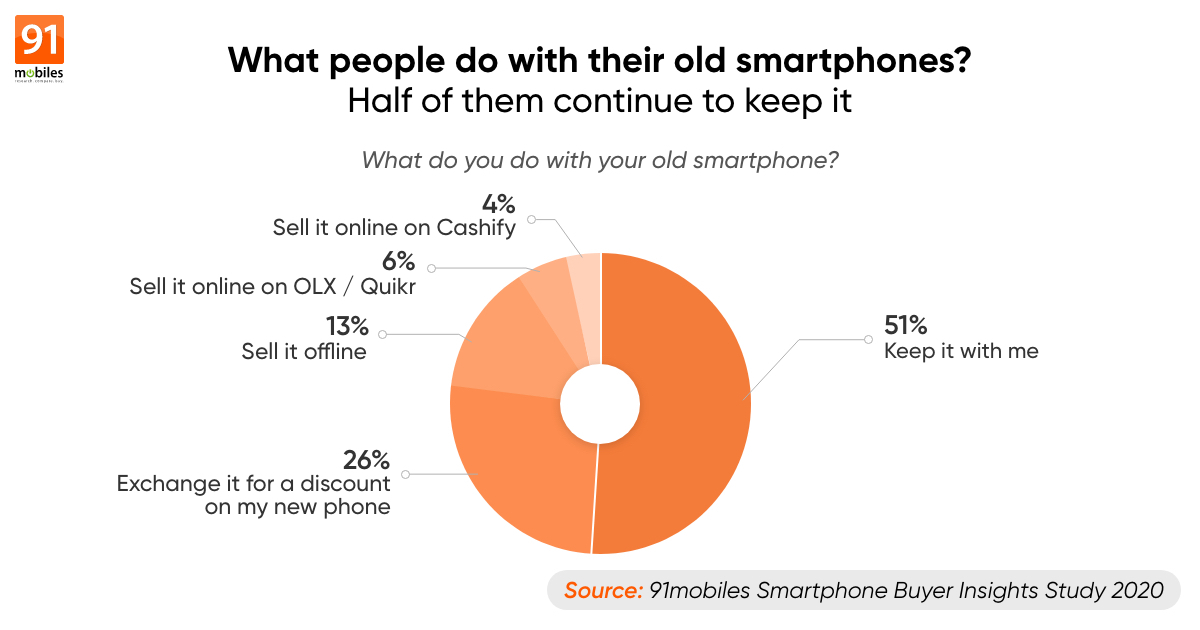 More than 50 percent of the users want to retain their own smartphones with them, after buying a new one.
25 percent of the surveyed users said they'd want to exchange their old smartphones to get the new phone at a lower price. 13 percent said they'd sell their old devices offline, 6 percent said they'd sell on OLX or Quikr, while 4 percent said they'd sell the used phone online on Cashify.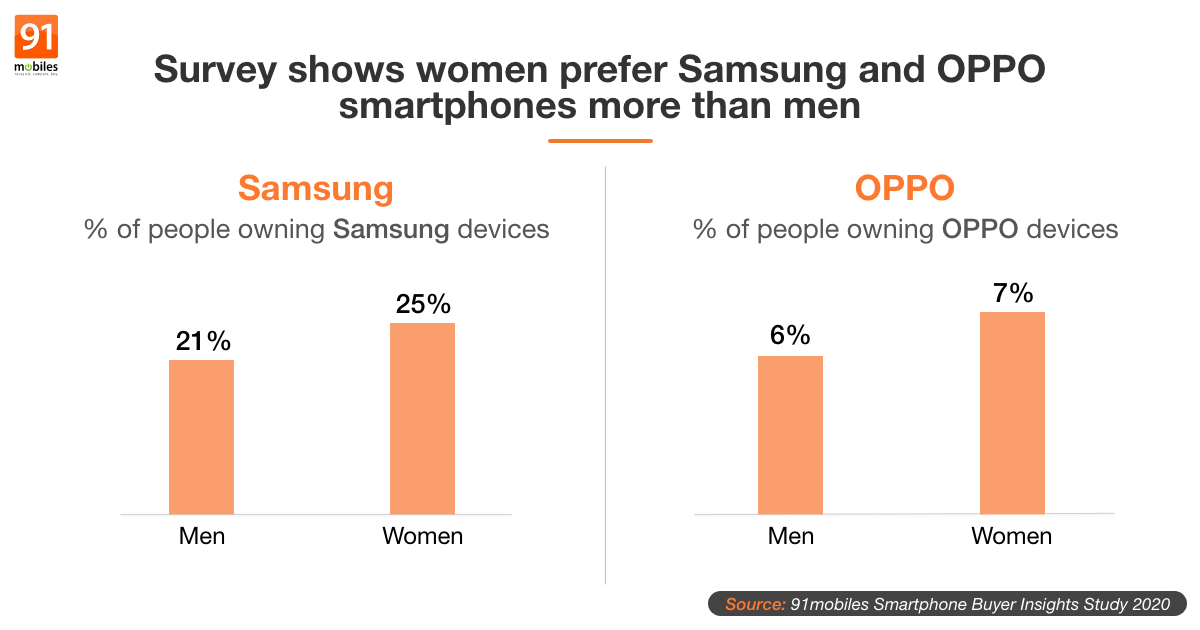 Women users seemingly prefer Samsung and OPPO smartphones more than men. 25 percent women use Samsung smartphones in comparison to 21 percent men. Similarly, for OPPO, the numbers are 7 percent women against 6 percent men.
Xiaomi and Realme are preferred more by men. 23 percent men prefer Xiaomi in comparison to 20 percent women, while for Realme, it's 11 percent men against 7 percent women.
More men seem to care about specs than women (35 percent men as compared to 28 percent women), while the fairer sex is more in favour of innovative features.
More men (47.2 percent) prefer buying online, as compared to women (41 percent).
26 percent of users aged below 18 use Xiaomi. Similarly, Samsung seems to be preferred more by older users, as 25 percent of users between the age of 35 and 44, and 24 percent of users aged above 44 prefer Samsung.