With the launch of the Samsung Galaxy M12, budget-conscience buyers can finally indulge themselves with a remarkable phone that impresses in every department. For one, the stylish looks of the Samsung Galaxy M12 would be the envy of your peers, and the handset's advanced components make it superbly powerful too. In fact, not only does it espouse a massive battery, but it also ships with an 8nm processor, a high refresh rate display, and a quad-camera setup, which at a starting price of under Rs 10,000, is an absolute steal. Let us give you a thorough look at everything that makes the Samsung Galaxy M12 a formidable option.
Outstanding 90Hz display
The 6.5-inch Infinity-V display onboard the Galaxy M12 sets it apart from the competition owing to its 90Hz refresh rate. Correspondingly, the panel offers a far better visual experience than its contemporaries and you can expect buttery smooth scrolling on apps like Instagram and Twitter to become a thing of the norm should you buy the phone. The 90Hz refresh rate is also great for providing a rich gaming experience, as it allows gamers to make the most of fast frame-rates with no noticeable screen-tearing.
As prefaced previously, Samsung has a penchant for designing good-looking screens, and the one aboard the Galaxy M12 is a treat for movie-buffs too. Buyers can expect great contrast levels and accurate colour reproduction during their binge-watching sessions and enjoy their favourite shows in HD resolution, seeing how the smartphone also ships with WideVine L1 certification.
Powerful 8nm Exynos CPU

Samsung has equipped the all-new Samsung Galaxy m12 with the Exynos 850 chipset, which has been fabricated using the 8nm process. For those unaware, an 8nm chipset is unprecedented in the budget segment and brings with it trailblazing levels of speed, power, and efficiency. Consequently, not only will the handset deliver unparalleled computing power whilst multi-tasking, but it'll also consume battery efficiently. In a nutshell, you can expect a longer screen on times vis-à-vis competing devices that come with 11nm chipsets. As for performance, the smartphone comes equipped with a Mali-G52 GPU, that has been paired with an octa-core chip clocked at 2GHz for seamless gaming sessions.
True 48MP Quad Camera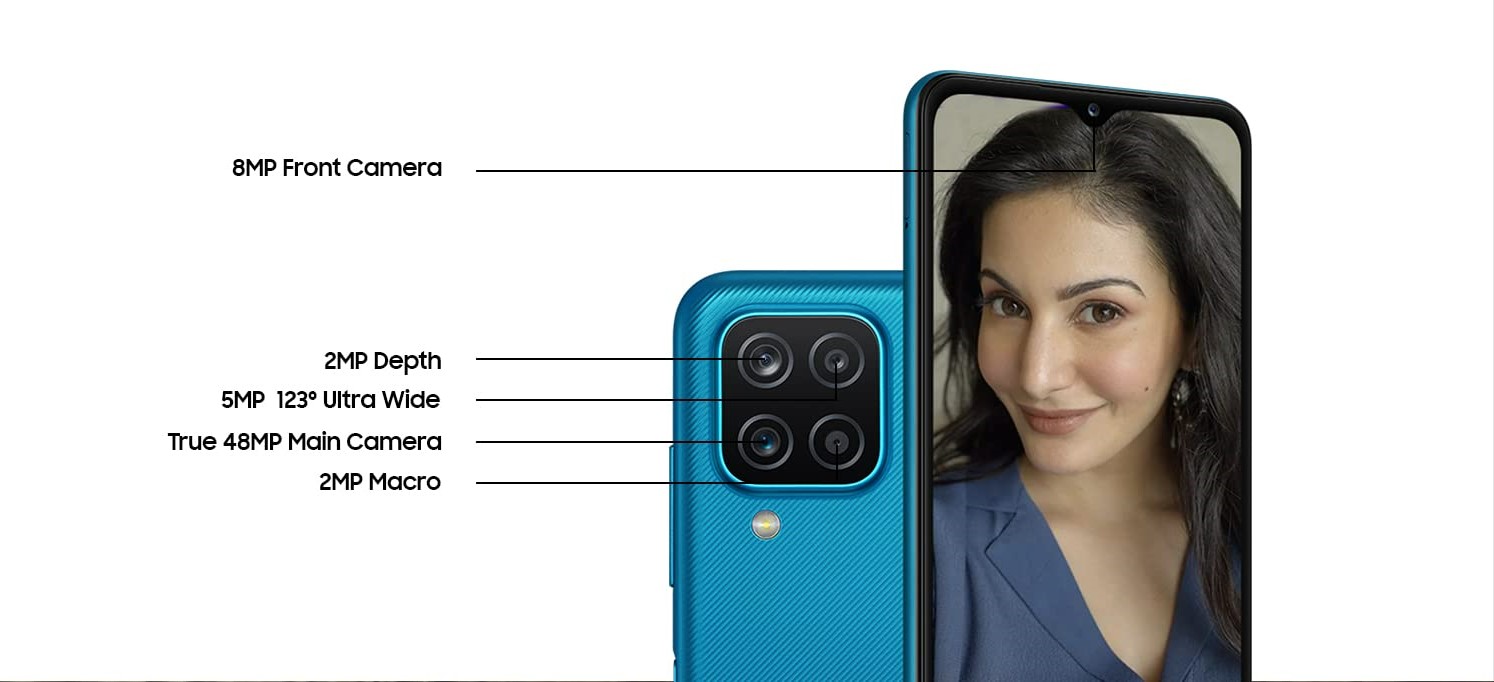 The rear surface of the Samsung Galaxy M12 is home to the True 48MP Quad Camera that boasts of capturing true resolution 48MP shots. Bear in mind that the higher resolution will not just ensure that your photos have stunning levels of detail, but it'll also allow buyers to crop the images without lowering the overall quality. The rest of the camera setup also impresses and with the phone, you'll also get a 5MP ultra-wide-angle unit that broadens the canvas, thanks to its wide field of view at a 123-degree lens. And while a 2MP portrait camera ensures accurate background blur, another 2MP sensor lets you capture macro shots. The front camera on board this device is an 8MP unit that promises magnificent selfies with accurate skin tones and balanced exposure.
Mammoth 6,000mAh battery

Samsung Galaxy M12 continues the M series' tradition of delivering long-lasting battery life. The 6,000mAh power brick that goes into the device holds the potential to easily offer 2-day usage. Consequently, if you're the type to never put your phone down, you will feel right at home with the Samsung Galaxy M12. The capacious battery will easily fuel your longest gaming sessions and you will not have to plug in the device in the middle of a binge session either.
Price and availability
Like we said at the start, the Samsung Galaxy M12 offers tremendous bang for the buck and is available under Rs 10,000. While the device is officially priced at Rs. 10,999 for its 4GB + 64GB version and at Rs 13,499 for the 6GB + 128GB configuration, you can get an instant cashback of Rs 1,000 by using an ICICI Bank credit card, irrespective of an EMI or non-EMI transaction. And if you use an ICICI Bank debit card, you will receive up to Rs 1,000 instant cashback on your EMI transactions. Ergo, you can get the Samsung Galaxy M12 at Rs 9,999 or Rs 12,499 (depending on the variant you choose) for a limited time!
That alone makes the Samsung Galaxy M12 an incredible value for money purchase for potential buyers. The smartphone will go on sale at 12 pm on March 18th through Amazon, Samsung.com, and select retail stores, so don't wait, get your unit now!