Highlights
Aarogya Setu app is available on Android and iOS devices
It uses your phone's location and Bluetoot to alert you if someone you come in close proximity with has tested positive for COVID-19

New Delhi-based Internet Freedom Foundations has raised privacy concerns about the Aarogya Setu app
Aarogya Setu app is being talked about quite a lot since India went into lockdown on March 25th due to the coronavirus pandemic. It is a way for people to track if they have come in contact or have been in close proximity to people who been tested positive for COVID-19. On Tuesday, during Prime Minister Narendra Modi's speech on extending the lockdown in India, the Aarogya Setu app was mentioned yet again. The PM has urged the people of India to download the COVID-19 contact tracing app. But what exactly is the Aarogya Setu app and how does it work? How do you download the app and does it have privacy concerns. These are some of the things we will be taking about here.
What is Aarogya Setu app?
Aarogya Setu is a mobile app developed by the ministry of electronics and IT to help users find out if they are at risk of coronavirus through contact tracing. The app uses your Bluetooth and location settings to generate a social graph through which it can track if you have interacted with someone who has been tested positive for coronavirus. The app also asks you to invite your friends and family to install the app so that it can more effective in tracking down the spread of the virus and help prevent any contact. The Arogya Setu app will alert you as soon if someone you come in close proximity with has tested positive for COVID-19. The app alert is accompanied by instructions on how to self-isolate.
How to download and use the Aarogya Setu app?
The Aarogya Setu app is available on both Google Play Store and Apple's App Store and has received more than 10 million downloads since its release on April 1st. The app is currently available for Android and iOS smartphones and tablets. Unfortunately, Jio Phone and other feature phones will not be able to download the Aarogya Setu app, which leaves out a vast number of feature phone users in India.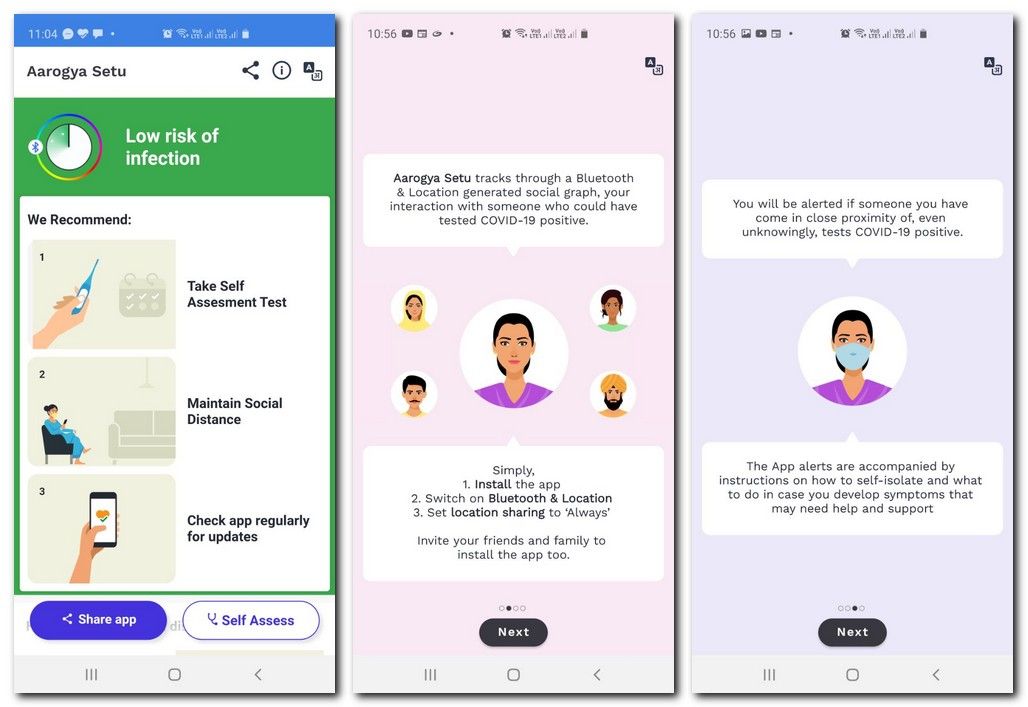 Here is a step-by-step guide on how to use it:
Download the Aarogya Setu app on the Play Store/App Store
Open the app and select your preferred language out of the 10 options
Click on next and then click the register now option
Allow the app access to location and Bluetooth
Enter your mobile number and then enter the OTP
Once inside the Aarogya Setu app, you will be greeted by a bar at the top which will specify what is the risk of infection to you based on your location. Apart from that below, you can find self-isolation techniques, how to maintain social distancing, COVID-19 Do's and Dont's, Learn more about COVID-19 and safety measures against COVID-19. There is also an option to donate via UPI to the PMCARES fund for Coronavirus relief. Another important feature in the app is Self Asses which asks you a series of questions to understand if you are at risk of contracting the virus or not.
Aarogya Setu app may not completely be safe to use in terms of user privacy
Is Aarogya Setu app safe?
It might also be worthwhile to know that the Aarogya Setu app may not completely be safe to use in terms of privacy. In a detailed report and analysis on contact tracing apps, which has been accessed by the Economic Times, the New Delhi-based Internet Freedom Foundations has raised concerns about information collection, purpose limitation, data storage, institutional divergence, and transparency and audibility on the Aarogya Setu App. An example of this is that the app does not mention which departments or ministry or officials will be able to access users data that is being uploaded on the app. Beyond the privacy policy and terms of use, there is reportedly no legal framework that governs the app.

Unless there is more clarity provided on how the app collects and uses the data provided by users, the Aarogya Setu app should be download at your own risk. While the app may help contact trace COVID-19, it may not be entirely safe to use.