The Samsung Galaxy S4 that was launched last week will arrive with some really cool new accessories. These accessories will complement some of the great new features that have been added to this device.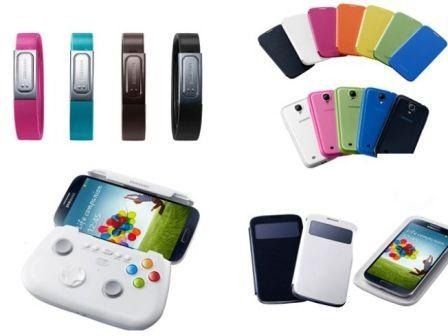 The S Band: The Galaxy S4 has a special sensor for humidity and temperature, pedometer and S-Health Fitness tracking feature. The S-band functions like the Nike Fuel Band to record steps, calories burned, distance covered and check efficiency working in Tandem with the S-Health app. The band stays active even when the user is sleeping to monitor their movements in their sleep. It is available in four refreshing colors of pink, blue, brown and black. The device is waterproof and is a wrist band.
Heart Rate Monitor: The HRM checks the heart rate in real time which allows you to assess the workout benefit. The HRM is worn around the user's chest and connects to the Galaxy S4 device via Bluetooth.
Body Scale: The Body Scale will measure your weight and sends it onto your device via Bluetooth and offers support to up to 7 users via the S-Health 2.0 app. It also keeps track of your weight over a period of time.
Wireless Charging Pad and Cover: A separate wireless charging pad and cover. The phone has inbuilt wireless charging feature that varies on devices being offered by different carriers and in different regions.
Game Pad: The Game Pad supports Bluetooth pairing via NFC tactile technology for gaming control. The phone is fitted into the pad for gameplay.
S View: The S View is flip cover with a window to view time and weather widget, regular flip cover , premium pouch, protective cover+,extra battery kit and premium headset.
All these accessories have to be purchased separately and there is no news of its availability either.