"The Acer ConceptD 9 Pro is for those who are looking for powerful, desktop-grade performance in a portable form factor"
Unlike its rivals, Acer has been lying low in terms of launching new laptops. It last held an event at CES in January this year, and then the Next@Acer conference in New York in April. But now the Taiwanese brand is changing its tack as it took to the stage at media days at IFA 2019 in Berlin. It introduced a number of laptops among many other products such as monitors and the new C250i projector. I got a chance to spend some time with the Acer ConceptD 9 Pro, and came away impressed. Read on to find out why.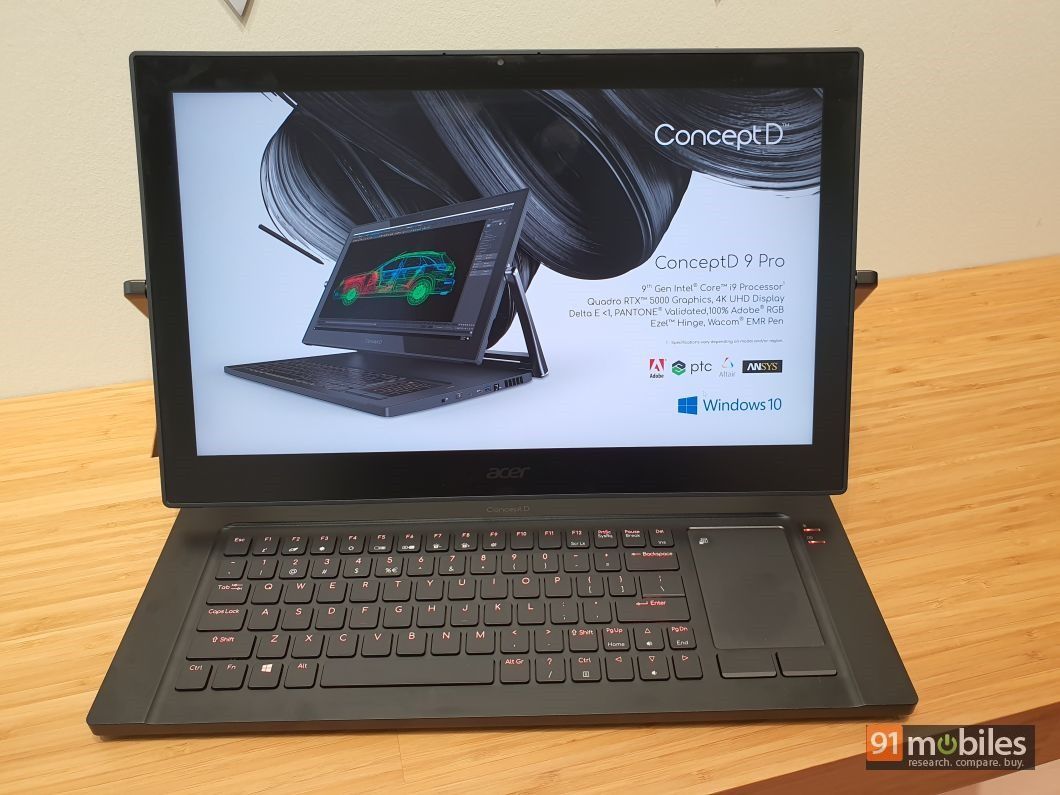 The ConceptD 9 Pro is a strange beast. It's not a laptop that you can take with you in your backpack, but it doesn't have a desktop-like form factor either for it remains stationary. Perhaps that's why it makes perfect sense for its target audience of animators, graphic designers and more… basically people who require raw compute power, but don't want to get stuck with working at just one place.
I hope the pictures are able to do justice to how best one can describe Acer's ConceptD 9 Pro. It closes like a laptop, though it's quite heavy at 4.3kg and hence can't be lugged around all the time, but when you open it, it turns into an AIO-like device with a monitor and keyboard.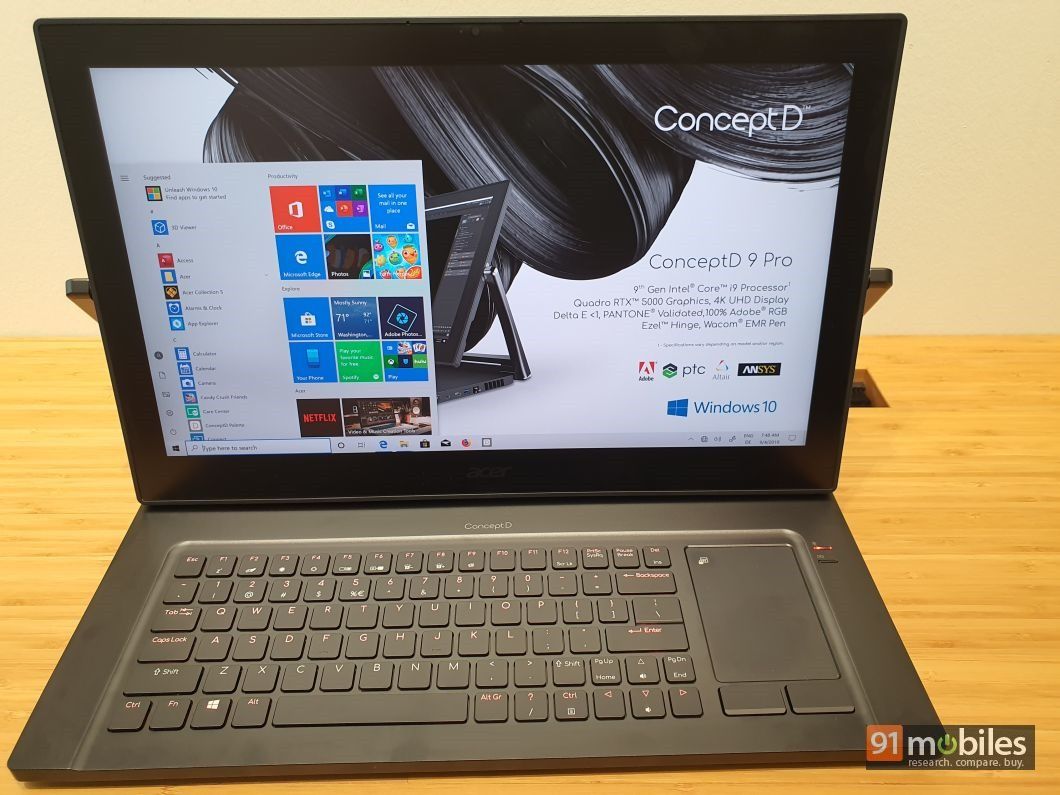 With a 17-inch display, it does feel like a desktop replacement. Add to it the fact that the Pantone-validated IPS panel comes with colour accuracy of delta E < 1 (lower the better), covering 100 percent of Adobe RGB colour gamut and featuring 4k resolution. And it also is touch-capable as you can choose to lay the screen flat in case you want to draw something with the provided Wacom stylus that has 4,096 levels of pressure sensitivity.
And when you can't use the touchscreen to interact with the ConceptD 9 Pro, then you can turn to the keyboard and the trackpad. Sadly though, in order to keep things compact, their position is less than ideal. While one can get used to the trackpad located towards the right edge, since it also doubles up as a number pad (remember ASUS ZenBook 13?), typing isn't a great experience. Even though the keys offered enough travel, somehow I wasn't able to type comfortably on it.
As far as ports are concerned, you get two lock port, USB Type-C ports, a Type-A port, and an ethernet socket on the right. Towards the left, there are two more USB Type-A ports along with headphone and microphone sockets. You also get the power button on the right, while the HDMI socket is placed at the back.
Of course, along with its form factor, the calling card of Acer's ConceptD 9 Pro is its internals. Available with 9th-gen Core i9 processor (i9-9980HK), you can opt for up to 32GB of DDR4 RAM. Then there's the NVIDIA Quadro 5000, which is workstation-class graphics card and should be able to handle intensive graphics requirements quite well. The graphics major has also announced RTX Studio program – which the ConceptD 9 Pro is a part of – that supports 30-bit colour in apps like Photoshop and Premiere Pro along with optimisations for apps such as Autodesk, Blender, etc. For storage, it ships with an SSD of up to 2TB.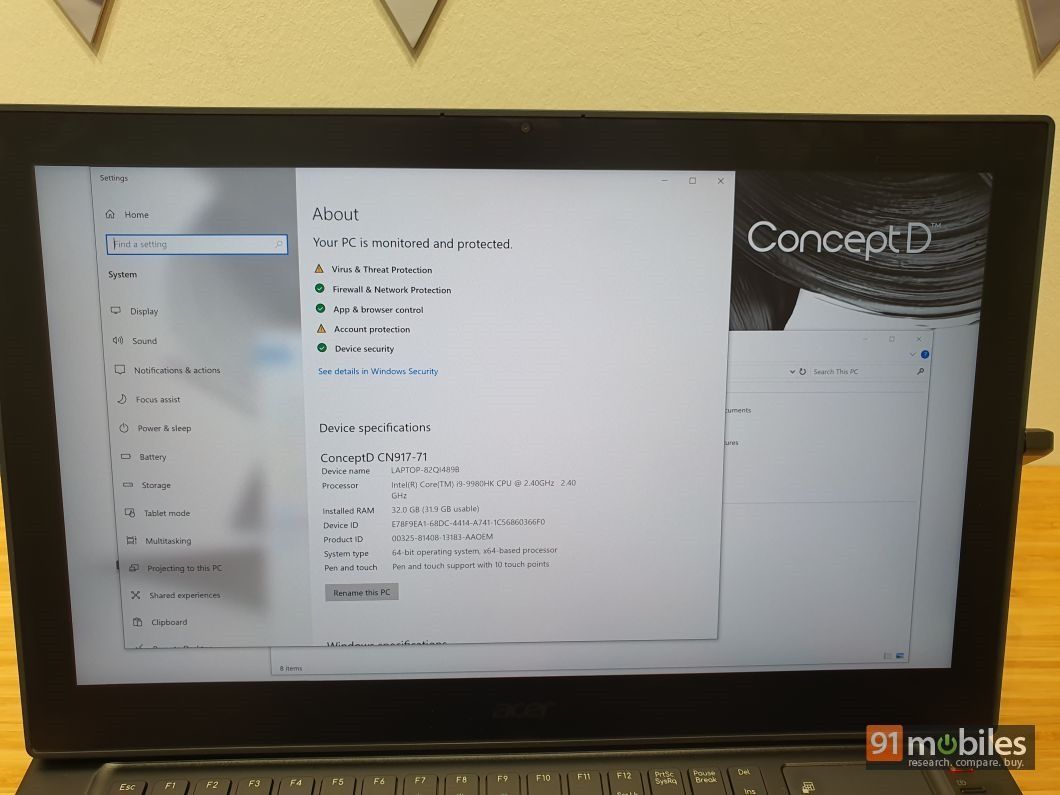 All in all, the Acer ConceptD 9 Pro isn't for everyone, but for those who do want such capabilities, it's perhaps a great option. While its pricing info hasn't been revealed yet, the machine will be coming to our shores in November.
Disclosure: this writer is attending IFA 2019 in Berlin on Acer India's invitation