Kicking off IFA 2019 in a spectacular fashion, Taiwanese giant Acer took the veils off a series of laptops, including new offerings in its gaming-oriented Predator series, NVIDIA Quadro graphics-equipped ConcpeptD notebooks and an updated slim-and-lightweight Swift lineup, which is what we'll be focusing on this article. Last year, Acer's Swift 5 (first impressions) held the title of the slimmest 15-inch laptop, and this time around, the brand wants to carry on the same legacy. Alongside the Swift 5, it also unveiled an affordable sibling, the Swift 3. Unlike previously, not only do these laptops offer slim and lightweight designs, they also boast powerful specs including the option to get a dedicated graphics card. Now I might be getting ahead of myself here, so without further ado, let's take a closer look at Acer's newest machines in its thin and light series.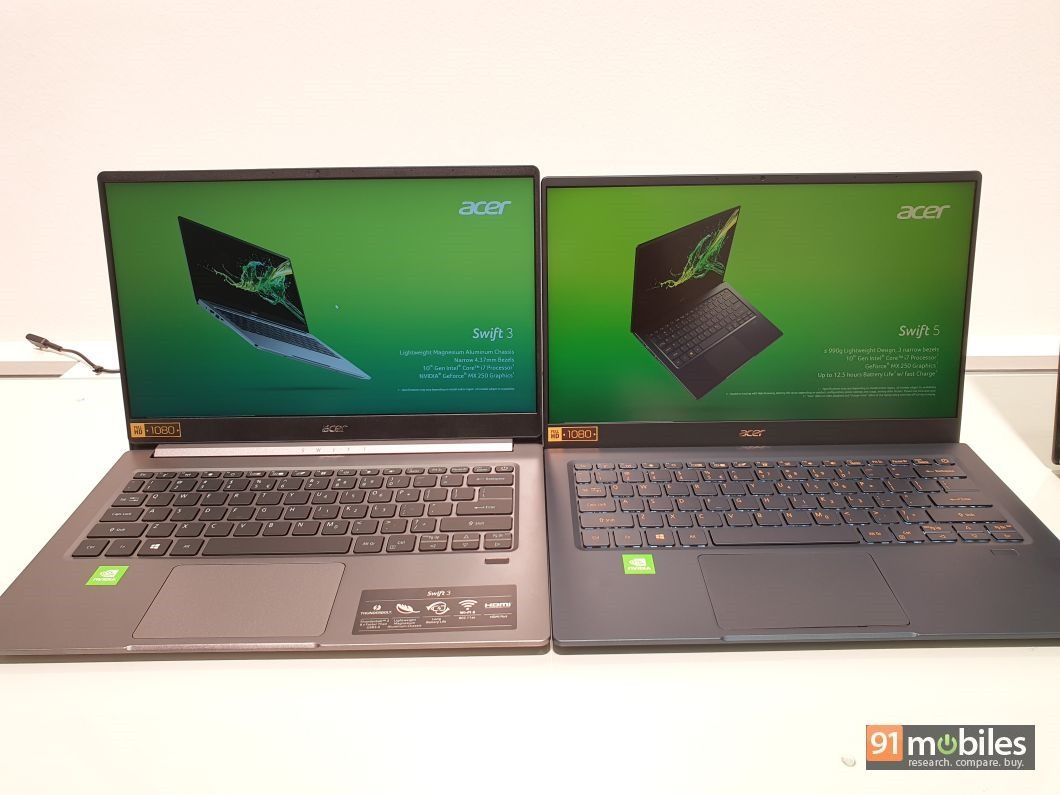 Both the Acer Swift 3 and Swift 5 are built around 14-inch displays. While the Swift 3 is quite lightweight (at 1.19kg), it's the Swift 5 that pushes the boundaries by holding the title of the world's slimmest 14-inch laptop, as it tips the scales at a mere 990g. And mind you, that's when the device has a dedicated graphics card, and if you don't opt for that, then the device gets even lighter. That said, words don't do justice to its feather-light build, and it's only when you hold it in hands when you realise how light it is.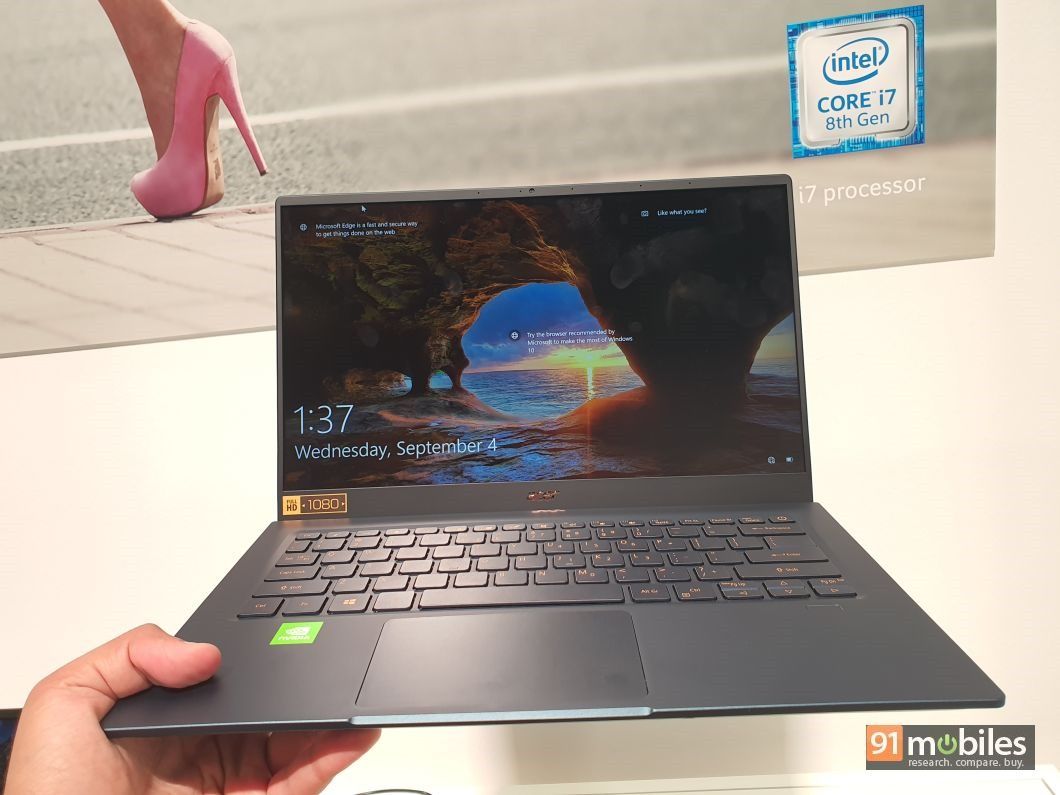 Starting with the Swift 5, the notebook has managed to achieve a lightweight design all thanks to construction utilising magnesium-lithium and magnesium-aluminium alloys. The laptop is also quite slim with its frame measuring 14.95mm. Sadly, that also means that the screen isn't durable and you can easily see it flexing even if slight pressure is applied. The palm rest area however, is quite solid. I do like the blue hue of the Swift 5 as it helps it stand out from the usual black options.
The device has thin bezels around its 14-inch, 1080p panel, resulting in a screen-to-body ratio of 86.4 percent. The IPS touchscreen offers good colour reproduction and I didn't find any issues with the brightness levels either, although I was using it indoors. The touchscreen also seemed quite smooth and responsive.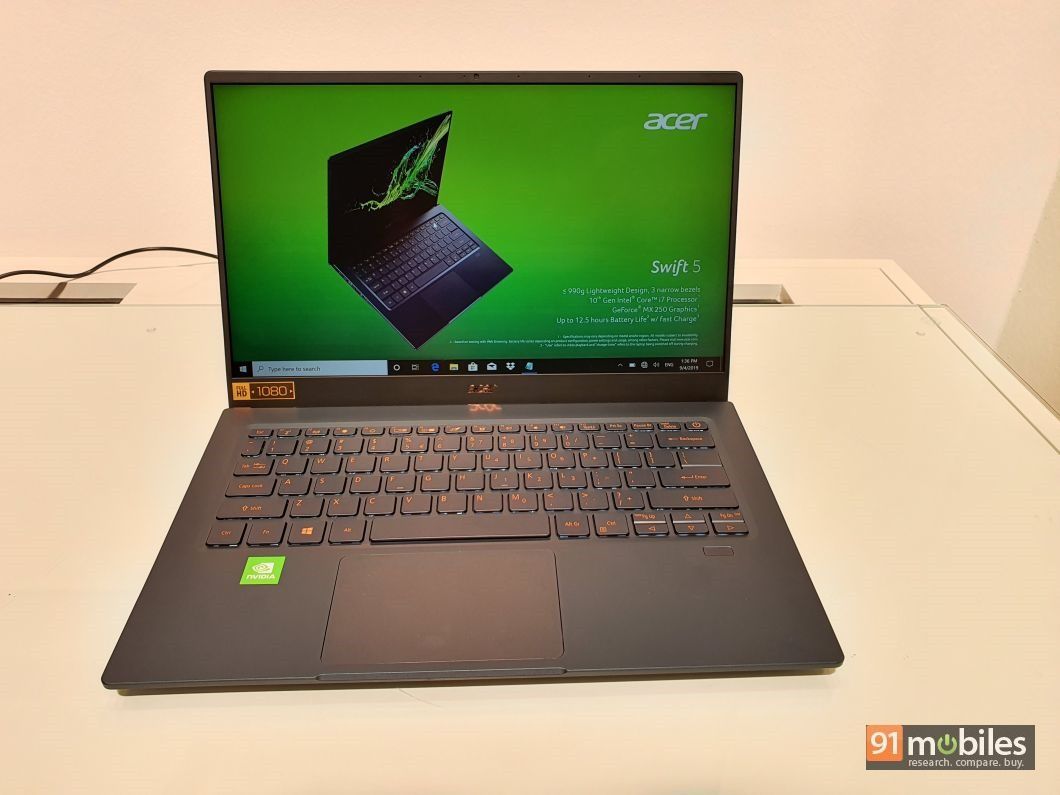 Of course, along with the touchscreen, you can interact with the Swift 5 in a traditional manner, using the keyboard and trackpad. The keys are surprisingly good and offer enough travel to ensure that you get feedback when they're pressed. They are well spaced out as well to ensure error-free typing. While I didn't find any issues with the trackpad, I found it to be quite clickety, and that wasn't just for the area designated for left- and right clicks.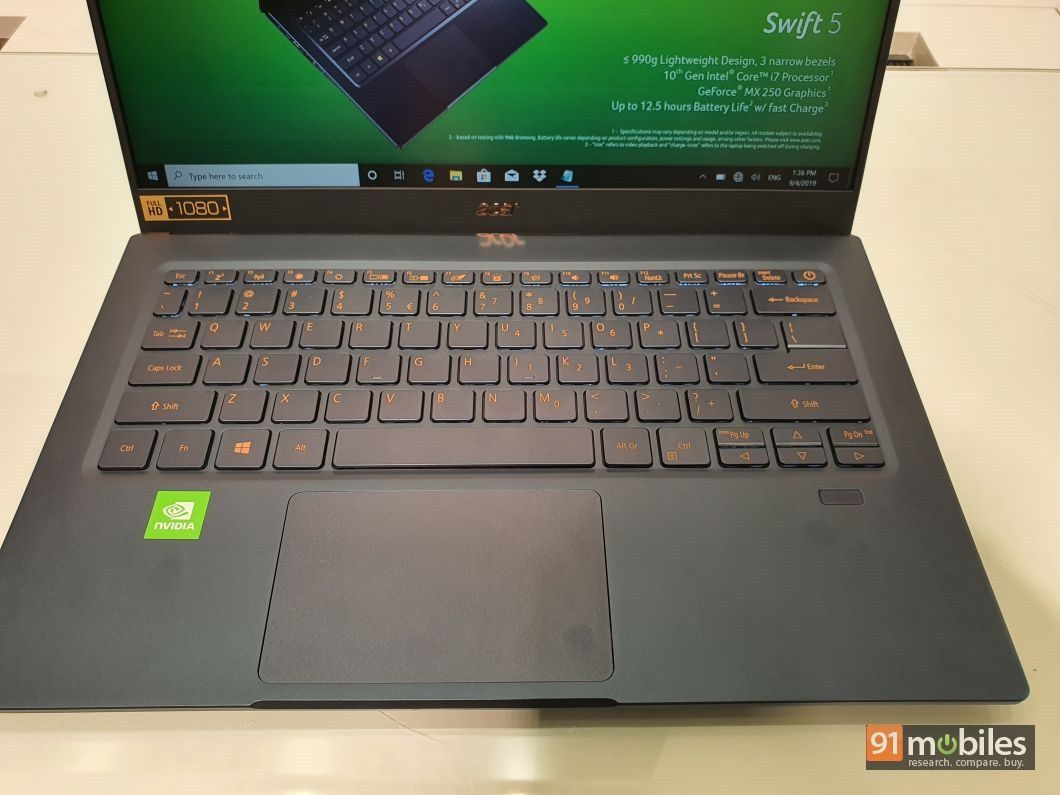 Under the hood, Acer's Swift 5 is among the first set of laptops that draw power from Intel's 10th-gen processors which are built using 10nm process. It is available with up to Core i7-1065G7 processors and up to 16GB LPDDR4X RAM. For storage, one can configure it with up to 512GB SSDs. As mentioned above, you do get graphics card with this rig, which is NVIDIA's MX250 GPU. In case you don't buy the laptop with dedicated graphics, then the machine comes with Intel Iris graphics by default.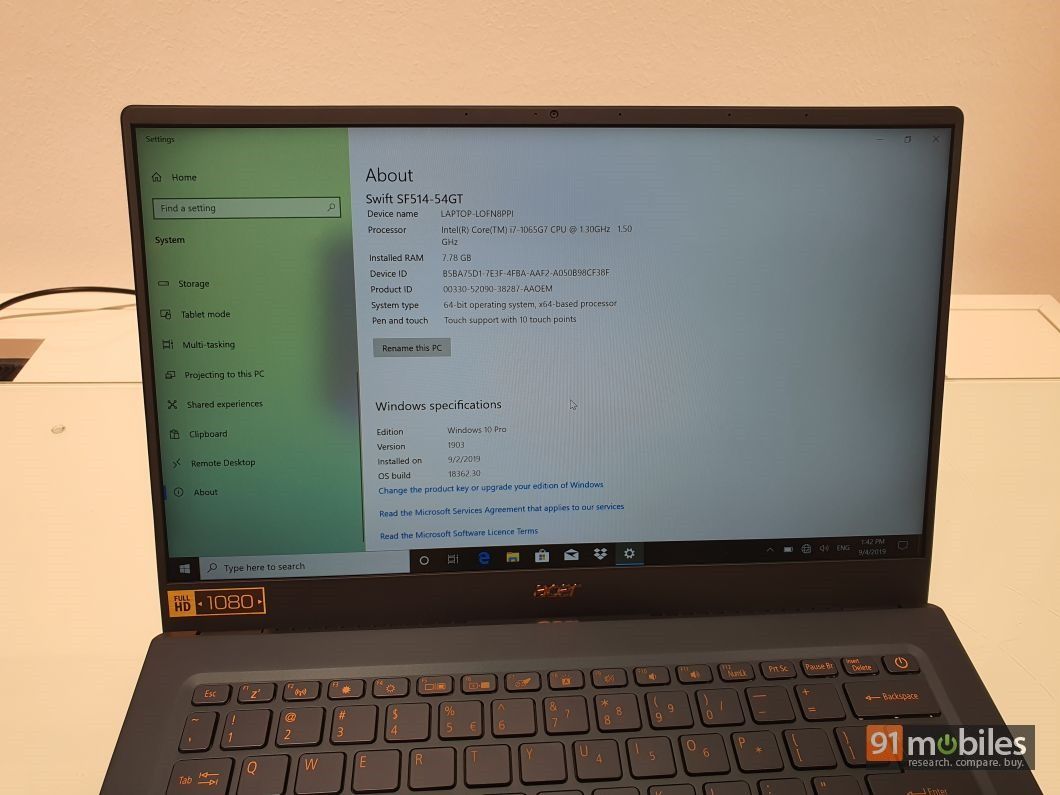 Acer has also ensured that the Swift 5 doesn't sacrifice battery life to maintain its lightweight profile. The device promises a battery backup of up to 12.5 hours. The good thing is that the rig also supports fast charging, and the brand promises that you can get up to four and a half hours of runtime with 30 minutes of charging. Sadly though, it's odd to see the brand continuing with its proprietary barrel-type charging adapter. Interestingly, you could juice up the device with a Type-C adapter too.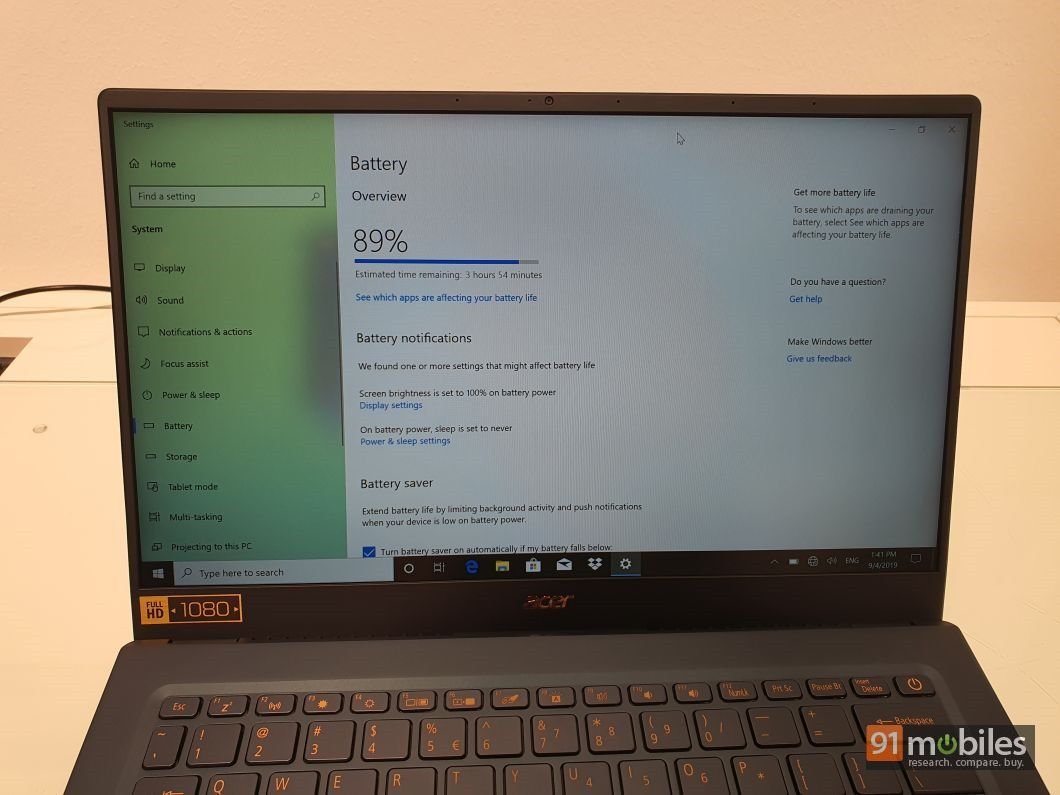 Coming to the Acer Swift 3, the device also features a 14-inch IPS panel that bears full HD resolution. The internals are also same as its pricier brother, and you wouldn't find any differences in I/O either – which is quite good considering the compactness of these devices – you get a charging socket, an HDMI port, a USB Type-A port and a Type-C Thunderbolt-compatible socket on the left, whereas the right spine sports the lock port, another Type-A socket and a 3.5mm headphone interface alongside two LED indicators. Both rigs also come with fingerprint scanners that work in conjunction with Windows Hello to let you login quickly. Interestingly, the laptops also support the latest Wi-Fi 6 standard. Worth mentioning however, the Swift 3 doesn't feature a touchscreen, but its display can lay flat on the surface, unlike the Swift 5.
Acer Swift 5 design gallery
The Swift 3's display is slightly more robust, though it'll creak when you press it on either side. Somehow, I liked the typing experience on the Swift 5 more, even though the Swift 3 isn't as thin as the former. My issue with the trackpad remained unchanged in the case of this machine too.
Acer Swift 3 design gallery
While Acer usually delays its launches in the Indian market, the brand seems to be changing its strategy. Both the Swift 3 and Swift 5 laptops will be going on sale in the subcontinent by the end of this month. They're priced quite well too, with the Swift 3 costing Rs 59,999 and Swift 5 carrying a price tag of Rs 69,999 for their base models. It's evident that the laptops will be competing against a range of offerings, but it's also worth noting that if you're looking for a lightweight laptop that can be carried around easily, then Acer's latest devices can't be ignored. We shall be putting them through their paces soon, so stay tuned for our review.
Disclosure: this writer is attending IFA 2019 in Berlin on Acer India's invitation