"Digital Wellbeing is a feature present only in Pixel phones and Android One devices"
The developer behind the famous Action Launcher for Android has released a new app that is similar to Google's Digital Wellbeing and Apple's Screen Time. The app is called ActionDash and it brings some of the features of Digital Wellbeing to all Android devices. Google has restricted the use of Digital Wellbeing only to its Pixel devices and phones that are part of the Android One program.
ActionDash is aiming to help Android users to better manage their usage with the help of features that are found in Digital Wellbeing. However, the developer claims that the app provides more features and deeper insights for all apps. It will provide information regarding system built apps as well, which is something that Google's service doesn't do.
Similar to Google's alternative, this app can show detailed information about the number of device unlocks and notifications received throughout the day. The developer has also included features like dark mode, daily usage notification among others. The ActionDash app will also include apps such as the Pixel Launcher and Digital Wellbeing in its app usage statistics page.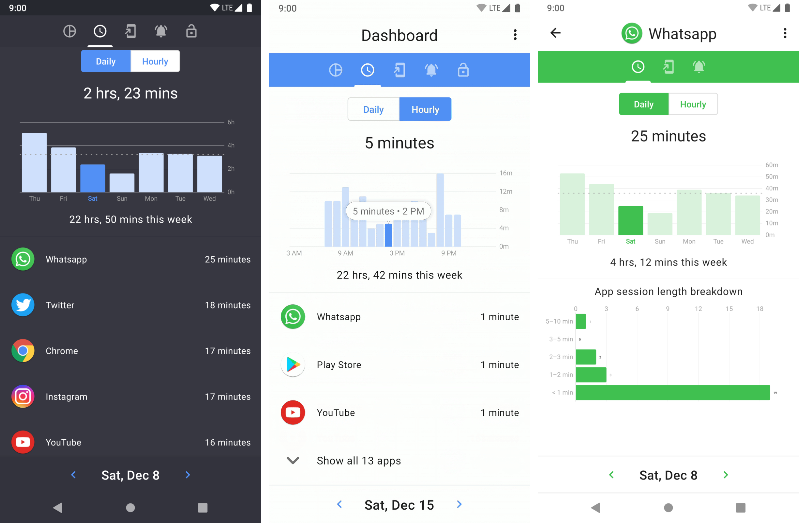 However, the app doesn't include the ability to lock applications or set times after which the app will be paused. With Google's Digital Wellbeing, users can limit an app's usage after a certain time. You can set a time of 1 hour, after which, the app cannot be used unless the the setting is changed in Digital Wellbeing. With ActionDash, you can set timers for usage, but you will not be able to pause the app. You will, however, receive notifications about your usage, which can help reduce the time spent on apps. The app will also work with Action Launcher, allowing users to check the usage details of an app by simply tapping and holding on the icon in the Home screen or app drawer.
A paid version of ActionDash is also available, which is activated with an in-app purchase of Rs 100. This unlocks some additional features such as unlimited usage history, manual backup and more. If you find yourself using your phone a lot and want to cut-back, then this is a great app that can be installed on any Android device. It is currently available on the Google Play Store, so go check it out.