"Worried about the quality of air you're breathing? You could consider an air purifier"
Smog and pollution: two terms which have made themselves popular in the last quarter of a century or so, were prominently used in India in late 2015. With Delhi coming in the limelight because of the exponential growth of air pollution, one does wonder: how clear is the air we are breathing?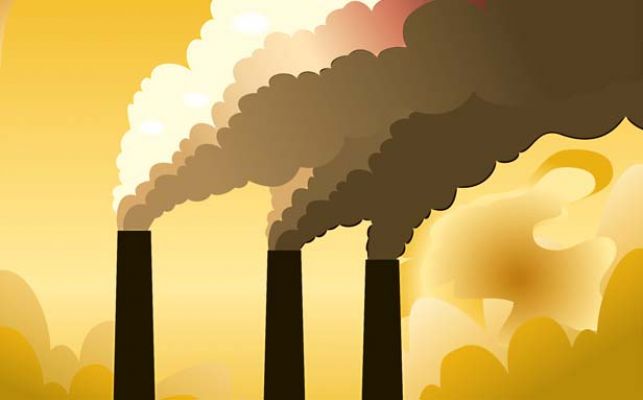 Two things can be done to rectify the problem: one, curb the pollution levels at the source itself. And two, clean the air around you. The latter seems to be the more logical choice from a personal viewpoint, and that's exactly what we'll be talking about in this piece. We'll talk about air purifiers, how they work, how to choose one and a look at some of the available options.
Easing in: what's an air purifier?
The use case is quite evident from the term itself. An air purifier mostly focusses on removing particulate matter such as dust from the air. It sucks in the existing air within a room, subjects the air to intricate filters, and finally circulates the clean, purified air back into the room. The modus operandi is similar to that of an air conditioner or a cooler, but the onus is on cleaning the air.
What are the contaminants in the air?
This is an extremely important factor to keep in mind before buying an air purifier. In a way, the type of target contaminants affects the types of filters, and ergo the air purifier, being purchased by the consumer.


Within a home, the common contaminants include dust particles, fungi, paint, cleaning chemicals and minute fabric materials as well. Homes with indoor plants will have pollen and plant spores, homes with pets will have pet dander and dust mites, and there might also be cigarette smoke lacing the air within a home.
The harmful effects that these might cause? Breathing disorders such as asthma, shortness of breath, intermittent coughing, to even serious lung disorders and even cancer.
While we'll be getting into the actual purifiers later on in this piece, it's a good time to mention that air purifiers with HEPA filters are especially suited to remove minuscule particles from the air.
Side note: HEPA filters and contaminants
High efficiency particulate arrestance filters – or HEPA filters – are designed to remove particulate matter as small as 0.3 microns in size. This includes most pollutants, with the stark exception of tobacco smoke.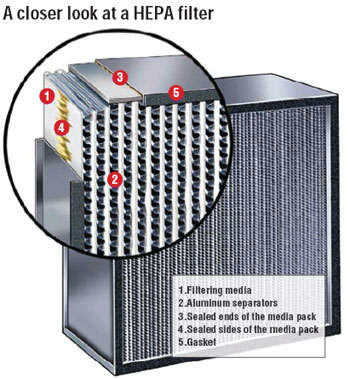 Contaminant sizes range from 0.3 – 100 microns for pet allergen, 10 – 40 microns for dust mites, 0.5 – 50 microns for fungi, 2 – 20 microns for mold and 10 – 70 microns for plant spores. While all these can be captured by HEPA filters, tobacco smoke – with particles ranging from 0.003 to 0.04 microns – will be missed out by the HEPA filters.
So, is a HEPA filter important? Definitely, and more so if any of the family members is suffering from an allergy. So while we're discussing HEPA filters, this would be a good time to talk about the types of air purifiers available in the market.
Types of air purifiers available
The Indian market is seeing the growth of air purifiers in the consumer electronics sector, and there are quite a few air purifiers available out there.
On the basis of filters:
Usually, these can be divided into air purifiers that use carbon filters (for removing gases, viruses, unpleasant odours and particles smaller than 0.3 microns) and those that use HEPA filters (for removing particles as small as 0.3 microns). Generally the presence of a carbon filter makes the air purifier more expensive, but also more effective.

Some companies might also sell ozone filter based purifiers. They might purify the air, but they also release a lot of ozone which in turn causes breathing disorders and serious physical conditions.
On the basis of size:
Full-blown air purifiers that cover entire rooms and homes aren't really that popular in India. What we do have in retail stores is free standing air purifiers, which can be easily moved from one room to another.
These purifiers are small in size – about two or three feet in height – and can purify the air within a room within 10 to 15 minutes, maybe more for larger rooms. The biggest advantages are portability, efficiency and effectiveness.
Factors to keep in mind before buying:
Size of the room
Depending on the size of the room, air purifier sizes will differ greatly. For example, to effectively purify the air of a 165 square feet space, an air purifier with a wattage of 40W is needed.

Different air purifiers come with different rating according to the area which they can work on, so do check out the area range of an air purifier and correlate it with the room size.
The room itself
Now according to the room where you want to keep the air purifier in, the specific features might vary.
For example, an air purifier for study rooms should be capable enough to clean room sizes between 150 and 250 sq. ft. Air purifiers for bedrooms must operate quietly. Air purifiers for larger dining spaces and living rooms must also have higher efficiency and effectiveness. You get the idea.
Ideally, the air purifier must be placed 5 to 10 feet away from where the person usually sits. The outflow should be directed towards the direction of where the person sits. It's all about getting the right balance in the airflow.
Presence of allergies
If somebody in the home has a risk of an allergy, or if there is a smoker within the home, then the HEPA filter must be accompanied with a carbon filter to clear out the microscopic pollutants.
Also, with this point comes the ease of cleaning or replacing the filters. Filters can be either washable or replaceable, and if spare parts for air purifiers are hard to come by, then the natural choice would be to settle for an air purifier with a washable filter – as is the case with some old vacuum cleaners.
Additional features
Some air purifiers come with added functionalities such as the ability to reduce the presence of unpleasant odours in the air. While this might seem as a promising feature, it might just be a gimmicky feature which seldom works, and instead emits ozone into the air.
Besides this, some air purifiers come with remote controls for easy controlling. Needless to say, this is a handy addition.
What should I see before buying one?
After keeping the above factors in mind, when the customer finally goes to buy an air purifier, the number of choices available might be mind boggling. There has to be one unified factor which distinguishes a good purifier from a bad, right?



The yardstick in this regard comes in the form of the CADR (clean air delivery rate). What this indicates is the measure of the unit's airflow (input) multiplied by the filtration efficiency within the air purifier. While the actual method of coming up with the standard is complicated, a CADR north of 200 is great.
Besides the CADR, look for factors such as the portability (if you want to move one from room to room) and noise (if you want a quiet one for the bedroom).
The brands in the market
Eureka Forbes
Eureka Forbes – the brand behind Aquaguard – has a few air purifiers in its product portfolio. Prominent ones include the Aeroguard Breeze (priced at Rs 12,999), Aeroguard Mist (priced at Rs 17,999) and the Aeroguard Wave (priced at Rs 29,999).


All the three share an Activeshield technology to filter out dangerous respirable particles, and Active 10X Pre Filters, HEPA filters and carbon filters. The top-of-the-line Wave also features a compound filter and an active oxidation cell – which helps in generation of negative ions to remove air borne pollutants.
The brand also has some other nifty air purifiers – particularly the Aeroguard Fresh (priced at Rs 4,999) and Aeroguard Clean Air Glo (priced at Rs 1,390). While the Fresh is a tiny air purifier which plugs into a car's 12V DC socket to clean the air in a car, the Clean Air Glow is actually an LED bulb which has a built in ionizer and oxidises the air to purify it.
Philips
Philips has a few air purifiers in its product lineup, which range in pricing from Rs 17,000 to Rs 50,000. All of them come with a Vitashield IPS technology with multi-level filtration. The multi levels include a pre-filter which removes the larger particles in the air, a main filter which removes pollen and other dust particles and a finer, third filter which removes harmful gases and odours.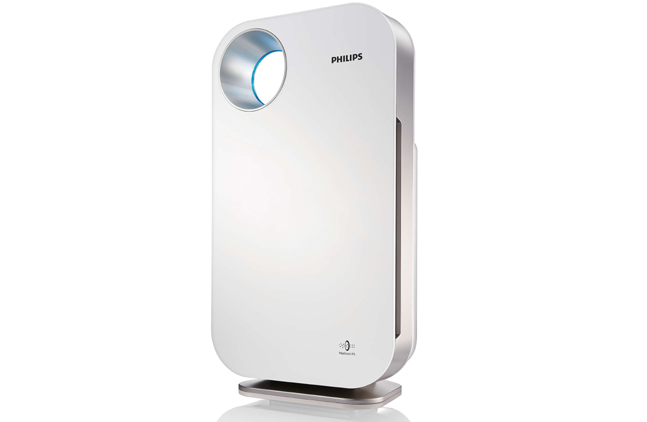 The cheapest one – the AC4025 – comes with a CADR of 127 cubic metres per hour, and is devoid of LED indicators (to indicate the air purity). It is more suited for rooms with an area under 350 square feet.
The AC4014 and AC4072 – which will set the buyer back by Rs 28,995 and Rs 39,995 respectively – are suited for areas below 600 square feet. Both of them have smart sensors to sense and adjust to the air within the room.
The pricier one – the AC4372 – is more suited for larger spaces spanning about 750 square feet. There are dedicated LED indicators which show a visual representation of how pure the air within the room is. Besides the air quality level, there is an advanced filtration system, silent sleep mode and adjustable fan settings. The CADR is pretty high – about 341 cubic metres per hour.
Philips also has replacement filters and other spare parts officially available in the country. So if you're looking for a more long term option, this should be a safe bet.
Honeywell
The brand's most popular air purifier in India is the Honeywell Air Touch. Notable features include a HiSiv filter technology, visual indicator for air quality, touch panel based controls and a dedicated sleep mode.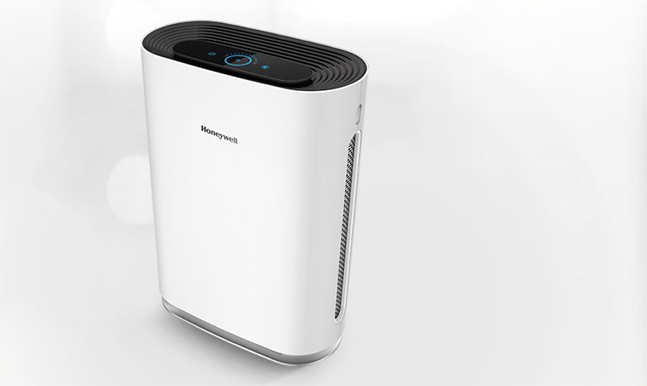 The purification filters are multi-layered, and they can be replaced easily. The design is a zero-blind one, to optimise the air flow to reach all corners of the room. The CADR is 300 cubic metres per hour, and the area range is upto 270 square feet.
The Honewell Air Touch is priced at Rs 28,000, and if you're looking for a sleek, minimal purifier which gets the job done, this should be it.
Panasonic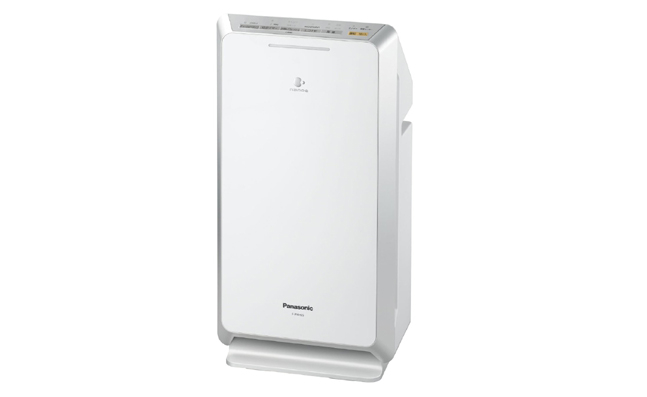 While the company has a few air purifiers in India, we'll be highlighting the Panasonic F-PXH55M. Suitable for a medium to large-sized room (up to an area of 450 square feet), the CADR of this air purifier is 300 cubic metres per hour. Buying this would set you back by Rs 29,000, but it would be a good option to consider for larger rooms.
Atlanta Healthcare
If you're on a tight budget, then this homegrown brand should be one to take a look at. Atlanta Healthcare has some air purifiers which are nicely priced and offer a wide gamut of features. For starters, the purifiers under this brand's umbrella can have five to seven filters among Pre filters, HEPA, Cold Catalyst, Photo Catalyst, Activated Carbon, Negative Ion, Ultra Violet light and Anti-Bacterial filters. The number of filters available depends on the product's price.


The cheapest variant is the Tornado Pure, which can purify spaces up to 150 square feet in area. The CADR isn't much (60), but at the price (Rs 8,590), it's alright. The Alfa 351 can target areas up to 350 square feet in area with a CADR of 110 cubic metres per hour, and can be brought for Rs 9,950.
One of the more expensive variants is the Universal 450 with Humidifier. Priced at Rs 26,950, this purifier comes with a humidifier too, and can be used for spaces as large as 450 square feet. It has a CADR of 225.
This brand can be looked at if a balance needs to be maintained between budget and functionality. Availability shouldn't be an issue either, as this company directly ships from its own website.
The benefits of buying an air purifier
Finally, coming to perhaps the most vital points behind buying an air purifier – the advantages of actually buying one.
Firstly, there's the improvement in the air quality. Barring the time spent outdoors, air purifiers can at least improve the quality of air within homes and offices to maintain a pollution-free environment.
Secondly, natural circadian rhythms and sleep cycles have shown to improve when the air quality is better. This trend actually goes with smart scales (from brands such as Withings) being able to measure the air quality.

And finally, air purifiers will get smarter. The best example in this regard is the Mi Air Purifier by Xiaomi, which purifies the air and integrates with a smartphone app to notify the user about the status of the contaminants at home. While this product hasn't been launched yet in India, appliances like these will definitely create a smart home environment.
While air purifiers cannot be a hundred percent effective, they can do their bit in improving the quality of the air surrounding the buyer. We hope that through this guide, you can take a more informed decision when it comes to buying an air purifier.

(Image Sources:
Pollution Image: Illinois Times
Contaminants in the home: Atlanta Healthcare
HEPA Filter: Pharmatips
Air purifier images: From the respective brand websites)