"The new AirPods are expected to feature a slightly different design from the present one, along with added in-ear noise cancellation"
Apple might be reserving a trick or two up its sleeve with regards to its next-gen AirPods, which may be unveiled at a hardware event next month. Discovered by 9to5Mac, the trick refers to a tiny glyph, or icon, spotted in the iOS 13.2 beta coding that appears to depict a differently designed pair of earphones, featuring in-ear design. This almost entirely matches the previous AirPods leak posted by SlashLeaks, which showed a new-ish design. Now, the report suggests that the new AirPods, which might be named AirPods 3, or going by recent Apple trends – AirPods Pro – would feature noise cancellation as well.
The new design of the AirPods, seen in the glyph as well as the images shown by SlashLeaks earlier, appear to feature a shorter stem than the present AirPods. Further, the earpieces are angled towards the ears and the glyph shows foam tips attached to these angled earpieces as well. This suggests that in comparison to the present AirPods, the upcoming ones might be going for a more snug fit in the ear cavity. This is going to be important if Apple aims to offer noise cancellation with new AirPods, particularly since the present generation one, for all its strengths, fall flat when it comes to blocking out ambient sounds.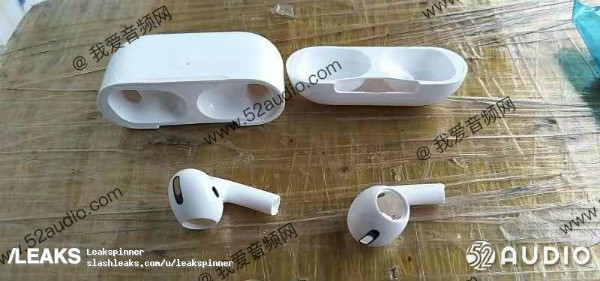 There is no word regarding the audio capabilities of this purported product, but like all things Apple, the AirPods should also see an incremental increase in its audio abilities – perhaps a more powerful driver, or tweaks to better balance the audio output with increased emphasis to the mids. The present generation AirPods already offer acceptable audio quality with clear lows and bright highs, and while it is far away from pleasing the audiophile, where it really wins at is convenience. Multiple brands, including audio giants such as Bose and Sennheiser, have been attempting to make true wireless earphones that sync so seamlessly with Android or iOS devices, but the AirPods has so far remained leagues ahead of them thanks to Apple's proprietary W1 chip. As a result, it also maintains a hefty market lead, with almost over half the market of true wireless earphones belonging to the two generations of the AirPods, as of now.
Previous rumours and patent leaks have often suggested how the AirPods may evolve, and like the previous generations, the upcoming AirPods is also said to be able to function as a hearing aid. Apple's products have matured into accessibility products as well over time, with the Apple Watch frequently in the news for detecting falls and heart irregularities that may have otherwise been fatal. On this note, patents have often suggested that Apple might equip its AirPods with fitness sensors in some future generation, although given the product description, the third generation AirPods will not likely be it.