Highlights
Airtel offers the best video experience in India as per Opensignal's report
Airtel was also slightly ahead in the voice experience overtaking Vodafone

Vodafone took the lead in the upload speed with 3.9Mbps, which is nearly 24 percent faster than Airtel and 42 percent faster than Jio.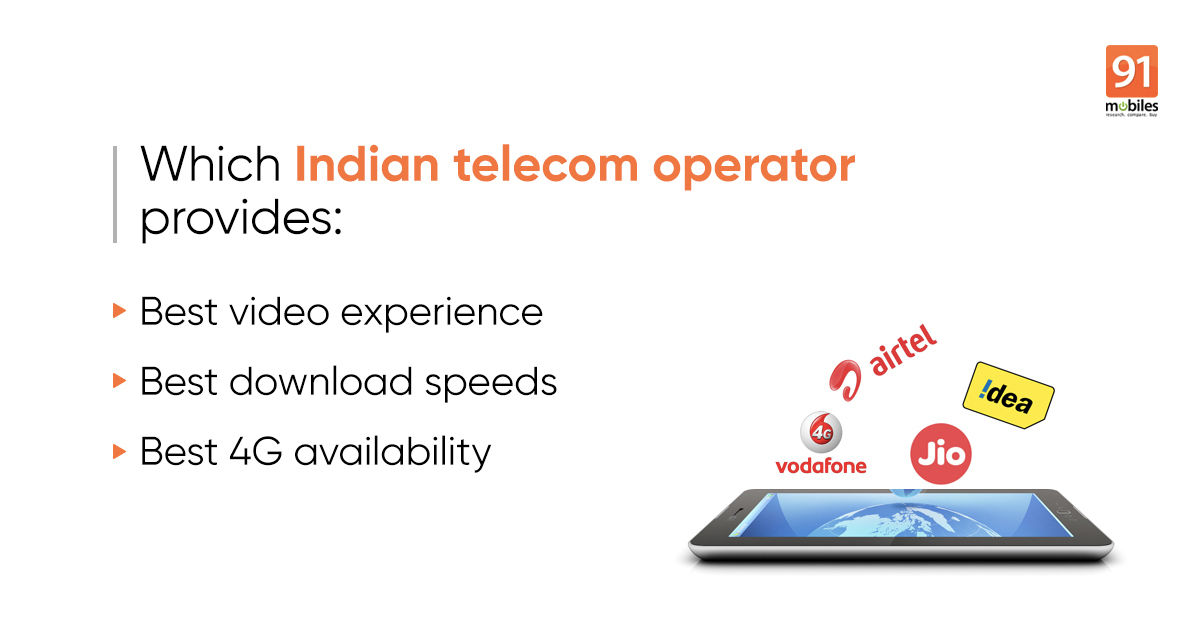 Opensignal is back with another report on the mobile network experience in India. The report talks about how major telecom players in the country are performing in areas like videos experience, 4G coverage and upload speeds. The its findings reveal that Airtel offers the best video experience in the country as it upgraded its rating from fair to good. Vodafone also joined Airtel in the good rating category and recorded the highest increase on its network. This means that subscribers on this network will now experience faster video load times and fewer interruptions during playback on smartphones. Jio and Idea apparently came neck-to-neck but settled in the fair rating category. Fair rating relates to sluggish load times and frequent stalling, most notably on high-resolution. Meanwhile, BSNL's 3G only network remained in the poor category.
Moreover, in voice experience, Opensignal says that there has been a tight competition between all the four major networks. However, Airtel was slightly ahead of the pack overtaking Vodafone and pushed itself into the acceptable rating from the poor. Idea, Jio, and Vodafone remained in the poor bracket. This means that users aren't satisfied with the voice experience on these networks thanks to frequent distortion, clicking sounds or silence experienced during the call. Opensignal voice app experience measures the quality of experience for OTT voice services such as WhatsApp, Skype, Facebook, and Messenger.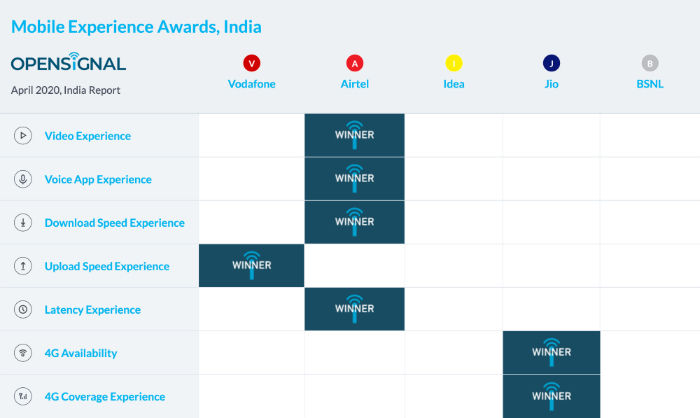 Airtel also has the highest download speed at 10.1Mbps, but Vodafone and Idea are narrowing the lead. The overall download speed grew a little more than 1.5Mpbs to 9.5Mbps and 9.2Mbps, respectively. As for Airtel, its speed increased by around half a megabit since the last Opensignal report. Lastly, Jio is far behind with just 7.3 Mbps speed, and BSNL took the last spot with 2.9Mbps. Vodafone took the lead in the upload speed with 3.9Mbps, which is nearly 24 percent faster than Airtel and 42 percent better than Jio. Airtel's has the lowest latency rate of 54.1 ms, while Jio trailed behind at 56.2. Vodafone's response time improved by 3.6ms with 60.6ms. Lastly, Jio continues to dominate the 4G availability in the country with a commendable score of 98.2 percent.