Highlights
BSNL has lost over 50,000 wired broadband subscribers in October
Reliance Jio has 406 million active subscribers in the wireless broadband department while Airtel and Vodafone Idea have 167.56 million and 120.49 million users, respectively.
The overall number of telephone users in India grew from 1.168 billion to 1.171 billion.
While Bharti Airtel and Reliance Jio are gaining wired broadband subscribers, Bharat Sanchar Nigam Limited (BSNL) continues to lose subscribers in this market, despite retaining the most market share. These subscribers appear to be abandoning the state-run service provider for private alternatives like Airtel and Reliance Jio. In the month of October, BSNL's wired broadband subscriber base reduced from 7.8 million to 7.75 million. In contrast, Airtel Xstream Fiber's user base increased from 2.6 million in September to 2.67 million at that time. Similarly, Reliance Jio now has also grown from 1.52 million subscribers to 1.7 million. The market for wired broadband services continues to grow, as the number of subscribers increased from 21.12 million to 21.51 million, representing a growth of 1.85%. You can read the report in its entirety here.
Also read: Jio becomes first telecom network in India to amass 40 crore subscribers: TRAI
Reliance Jio continues to maintain its hegemony over the competition in the wireless broadband space. With a total subscriber base of 406 million, it captures roughly about 55.53 of the overall market. Even the combined subscriber base of Reliance Jio's main competitors Airtel and Vodafone Idea (167.56 million and 120.49 million users, respectively) fails to surpass its subscriber count. Despite a paltry 3.52 percent market share, BSNL gained 1.06 million users during the time.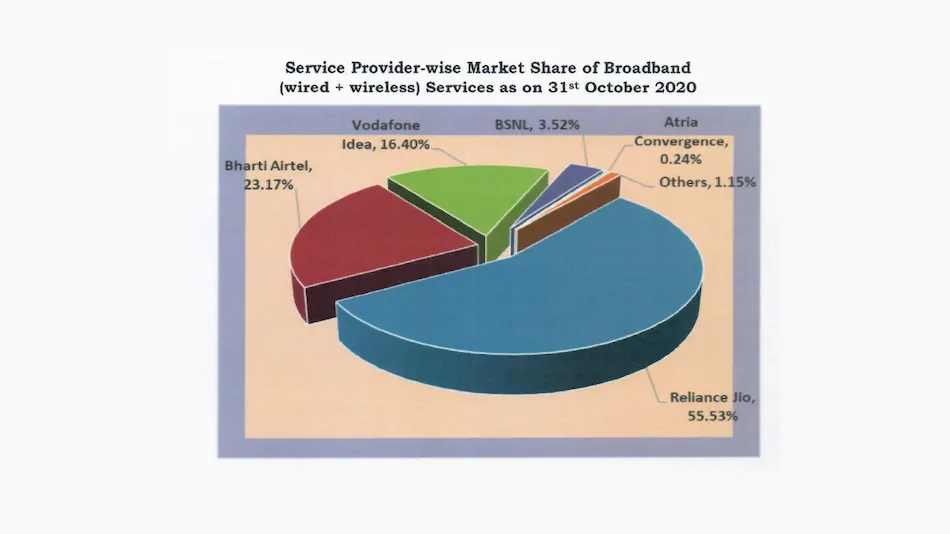 With the easy availability of low-cost 4G-ready smartphones and high-speed mobile internet, it comes as no surprise that people are abandoning their landline phones. The number fell from 3.23 million to 3.14 million between September and October 2021. However, the number of telephone users (mobile and landline) grew from 1.168 billion to 1.171 billion, showing a growth rate of 0.27 percent. The wireless teledensity increased from 84.74 percent to 84.90 too, indicating that more people now have access to smartphones.