"Bharti Airtel users can access the content across TV, PC, and smartphones"
Bharti Airtel has unveiled its converged digital entertainment play with the launch of Airtel Xstream. This brings live TV channels, movies and TV shows, millions of songs, plus access to all the popular OTT entertainment apps, including ZEE5, Hooq, Eros Now, HungamaPlay and much more. Users can access the content across TV, PC, and smartphones. The telecom network also launched two hardware devices, the Xstream Stick and Xstream Box.
The Airtel Xstream Stick runs Android 8.0 Oreo and is a plug-and-play design that is compatible with most TVs. It comes with a single subscription plan that gives users access to all digital entertainment. It also provides access to Netflix, Amazon Prime Video, and other Google Play apps. The Stick also supports Chromecast and is powered by 1.6GHz processor, the voice remote comes with voice support for hands-free control, and it uses Bluetooth 4.2 for connectivity. Airtel Thanks Platinum and Gold customers get complimentary access to the content subscription plan on Airtel Xstream Stick while the rest can get free access to content for 30 days and Rs 999 annually after it.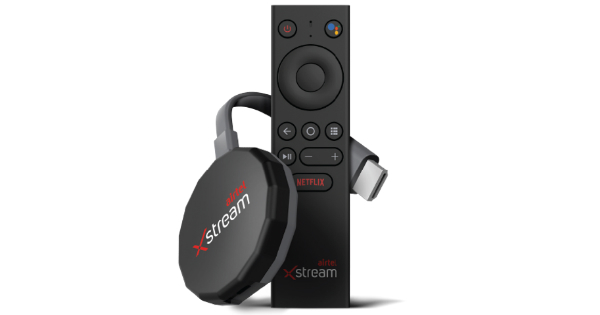 On the other hand, the Airtel Xstream 4K Hybrid Box brings together the satellite TV and OTT content together on a single device. It offers over 500 TV channels, preinstalled with Airtel Xstream app, Netflix, Amazon Prime Video, YouTube, and Airtel Store. It has built-in Chromecast, Wi-Fi, and Bluetooth. The universal remote comes with Google Assistant support and has hotkeys for Netflix, Amazon Prime, and YouTube.
While the Airtel Xstream Box is priced at Rs 3,999 and comes with a complimentary one-year subscription to all Airtel Xstream app content in addition to a one-month subscription to an HD DTH pack. However, all the existing Airtel Digital TV customers can upgrade to Airtel Xstream Box at a special price of Rs 2,249 only. Both the devices are exclusively available via Flipkart, Amazon, Airtel retail stores, Airtel website, and retail stores.
Adarsh Nair, Chief Product Officer, Bharti Airtel, said, "As part of our digital entertainment play, our vision is to truly massify digital entertainment and make it accessible to more and more customers through innovative platforms. Today, we are announcing India's first converged entertainment platform Airtel Xstream that brings together your favourite content including Live TV, video, music, news, and sports across an OTT smart stick, internet-enabled set-top box and handheld devices. Airtel Xstream will cater to the needs of a new generation of consumers who are looking for seamless and converged entertainment across multiple screens at home and on the go."