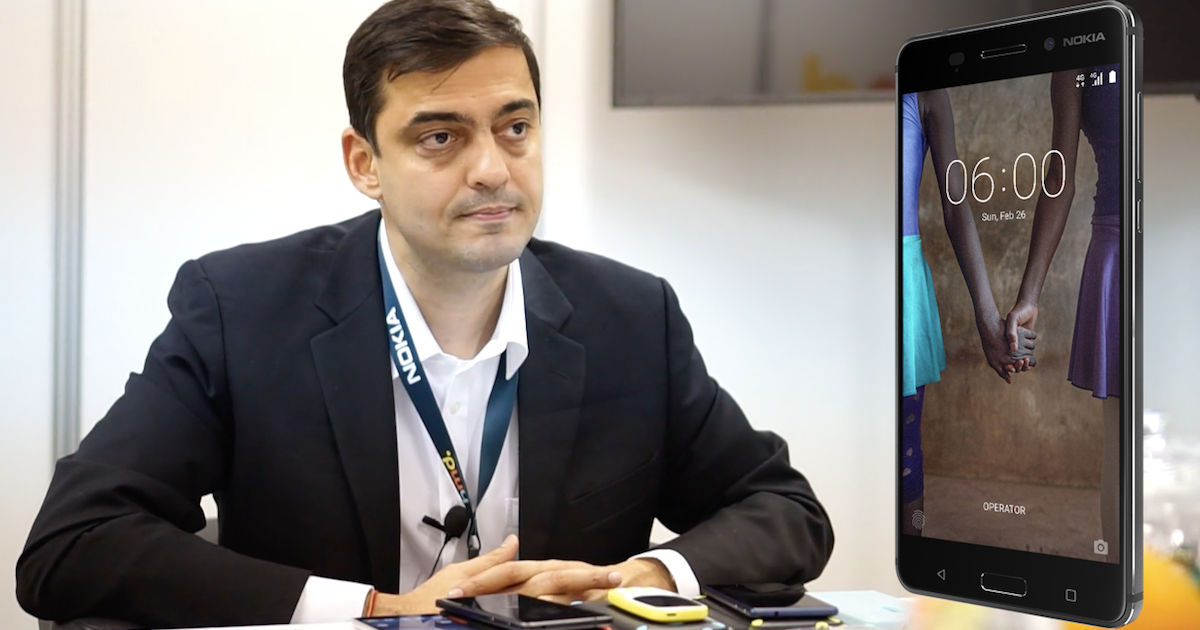 "The Nokia 3310, Nokia 6, Nokia 5, and Nokia 3 will launch in India by the end of May or early June 2017"
Nokia smartphones made an official comeback globally at the Mobile World Congress this year. In all honesty, the Nokia 3, Nokia 5, Nokia 6, and the comeback kid Nokia 3310, almost took all the sheen away from the rest of the phones launched at the event. In fact, we can vouch for the fact that the Nokia booth at the event was always brimming with action and jam packed with people wanting to check out the phones.
(Also read: Nokia 3310: first impressions)
At the sidelines of the event, we caught up with Ajey Mehta, Vice President – India of the newly-incorporated HMD Global. He spoke to us about how this "agile and nimble" startup leveraged Nokia's brand identity to make smartphones that are tailored to the needs of the customers. The entire video of the interview is embedded here and we also have a few salient highlights of Mehta's statements from the interview just for you listed below:
(Also read: Nokia 3: first impressions)
(Also read: Nokia 5: first impressions)
HMD Global has partnered with Nokia for the brand, Google for Pure Android, and Foxconn for manufacturing.

HMD Global is a grown-up startup because we aren't starting from ground zero and we do have a feature phone business that currently exists.

Nokia fans asked us to bring back the 3310.

The feature phones business is a 12 million-a-month business in India. That is not small change. Nothing to scoff at.

If we can have a differentiated offer in the feature phone business, then I think there is a huge opportunity for us in India.

From India point of view at least, there is an emanant sense for us to launch the Nokia 3310.

The Nokia 3310 is a 2G phone with 25 days of standby battery, 22 hours of talk time, you can call, you can send SMSes, and play Snake. This is what you would say is the lowest hierarchy in terms of what a phone does.

We have a handle on the consumer pulse and if he / she wants 4G VoLTE phones with x,y,z features we might just make one if we think it makes business sense.

The global pricing of the Nokia 3310 is around 49 euros, which would roughly be the pricing in India as well.

We want to make Nokia a people's brand again. We want to be a full range player.

HMD as a company feels that there has been a sea of undifferentiated products in the market. There is certain degree of fatigue that has set in. We believe that we can approach the mobile industry in a fresh new way.

(Also read: Nokia 6: first impressions)



Thanks to our partnerships, we have access to the deepest consumer insights of the smartphone market. We are going to leverage those insights and based on those insights we are going to do our product development, our marketing plans, and so on.

It is not about a numbers / specs game for us. It is not just about the 'X' GB, but it is about that 'X' GB being able to deliver an experience. Our focus is really on the core experience.

We are looking at high-quality materials and extremely high-quality manufacturing processes with Foxconn.

With the use of pure Android from Google, we provide a clutter-free, updated, and secure mobile operating system experience for our consumers.

While the spec war is there for others, we actually want to focus on the experience for the consumers because that is what matters at the end of the day.

We will pursue all channels of sales — be it offline or online —that reaches our target consumer. We will be channel agnostic.

One of our strengths is offline sales. We reach, 80,000 to 90,000 offline distributers every week.

Our target consumer is digital, is looking for products online, and therefore we will go online as well.

We may have specific products for online and specific products for offline, but HMD India as an organisation, with its entire portfolio, will be across all channels.

We are looking to be in 250 towns in India at the time of launch.

We did set the benchmark of Nokia Care in India and HMD India wants to bring back that level of service.

Given the experience we want to deliver to the consumer at the price point that we have chosen for the Nokia 3, the MediaTek chipset we used was adequate.

Late May 2017, or June, is when all the Nokia phones will come to India.