Next issue media has been available to iPad users for almost an year now. The feature magazine subscription app offers an unlimited all-you-can-read pack of digital magazines that covers a wide array of categories ranging from business, lifestyle, travel, food categories and more.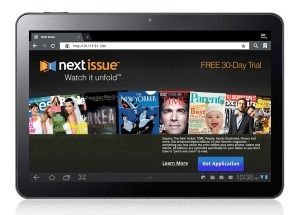 The app that is popularly referred to as "Netflix for Magazines" is all set to expand to Windows devices now. The company announced that it will henceforth be available on Windows 8 tablets, desktops, ultra books and laptops.
The app was launched with 39 magazine issues, which has since expanded in number to over 80 magazine subscriptions. The issue offers two types of subscriptions – "unlimited basic" monthly subscription at $9.99 for magazines such as Glamour, Wired and Food & Wine and an " unlimited premium" monthly subscription at $14.99 which includes titles such as People, New Yorker and Sports Illustrated.
The application was earlier available on Android 3.0 Honeycomb tablet devices, before expanding to iPad in July last year. The Windows 8 app will have features like "snap view" for multitasking on the Windows interface and will be available on the Windows App store. The Next Issue Windows 8 app also allows users to pin favorite magazines to the Start screen, receive notifications when new issues are available. The Next Issue library layout, which provides access to back issues, has also been expanded in Windows 8.
A single subscription can be authenticated on up to five devices. John Richards, Senior Director of Windows App, Microsoft,commented "With greater choice as to where, when and how they access their magazines, users can seamlessly switch from their tablet at home, to their Ultra book on the road, to their company PC."