"Starting today, the Amazon Echo devices will allow users to set up Hindi as default language"
Amazon's Alexa voice assistant now speaks Hindi! Amazon has added the much-needed support for the Hindi language to its AI voice assistant Alexa in India. Starting today, Alexa can interact with users in English, Hindi, and a mixture of both Hinglish. Amazon Echo device users will be able to set up Hindi as the default language. The company claims that the voice assistant now understands the customers speaking completely in Hindi or Hinglish in various contexts as well as varied dialects and accents. To change Alexa language to Hindi, just ask, "Alexa, help me set up Hindi."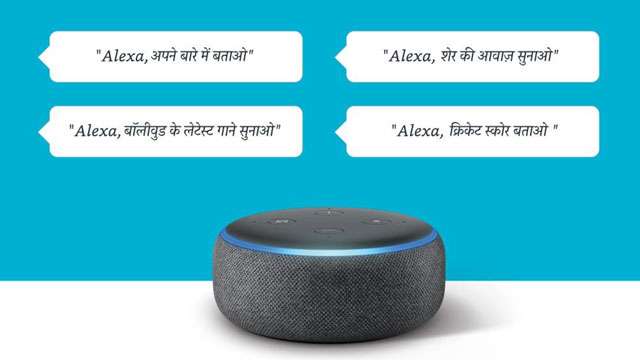 Users can also change the language via language options inside the device settings on the Alexa app. If you've an Echo Show, swipe down from the top of the screen to access the settings section to change the language. Alexa will be able to perform all sets of skills, including getting an update on whether, and news, in Hindi. Users can also ask it to play popular Hindi, English, and other Indian regional language songs with "Alexa, Bollywood ke latest gaane sunao", ask which song it is through commands like "Alexa, yeh kaunsa gaana hai?", "Alexa, sher ki aawaaz sunao", or "Alexa, apne baare mei batao".
"We are thrilled to bring a suite of AI advances in multi-lingual understanding so that customers can interact with Alexa in different regional variants of colloquial Hindi. We are grateful to Indian customers who contributed to Hindi development through the Cleo skill," said Rohit Prasad, Vice President and Head Scientist, Alexa AI, Amazon.
In addition to this, the Hindi support is also being added to third-party speakers powered by Alexa such as Bose, Motorola, boAt, and Portronics starting today. Soon, Alexa will start having Hindi and English conversation simultaneously without changing the language setting. This feature is expected to roll out by Diwali, which is next month.