"The Amazon Echo Show 8 can stream shows directly from Prime Video, and also play music via Apple Music, Gaana and more"
Amazon India has announced the launch of its latest Alexa-powered smart device, the Echo Show 8. The latest product under Amazon's Echo portfolio with screens features an 8-inch touchscreen display, which offers HD resolution. It also offers stereo sound via integrated speakers, and comes with all the smart playback and response abilities that all of Amazon's Alexa-powered smart home devices come with. The highlight of the Echo Show 8's visual features is the ability to stream content directly from Amazon Prime Video, while users can also get non-Amazon video content from streaming platform Voot.
Amazon also states that the Echo Show 8 features on-screen lyrics when music is played via Amazon Prime Music. Music playback on the device is also supported via Apple Music, Gaana, JioSaavn, Hungama and more. As announced for Alexa before, users can also make voice searches on the Echo Show 8 in Hindi. The Echo Show 8 also comes with an integrated camera on the front, which can be used to make video calls via Skype, or other Alexa-powered Echo devices. In a bid to ascertain the device's privacy credentials, Amazon has also included a single button that deactivates the mics and camera on the Echo Show 8. To further ensure privacy, Amazon has included a sliding panel that can block the camera, when not in use.

Why pay in full when you get EMIs with 0% interest?
Buy the Amazon Echo Show now and pay later in flexible EMIs!
No application fee
No down payment required
No pre-closure fee
The overall design of the Echo Show 8 remains the same as its previous generation models, with an upward-angled screen that works as the main interface for the product. The device has a four-microphone array for far field voice recognition, and features a 3.5mm audio port at the rear to plug it in to a tertiary speaker for better audio delivery. The Echo Show 8 should also work with earphones, which should be useful for viewing content at night. The Echo Show 8 also supports dual-band Wi-Fi, and is hence capable of connecting to faster, 5GHz Wi-Fi networks.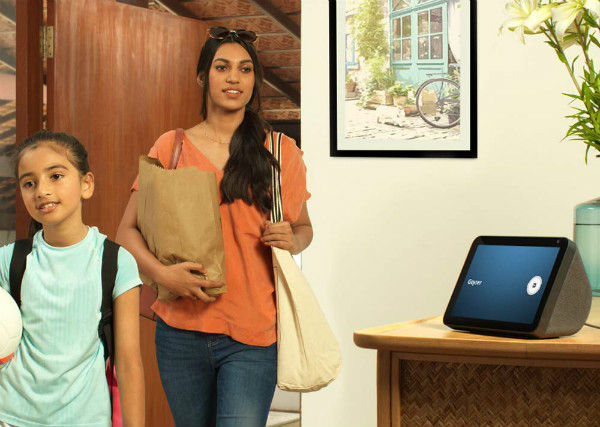 The Amazon Echo Show 8 joins Amazon's growing list of Alexa-powered smart home devices, and its competitive pricing at Rs 8,999 gives users an interesting multi-purpose smart home device that can be used as a bedroom entertainment device, or even on kitchen tops to stream live recipes.