"Google has updated dedicated Chromecast hardware, Chromecast built-in and Android TVs to now support casting of Prime Video on to compatible TVs."
While the advent of budget smart TV sets with commendable picture quality has been a boon for TV buyers across the world, the lack of app support has often dented the overall experience. That is somewhat expected to improve, with Google adding Chromecast support for popular OTT streaming service, Amazon Prime Video. The Chromecast support for Prime Video is being added to dedicated Chromecast devices, TVs with Chromecast built-in and Android TVs, which can now have an Android phone cast Prime Video content to the TV seamlessly.
The move will seemingly aid TV makers such as Xiaomi and TCL, which offer Chromecast built-in and Android TV interfaces, respectively. Xiaomi, for instance, has its Mi TV lineup that has turned out to be significantly popular in India. Marking the introduction of Prime Video on Chromecast, Sudeep Sahu, product manager at Mi India, posted a teaser announcing the compatibility of Prime Video on the company's Mi TV Pro lineup. As a result, Mi now has both Hotstar and Amazon Prime Video that can be effectively played on the TV, but there is no word so far on Netflix compatibility with Mi TVs.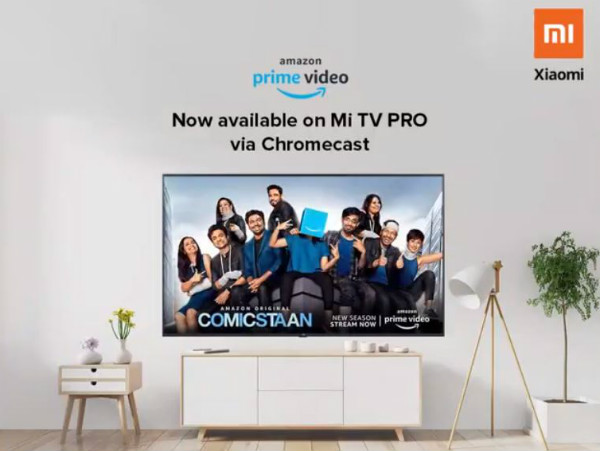 Xiaomi's proprietary interface, Patchwall OS, has been critically judged as being ergonomic and efficient, but lacks support for certain native apps such as Prime Video, until now. Certain Android TVs such as the Sony BRAVIA lineup did have the Prime Video app built in, but given the uber-premium market positioning of Sony BRAVIA TVs, that would have kept the Prime Video app integration with Android TV platforms limited to a specific point. The likes of budget television vendors such as TCL would get the Prime Video app as a native app on the TV as it uses Android TV as its user interface.
Amazon and Google have often been at loggerheads over technology and compatibility issues, a dispute that has not really been fruitful for the consumers. Earlier this year, the two companies announced that they would put an end to their feud by agreeing to bring cross-platform services to each other's platforms. The introduction of Prime Video on Google's television platforms is a direct result of this, and one that would make many users across the world happier with how they stream their shows.