"AMD also unveiled 7nm-based Radeon RX 5600 graphics processors, which are also slated to get mobile options soon."
AMD has taken to the CES 2020 show floor to unveil what it claims is the world's first mobile processor aimed at laptops. The AMD Ryzen 7 4800U, which was flaunted at the AMD press conference, is part of the company's Ryzen 4000 Mobile series processors, and will reportedly offer a big benefit for usage in ultra-thin laptops. In order to show the straight-up performance benefits, AMD pit the Ryzen 7 4800U laptop processor, designed for mid-range thin and light laptops, against Intel's 10nm Ice Lake 10th gen Core i7-1065G7 — a pretty high performance chip.
According to AMD, its new 7nm-based Ryzen 7 4800U processor offers 4 percent better single core performance, a solid 90 percent better multi-thread performance, and 28 percent better integrated graphics performance, over Intel's i7-1065G7. The Ryzen 7 4000-series processor in question here comes with eight AMD Zen 2 cores, 16 threads, eight integrated Radeon cores for better native graphics options, 1.8GHz base clock speed, and peak clock speed of 4.2GHz with turbo boost. Despite all this performance, the processor maintains a TDP of 15W, and the smaller fabrication of the transistor die means that laptops powered by this processor should have comparably longer battery life.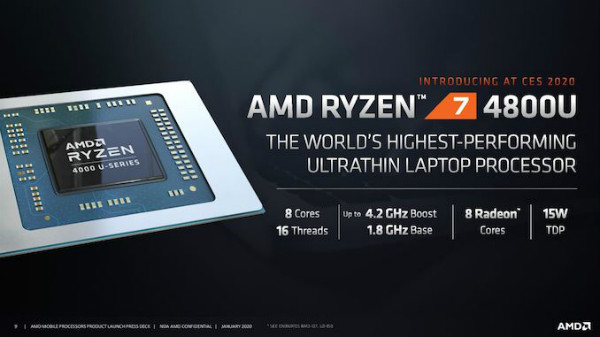 AMD has further stated that the Ryzen 7nm processors will be offered in various tunes for different SKUs — U for standard ultra-thin laptops, Pro for ultra-thin enterprise and business laptops, and H for high performance and gaming laptops. In a bid to gain an edge over Intel in the laptop space, AMD has already announced the Lenovo Yoga Slim 7 laptop to feature this new processor, and promised another 12 more laptops to come with this processor by March 2020, which seems a bit over-promising. By the end of 2020, AMD expects to see over 100 laptops powered by its new 7nm laptop processors, one of which will also be the ASUS ROG Zephyrus G14 ultra-thin gaming laptop, slated to go on sale by end-February 2020.
Keeping in line with its new 7nm die, AMD also unveiled new graphics options based on the smaller core architecture. The new chip has been unveiled as the AMD Radeon RX 5600XT with a 7nm chip, and in direct comparison to NVIDIA's GeForce GTX 1660Ti, AMD claims a sizeable improvement in graphics performance between the two chips — as much as 26 percent in Gears of War 5. The desktop version of the AMD Radeon RX 5600XT is being priced at $279 (~Rs 20,000), and will sell from January 21. The laptop equivalent of the new Radeon chip is also said to be available soon, but there's no timeline on when might it be seen.