"The official Twitter handling of HTC suggests that the Pie update will take place in the second quarter of this year but it did not mention the exact dates for different countries."
HTC has announced today that the U11, U11+, and U12+ will get Android Pie OS in the second quarter of 2019. It has revealed the information via its official Twitter handling and also mentioned that the manufacturer is currently working on the process to make the OS update compatible with the devices. However, the exact dates for different countries are not disclosed yet.
We all know that the Android Q is on the way and will debut in May this year. This version of the green robot is likely to be the main topic in Google's upcoming May I/O conference. But the surprising fact is that there are still some devices left out to receive Android Pie updates. While some of the typical sluggish firms including Samsung, Huawei have done it so far but HTC stands last in the list.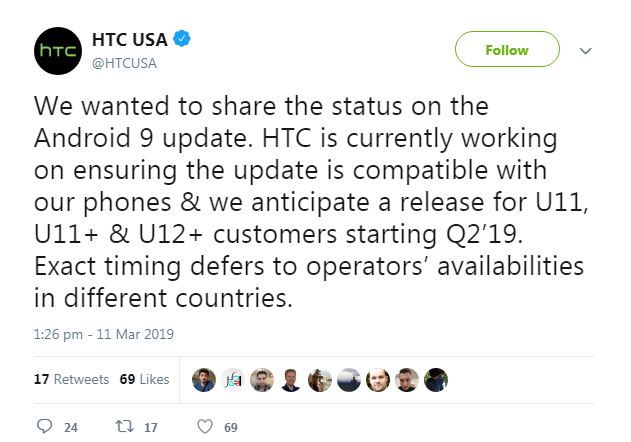 In last year August the manufacturer had announced a list of smartphones would get Pie. After several months in later November, only one HTC device called U11 Life got the Android Pie update. And now, another three will join the U11 Life in the list.
Speaking about the devices, HTC U11 was launched back in June 2017. It arrives with the powerful Snapdragon 835 SoC, which has a 64-bit octa-core processor having the clock speed of 2.45GHz. The highlighted feature of the device is its Edge Sense that can be configured to trigger certain situations by squeezing the sides of it.
Moving on the other two, the U11 Plus is a premium smartphone that launched in February last year and the U12+ came in May. In terms of hardware, the former is based on the Qualcomm Snapdragon 835 chipset while the other one is equipped by the Snapdragon 845 SoC.