"Android Q beta 4 brings a new gesture function to the power button, rebrands Smart Lock feature to Pixel Presence on Pixel phones and more"
At the I/O 2019 conference, Google introduced a host of new Android Q features with the beta 3 build. Now, the Mountain View giant is rolling out beta 4 update to Pixel devices with a slew of new features and additions. The new update brings the final Android Q developer APIs, API 29 SDK as well as the updated build tools for Android Studio. This would let developers begin compatibility testing and prepare for the final launch in Q3 this year. The latest beta builds finally bring the 'Dynamic System Updates', which would let Pixel 3 and Pixel 3 XL users install GSI images that are basically used for testing newer versions of Android.

Furthermore, Android Q beta 4 brings new adaptive notifications. This feature will automatically help users better manage their notifications. The feature prioritises the notifications based on users habits, and it also includes an option to display suggested actions and replies for select apps. This can be enabled in the 'Apps & Notifications' section in the system settings. Android Q introduced new gesture functionalities to the power button like acting as an emergency button and a few others. With the beta 4, Google has added one more to the list. This new functionality lets users' preview their 'Cards and Passes' details saved in Google Pay just by long-pressing the power button.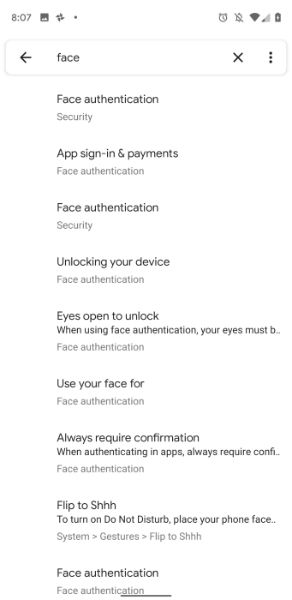 Google Android Q beta 4 also reveals hints about the "Face authentication" feature, which as the name suggests is a face unlock feature that would require users' to keep their eyes open to authenticate. It would also function for application sign-ins and payments. Google may be rebranding the "Smart Lock" feature to Pixel Presence" on Pixel devices running Android Q. However, the 'Smart Lock' moniker is retained in the system settings, thus suggesting it could be limited to UI. The beta 4 also brings four new accent colours to the existing list including Cinnamon, brown-red, blue-green, and a darker shade of blue.
The Android Q beta 4 also has a new "Screen Attention" feature that keeps the display turned on when you are looking at it. Lastly, the navigation bar is slightly wider than before and is also fully overlaid on the app behind it, with no white strip. However, the bar disappears on the home screen. The Android Q beta 4 OTA with build number QPP4.190502.018 and June security patch is rolling for those who have already enrolled in the beta program. Interested users can manually flash the factory and OTA images.