"Google is working behind the scenes to introduce a more polished gesture system with Android Q"
Even though many Android OEM have their own version of gestures, Google introduced gesture navigation starting with Android Pie on its Pixel line of devices. And suffice to say, it was a big transition as the button-based navigation had been around for far too long. Perhaps, that's why Google sought to ease the transition by introducing a semi-complete gesture system that still had a back button. Now, as per a report by XDA Developers, Google has more hidden gestures deep in the new Android Q beta Pixel Launcher.
The new gestures can be found only by modifying the launcher, as found by XDA senior member paphonb. However, there's a screenshot captured by the source that details the new gestures under the new "Developer Options" menu. Once it is found, here are the changes that can be affected via the hidden menu.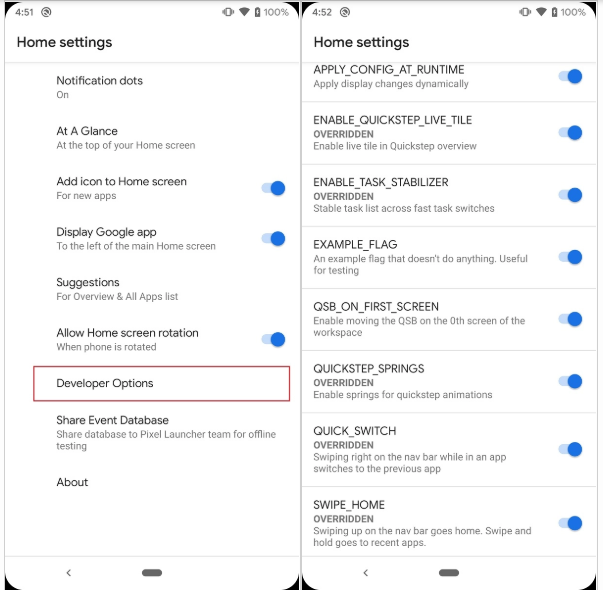 Swipe down on the home screen to bring down the notification menu.

Swipe up on the navigation bar opens the app drawer

Swipe up on the pill goes home

Swipe up and hold the pill opens the recent menu.
These are the major changes that can be found with the new gesture system; however, do note that the Back button still stays. All these changes buried deep inside the launcher hint that Google could very well reveal a revamped gesture system at Google I/O 2019, one which we hope is better than the current one on Pixel phones.

If you're wondering whether you can use this gesture system or not, thankfully you can. All you need is this Magisk module – download it and install it on the Magisk manager and reboot your phone. The gestures will be under the Developer Options menu. It goes without saying that you need a rooted Pixel running Android Q beta and of course Magisk manager.