"Which Android skin brings the most to the table? Our comparison has the answer"
Android is the most widely-used smartphone operating system in the world, with a majority of OEMs choosing to go the Google way. Given the cut-throat competition, it's hard for manufacturers to differentiate their products on the basis of hardware alone, and that's where Android skins come into play. By adding their own UI's on top of Android, companies are able to offer users a set of exclusive features that go above and beyond what stock Android can offer. The original heavyweights like Samsung, Sony, HTC and LG have traditionally used custom skins for their Android smartphones, and now the trend has caught on with younger brands, a majority of them Chinese. Most of you will be familiar with their names – Gionee, Honor, Lenovo and Xiaomi – but not all of you know what to expect on the software front. In this article, we're going to compare Android skins from these four brands, to determine which of them offers the best feature set. Read on.
Personalisation


Huawei's sub-brand Honor uses the company's custom skin called Emotion UI. The latest version, EMUI 3.0, features a dedicated theme store, where you can download a range of themes across categories. Apart from just applying a theme, you can also customise each aspect, such as the screen lock style, lockscreen transition, lockscreen/homescreen wallpaper, icon and font style. A unique feature that EMUI offers is Magazine Unlock. When enabled, it displays a range of beautifully captured photographs as your lockscreen image, which change every time you unlock the device.
Xiaomi's MIUI also has a very popular theme store, with a range of company and user provided themes to choose from. Here too, you can mix and match from various themes, and tweak your system font and font size. You can also customise the behaviour of the navigation buttons and the colour of the notification LED, among other features.
Gionee's Amigo OS doesn't have a theme store, but there are a selection of pre-loaded themes available. With the help of a system app called Chameleon on the most recent version, you can create a custom theme based on the colours visible through your camera's viewfinder. Additionally, you can also change the font, transition effect and the positioning of the virtual navigation keys.
Lenovo's Vibe UI is quite limited when it comes to personalisation, with just a few pre-installed themes available. However, there is a neat feature which lets you cycle through wallpapers by dragging down from the top right or left corner of the homescreen.
Phone Manager


Most Android skins from Chinese manufacturers have a dedicated app to take care of security, performance and other controls. On Emotion UI, this is done through the Phone Manager app. It includes a phone scanner, phone accelerator, harassment filter, traffic manager, notification manager and app lock.
Xiaomi's Security app on MIUI has been a hot favourite among users. Apart from a system scanner, it features a cache cleaner, data monitor, blocklist, virus scanner and permissions manager.
On Gionee's Amigo OS, you get an app is called System Manager. It features a cache cleaner, app manager, and traffic monitor, each with further controls you can fine-tune to your liking.
Lenovo's Vibe UI features an app called Security. It's very extensive, offering a privacy guard, anti-virus, data usage monitor, anti-spam, anti-theft, speed up and parental control.
Simple interface
There are many users who want all the functionality that a smartphone offers, minus the overwhelming software. For them, many manufacturers are including a simple interface option, which when enabled, changes the homescreen layout to something very basic.
On Emotion UI, this is called Simple Home. Featuring a layout that's filled with big, colourful tiles (think Windows Phone), it features basic apps like the dialer, messaging, camera, gallery and more. Users have the flexibility to assign a particular app or a contact to an individual tile for easy access.
On Xiaomi's MIUI you can access the simple interface by enabling Lite Mode. It features a similar layout of large colourful blocks and bigger font sizes, along with a dedicated homescreen for assigned contacts. Additionally, it offers a voice prompt for the dialer and incoming calls.
Unfortunately, both Amigo UI and Vibe UI lack a simple interface option.
Do not disturb
The Do Not Disturb feature was first popularised with iOS 7, letting users specify a set period during which they could mute incoming calls and notifications. Over the past couple of years, this has seeped into Android skins as well.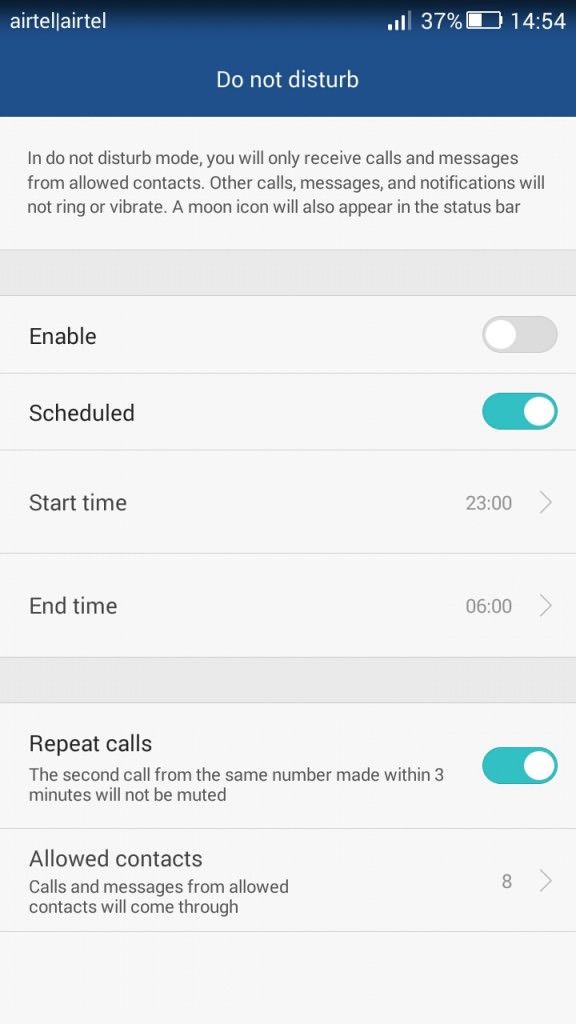 EMUI features a Do Not Disturb mode, which can be enabled either manually during a specific scheduled time. You can choose to allow repeat calls from the same number made within three minutes, and specify a whitelist of contacts who can get through.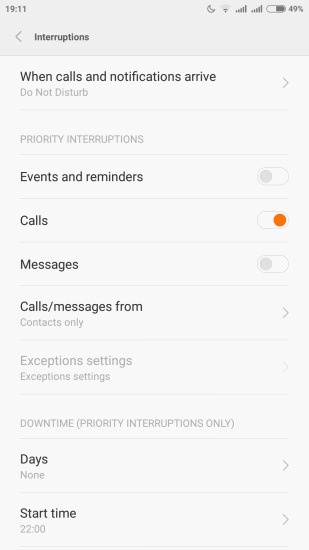 Xiaomi's MIUI also has a Do Not Disturb mode which offers similar features.
Both Amigo OS and Vibe UI miss out on this mode, but with Android Lollipop's new 'interruptions' feature, this should seep down to all skins once they've been updated to the latest Android version.
Power Saving
With the amount of time we spending using our smartphones, battery life is bound to take a toll, and that's why having power saving modes can be very useful.
On Emotion UI, you can choose between Ultra (for when the battery is very low), Smart (for daily use) and Normal (for gaming and watching videos) power plans. There's also a power monitoring function that scans your phone for which apps are consuming power. Additionally, you can specify which apps can run when the screen is turned off.
MIUI offers a choice between Balanced and Performance battery saving modes. You can also enable Battery profiles, with a choice between default, marathon and sleep modes. Additionally, you can specify which profile the phone switches to depending on the remaining charge.
Amigo OS has a full-fledged power saving app as part of the System Manager suite. There's a choice of Normal and Extreme modes, depending on the amount of power you have left. There's a feature called Green Background, which lets you choose which apps to disable from running in the background when the screen is off. You can also enable an intelligent power saving mode for the night, and an intelligent memory clean up to close power-hungry apps.
Vibe UI's Power Manager app offers a choice between Normal, Power saving and emergency modes. You can configure an option to switch between the modes manually during a specific period of time. There's also a power saving engine, which optimises brightness and graphics to prolong battery life.
Motion Gestures
Touchscreens on smartphones have improved user experience exponentially, so it's no surprise that motion gestures have also caught on.
Emotion UI has a Motion Control section in settings, where you can enable flip to mute, shake to rearrange, double tap to wake, cover to turn off screen and draw letters to open apps on the lockscreen.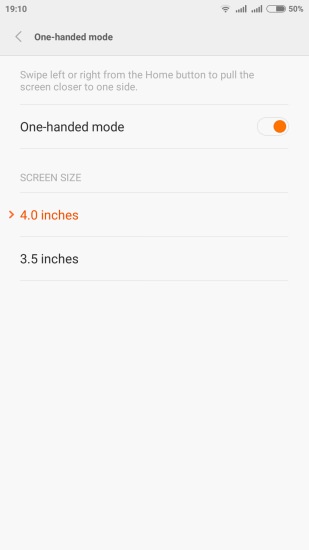 On MIUI, gestures aren't given much importance, but you can swipe left or right from the home button to enable a one-handed mode, which shrinks the screen to a smaller side and docks it on the specified side.
Amigo OS is choc-a-block with smart gestures. Smart dial lets you place the phone close to your ear to dial the contact number, while smart answer lets you pick up to answer a call. There are also gestures to cold-acess apps from the lockscreen and double tap to wake. Additionally, Amigo UI also supports some touchless gestures, letting you wave your hand above the display to wake up the phone, unlock the phone, browse the gallery or control video playback. You can also draw letters on the homescreen to launch specified apps.
On Vibe UI, there's something called 3D gestures. This lets you swipe your hand above the screen to answer/reject calls, navigate left/right or up/down in apps or control video playback. You can also enable Shake to lock to lock the screen by gently shaking the phone.

Choosing the Android skin that's best for you will depend on several factors – some of them aesthetic, and others on the various features on offer. The former will vary from user to user, but if you're looking to get the most out of your smartphone, Honor's Emotion UI and Xiaomi's MIUI tick most of the boxes.