"Early Geekbench scores show that Apple's next-gen A14 Bionic chipset will be more powerful than the Snapdragon 865 SoC"
The iPhone 12-series is a bit far away from launch date but that has not stopped a constant trickle of leaks and rumours surrounding the phones. While it isn't clear as of yet how many iPhones 12 models we will be seeing this year, it seems almost certain that all of them will feature the next-gen Apple A14 Bionic chipset. The upcoming A14 SoC is rumoured to be based on an industry-first 5nm process, thus making them more power efficient than ever. Months ahead of Apple's iPhone 12 launch event, the A14 Bionic has now been spotted on the Geekbench benchmarking site, giving us an early idea of just how powerful the next iPhone will be.
For a long time, Apple's SoCs have been beating the Snapdragon equivalents in benchmark scores and it appears that this will be the case again. Initial results on Geekbench 5 has shown that the A14 chip has a single-core score of 1658 and a multi-core score of 4612.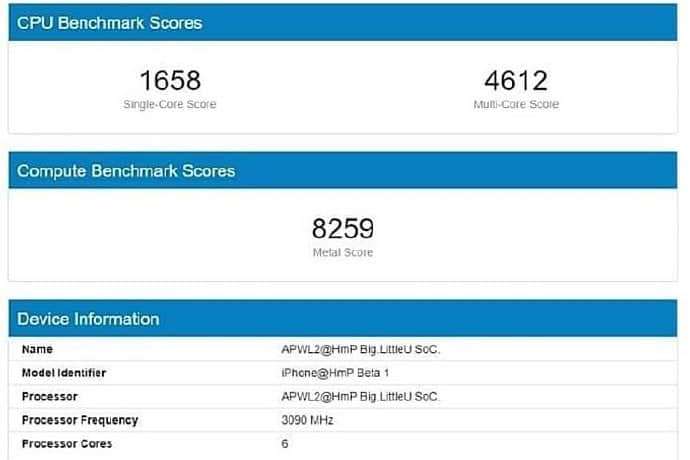 For reference, the website has also compared other high performing mobile chipsets in the market which include the current A13 Bionic chipset found in all the iPhone 11-series devices and the latest Snapdragon 865 chipset. According to the website, the iPhone 11 Pro Max had single-core and multi-core scores of 1329 and 3468 respectively while the unnamed Snapdragon 865 phone had scores of 930 and 3445, respectively. It is clear from these results that the A14 chipset will be one to be reckoned with. It is believed that the A14 will be based on TSMC's 5nm manufacturing process, making it the first chipset to do so.
On this note, reports have also stated that Apple may be delaying the launch of its flagship iPhone 12 series this year. A report from earlier this has already stated that the iPhone 9/ SE 2 launch, which was scheduled for March 31st, has already been delayed due the coronavirus outbreak. While the iPhone 9 is believed to have cleared the production stage before the pandemic reached its present state, the iPhone 12 is expected to face a supply crisis, as a result of which the launch may be delayed.