"According to the report, Apple is the only company among the top five smartphone sellers in the world to go through a year-on-year decline for the quarter."
According to an IHS Markit report from August 6th, Apple is the only smartphone vendor worldwide amongst the top five, to have seen a year-on-year decline for this quarter. The same was shown by Strategy Analytics and Counterpoint Research earlier, which said iPhone shipments were down by 12 percent and 11 percent, respectively. According to Apple's own earnings reports, the company's global revenues from iPhones dropped in Q3 this year. That said, the company did say that it has registered double-digit growth in India, which is a market it has been trying to gain a hold of for a few years now. However, Apple's high pricing and the aspirational tag that goes with the phones have held the company behind market leader Samsung, Xiaomi, Oppo, Vivo and more.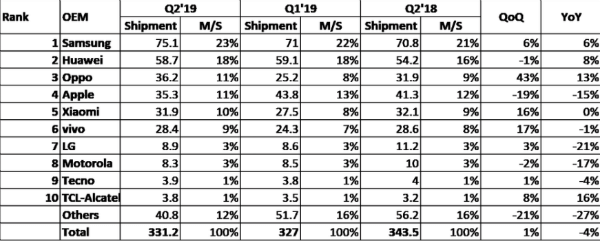 The IHS Markit report, on the other hand, has put Apple behind Samsung, Huawei and Oppo, which took the top three spots for shipments in the third quarter this year. Of course, the data pertains to global numbers, presumably including India. The year-on-year decline for Apple though was expected by many. Industry watchers have often noted that Apple has fallen behind the sea of Android phones because of the lack of innovation.
While the company shifted its focus to services recently, its devices have indeed lagged behind many Android phones. Companies like Xiaomi, Oppo and Vivo have made a killing in the Indian and Chinese markets by selling smartphones with high specifications, but at considerably lower prices.
The Indian market, of course, is led by Xiaomi which surpassed Samsung, according to most reports. While Xiaomi and Samsung hold the top two spots in India, Oppo and Vivo are just behind them. Apple accounts for less than 2 percent of the Indian market, despite bringing all of its latest iPhones here.