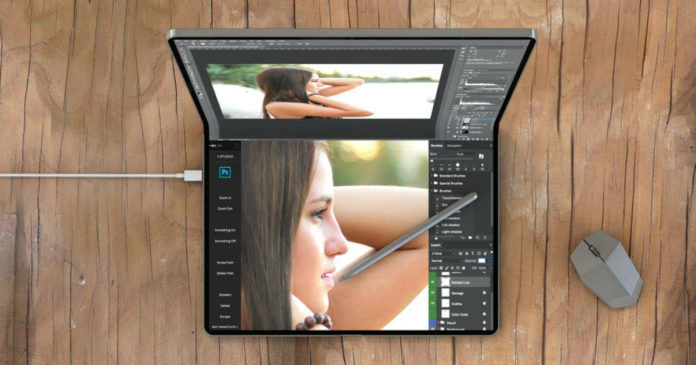 "According to an analyst report from IHS Markit, the 5G foldable iPad may fold into a dual-display device with MacBook-like features"
Apple has not had the best of starts in terms of adopting the latest trends in the smartphone or laptop space, with elements such as 5G, foldable displays, and dual displays not being a part of any device that Apple is expected to launch soon. All that may change in a space of two years, if a new analyst report from IHS Markit is to be believed. According to the report, Apple might address all three of these features with not an iPhone or a MacBook, but an iPad.
It seems a bit far-fetched at the moment, and looks more like a concept render of what we would like to see from Apple, than what it might actually make. According to the report, Apple is seemingly planning an iPad for 2021 that would feature 5G connectivity and have a folding OLED display that when open will have up to 15 inches of screen real estate. The device might fold inward to create a laptop-like form factor, which in turn would end up being like a compact MacBook with dual displays, presumably with the lower half acting like a touch-operated keyboard.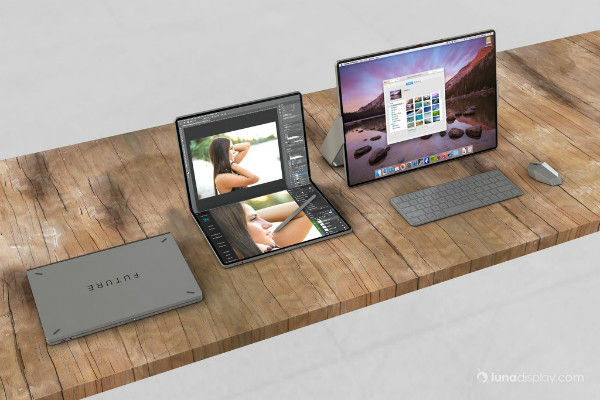 It is easy to see how such a product would have a compelling factor of attraction among buyers, if it actually manages to provide a glimpse of how the iPad and the MacBook finally gets a crossover that's ideal for multiple use cases. Apple has already attempted to bridge the gap in terms of software with iPadOS, Apple's proprietary spin-off from iOS with more macOS features onboard. With such an operating system at hand, it only makes sense to bridge the gap in terms of hardware as well, although the issue at hand is not so easily resolved.
For one, foldable OLED displays are still a super premium component, which would cost quite high in the bill of materials (BOM) of the product. Furthermore, questions still persist regarding the durability and longevity of the flexible display, especially after Samsung's ill-fated run so far with the Galaxy Fold. Throw in a 5G modem, and the fact that Apple charges a considerable premium on its devices already, it is likely that such an iPad would be priced astronomically high, even if it makes it to production. That factor alone makes it a less than ideal candidate for being a mainstream market product, and given that Apple is already struggling in the hardware space, it is questionable if the Cupertino giant would indeed take such a risk.
Nevertheless, given the pace of innovation in the market, it is likely that 5G connectivity and foldable devices will see considerably higher market popularity by 2021, which may bring down the overall prices of the display panel if supply and demand both increase proportionally. Apple is considerably better placed to adopt 5G in its devices, at least the iPhone, by 2020, after it secured a multi-year partnership deal with Qualcomm by resolving its legal disputes outside of court. As of now, it seems like the 2019 devices will be far from as exciting, sticking to more awkwardly placed camera modules to provide better performance than what they did before.