"Apple has received a patent for a four-sided curved display device, which we could see on an iPhone in the future"
Samsung has been offering a dual-edge curved display on its last few Galaxy S series flagships. Now it looks like Apple is also planning to offer a similar design in future iPhones. The Cupertino tech giant has just been granted a patent for a device with curved edges on the sides as well as the bottom and top. With this patent in the bag, Apple may be able to provide a display that is curved on all side in a future iPhone model, something we haven't seen on a mainstream smartphone yet.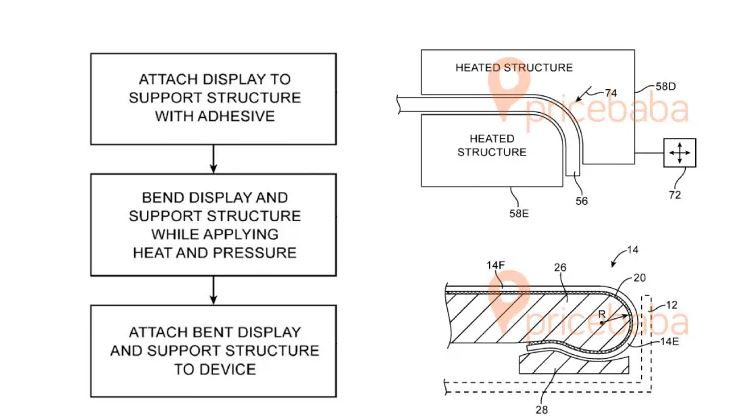 Dubbed "Methods for Forming Electronic Devices with Bent Display Edges," the new Apple patent mentions an electronic device offering one or more bents around the display. The procedure includes an organic light emitting display (OLED), a heat applying instrument, and some sort of adhesive that binds the display to the motherboard or the necessary circulatory.
The patent was first spotted by Pricebaba, which mentions the curved display edges will be achieved by utilising a set of male and female moulds that shape the flexible polymer OLED screen substrate to curve along the edges. Notably, the document in the patent describes that this particular device has an internal support layer that's made out of metal, ceramic, glass, or even plastic to strengthen the OLED screen that's curved on all four sides.
It's highly unlikely that Apple will be introducing the four-sided curved display with this year's iPhones, which are due in September. This year, we are expecting three iPhone including the iPhone XIR, iPhone XI and iPhone XI Max. All three are said to boot iOS 13 out of the box. While the latter two are tipped to offer three cameras at the back, the 2019 XR model is rumoured to offer a dual-primary camera setup.
The iPhone XIR is expected to come with a 6.1-inch LCD display, while the iPhone XI and iPhone XI Max are said to offer 5.8-inch and 6.5-inch OLED screens. All three are rumoured to be powered by an Apple A13 7nm chipset. We should have more details about the upcoming Apple offerings thanks to the rumour mill, so stay tuned for regular updates.