"According to IDC, the rise of wireless audio gear with smart assistants have contributed significantly to the rise of shipments in the wearables segment"
Wearable devices are steadily growing in popularity, according to the first quarter market data by IDC. According to the report, the first three months of the year saw 49.6 million units of wearable devices (including smartwatches, fitness trackers, and smart-wireless audio gear) being shipped, marking a 55.2 percent increase over what was shipped in the first three months of 2018. This is a seemingly tantamount proof that the popularity of wearable devices is surely increasing across the world.
As noted by IDC, Apple maintains a firm lead in the wearable segment, with both its Apple Watch and the new generation AirPods contributing heavily to the global shipments and sales. Xiaomi comes in at second in terms of market share. The real gainers of the wearable industry in this quarter, however, are Huawei and Samsung, which according to IDC, have reported market growth of 2.82x and 1.52x, respectively. Both Huawei and Samsung overtook Fitbit's shipments, which ranked third in the wearable space in Q1 2018.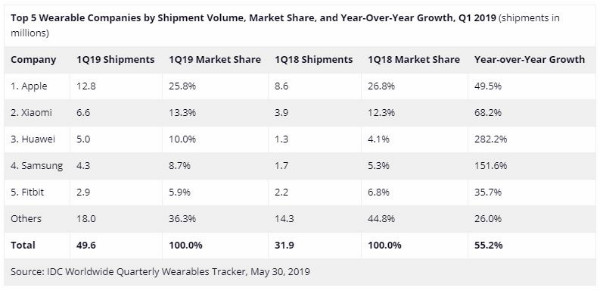 Apple shipped a total of 12.8 million wearable units in Q1 2019, up 49.5 percent from 8.6 million Q1 2018. Xiaomi grew more sharply than Apple, up from 3.9 million to 6.6 million this quarter. Huawei's boom in smartphone shipment fortunes is said to have contributed heavily to its growth in the wearable space too, where it grew from 1.3 million unit shipments to 5 million in Q1 2019. Samsung, meanwhile, benefited through its Gear smartwatches and the Galaxy Buds, to ship a total of 4.3 million units this quarter, against 1.7 million units shipped in the previous year. Fitbit, on the other hand, saw a flatter growth curve — up from 2.2 million in Q1 2018 to 2.9 million in Q1 2019.
Among wearables, while smartwatches, wrist bands, and fitness trackers continue to be the majority of devices, smart audio gear has significantly picked up pace. Jitesh Ubrani, research manager at IDC, said, "The elimination of headphone jacks and the increased usage of smart assistants both inside and outside the home have been driving factors in the growth of ear-worn wearables. Looking ahead, this will become an increasingly important category as major platform and device makers use ear-worn devices as an on-ramp to entice consumers into an ecosystem of wearable devices that complement the smartphone but also offer the ability to leave the phone behind when necessary."
While Apple, Xiaomi, Samsung, and Fitbit are expected to continue on their growth trajectory, the future looks murky for Huawei, in light of its ongoing tussle against US technology companies that has put a halt to its meteoric growth curve in the smartphone space. It remains to be seen if its effect also falls on the wearables segment and given that Huawei's smartwatches use Android as the operating platform, it is likely that the wearable shipments will be significantly affected too.