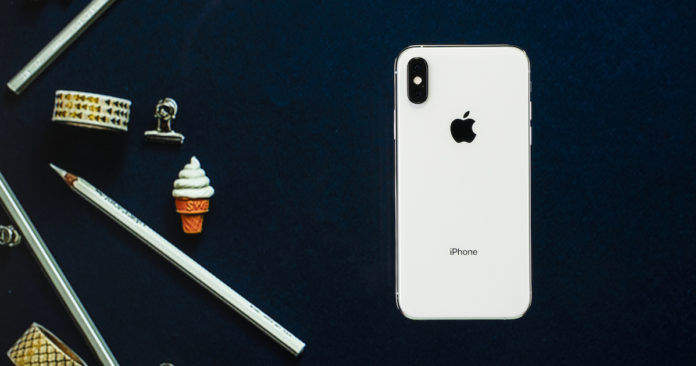 "While the overall numbers vary slightly for different brands, the ranking of OEMs in terms of their market position is concurrent between the two reports"
Earlier today, an IDC report on the global smartphone shipments detailed the overall slowdown in the market, and the change in market share among the top smartphone companies. Now, a Strategy Analytics (SA) report has detailed the same in its own metrics, with some of the numbers differing by a fair margin. The foremost difference in numbers happen to be in the global phone shipment figures – IDC's report had stated that smartphone shipment for Q1 2019 stood at 316.6 million units, down 6.6 percent YoY from 338.9 million units in the same period last month. However, SA's report has claimed that a total of 330.4 million smartphones were shipped in 1Q19, down 4 percent from 345.4 million units in 1Q18.
The second major disparity lies in the number of smartphones shipped by Apple. IDC numbers claimed that Apple shipped 36.4 million iPhones in Q1 2019, down 30.2 percent from the 52.2 million iPhones it shipped in the same quarter a year ago. However, SA has claimed that Apple's shipments stood at 43.1 million units during the first quarter of the year, down 17.4 percent from 52.2 million shipped in the year-ago period. The difference is quite significant, as while a 17 percent YoY drop is quite significant, it is significantly lesser than the steep drop of 30 percent that IDC has stated. Analyst expectations had earlier put iPhone shipments at estimated figures of 36-43 million, and interestingly, IDC and SA's numbers for the iPhone shipments are at either end of the expected spectrum.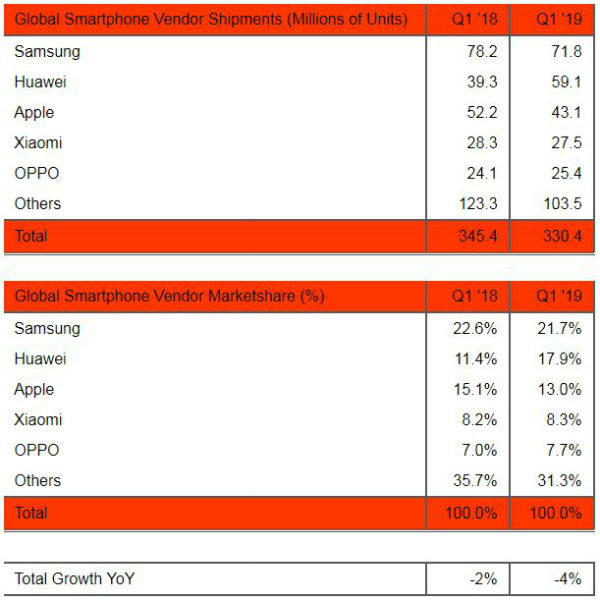 A difference of 7 million units shipped per quarter is a sizeable chunk for a company of any proportions, and can impact company stocks by a fair margin, if miscalculated. Interestingly, the SA report also does not mention the presence of Vivo, which according to IDC is the fifth highest shipping smartphone brand, globally. According to SA, Samsung has retained the lead with 71.8 million phones shipped, while Huawei rose to second with 59.1 million units. Beyond Apple's third position, Xiaomi saw a slight decline in shipment figures to record 27.5 million units in 1Q19, and OPPO ranked fifth, with 25.4 million units shipped. Howver, IDC's report states that Xiaomi shipped 25 million units in Q1 2019, while the fifth highest seller of phones globally was Vivo, with total shipment of 23.2 million units. OPPO, as per IDC's data, ranked a close sixth, with 23.1 million units shipped.
While both the numbers are not a compilation of company-disclosed figures (Apple, for instance, no longer discloses the number of phones that it sells), the general tally of market analysis figures for shipments and sales are generally within a similar ballpark, and the difference between research firms is typically not too high. With the contrasting figures published by the two notable research firms, it will be interesting to see how share prices of the OEMs react in the market. For Apple, the previous quarter has been one of its weakest in recent times, and the company will hope to bounce back with its new, upcoming iPhones later this year.