"Market slump in Europe, Middle East and Africa have led to a sharp fall of nearly 23 percent for Apple, while Nokia shipments declined by over 32 percent"
Apple continues facing the brunt of a global smartphone shipment slowdown even in markets outside China. The statement has been corroborated by market research firm IDC, which released smartphone shipment data for Europe, Middle East and Africa markets for Q1 2019. According to the data, a total of 83.7 million smartphone units were shipped in Q1 2019, while feature phones saw 45.9 million units shipped. The total pre-tax value of shipped smartphones stood at $26.78 billion, which is a 10 percent YoY decline from Q1 2018.
Apple, however, saw far sharper declines than the market average. According to the report, Apple saw a decline of over 20 percent with all the markets taken into account. In shipment data from Europe, it shipped only 7.8 million iPhones, in comparison to the 10.2 million phones it had shipped in Q1 2018. This has led to a drop of nearly 23 percent in the European market, leading to their market share falling from 18.6 percent to 14.7 percent. HMD Global, which markets smartphones using the Nokia brand, shipped only 2.2 million smartphones in Europe, down by 32.6 percent from Q1 2018.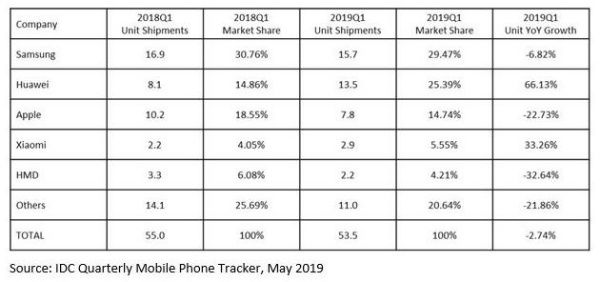 The biggest benefactors of this fall in Europe have been the Chinese OEMs. With the US ban coming in after the first quarter, Q1 2019 saw one of Huawei's strongest quarterly performances as it shipped 13.5 million smartphones in the European continent, up by 66 percent YoY. Not only did it see a sharp increase in shipments, but has also overtaken Apple in absolute shipment numbers. While Xiaomi still remains a relatively smaller brand in Europe, it has overtaken HMD Global in shipment numbers, increasing to 2.9 million phones shipped and a 33.2 percent increase in market share.
With the US ban coming into effect during the second quarter, it remains to be seen how Huawei's numbers are affected when it comes to Q2 2019 reports, which are due in a couple of months. Xiaomi is likely to continue its upward climb in terms of market share, while Apple may not see any respite in market statistics until its 2019 iPhone launch, due towards the end of Q3 2019. As the company continues to struggle in the bigger markets where it was already established, Apple will hope to see improved stats for the comparably lower volume markets with the 2019 iPhones.