"Apple's maxed-out iMac Pro comes with 256GB RAM and Radeon Pro Vega 64X 16GB graphics card and costs over $10,000"
The iMac Pro isn't cheap and Apple has made it even pricier with a new 256GB 2666MHz ECC memory and a new Radeon Pro Vega 64X with 16GB of HBM2 memory options to the build-configuration order. The RAM upgrade will cost an additional $5,200 (Rs 3,59,000 approx.), while the Radeon Pro Vega 64X is a relatively reasonable $700 (Rs 48,000 approx.) upgrade. Maxing out the iMac Pro with 256GB memory will double the cost to $10,199 (Rs 7,03,000 approx.).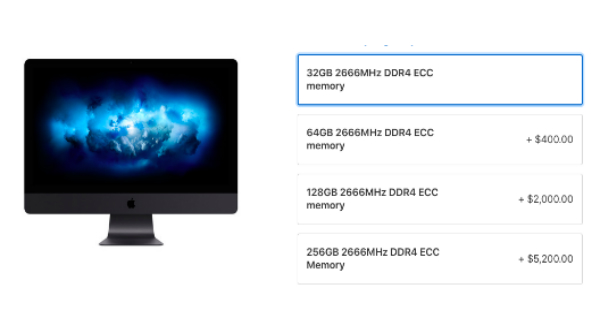 This new upgrade to the iMac Pro comes right after Apple has refreshed the iMac with new processors and GPUs. The 21.5-inch iMac now is powered by an 8th generation, six-core Intel Core i5 processor as its peak configuration, while the graphics option has been upgraded to the 4GB AMD Radeon Pro Vega 20 chip. This variant also gets an optional processor upgrade to 8th gen Intel Core i7 six-core processor.
As for the 27-inch iMac, the base variant of the model now comes with the 8th gen, six-core Intel Core i5 processor. While the other processor options include the 8th gen, Core i7 six-core processor and an eight-core, 9th gen Intel Core i9. The graphics options max out with an AMD Radeon Pro Vega 48 GPU with 8GB of VRAM. There are no changes to the iMacs and RAM and storage options remain the same. Considering how incredible and costly the upgrade options of the existing iMac Pro line-up are, one wonders what Apple has in store for the upcoming 2019 Mac Pro.