"While the nature of security and stability updates is not clear, speculations suggest that they patch the jailbreak vulnerability."
Apple has released new software updates for the iPhone and Apple Watch, with both being security-only updates. According to Apple's update changelog for the iOS 12.4.1 update, the update comes with important security and stability updates, and while that does not really specify what this security update patches, speculations suggest that it rectifies the recently reintroduced vulnerability related to jailbreaking iPhones, which came back to iPhones through the previous iOS 12.4 update.
The issue presumably affected the Apple Watch as well, given that the updates were released with similar descriptions and at the same time frame. Apple is gradually leading up to the launch of its new iPhones and the Apple Watch Series 5, which will also launch the latest firmware versions, iOS 13 and watchOS 6, alongside the new hardware. Given that we are now so close to the launch of the new devices, it is unlikely for any update to release with heavy feature overhauls.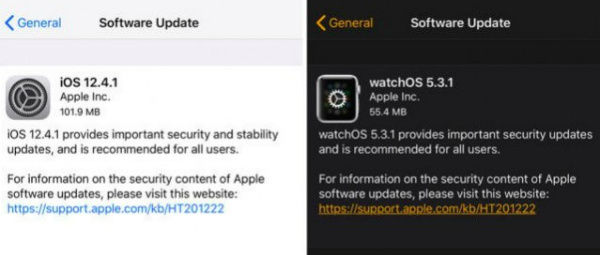 Apple has historically been prompt in patching any vulnerability that may affect its ecosystem — a reputation that came under some questioning during recent times. For instance, an iOS vulnerability in the previous months created an issue with Apple's VoIP video and voice calling service, FaceTime. Because of the bug, a caller could connect to the recipient of a call even without the latter receiving the call, hence creating a potentially critical security bug that could see malicious users make the most of and tap target devices to listen in on conversations.
Apple has also struggled with cellular connectivity issues in multiple iOS 12 updates earlier this year, where some iPhones were rendered ineffective and barred from network reception. The company has strived to rectify such problems, issuing patches in regular intervals, while also premiering new elements of the interface in the lead up to iOS 13. One of iOS 13's biggest aspects is that it will no longer be used in iPads, with the Apple tablets getting their own, specially forked version of iOS, suitably called iPadOS.
Among key features, iPadOS brings multi-window usage and keyboard-mouse support for iPads, hence increasing the iPad's quest for replacing desktop computers in the long run. While initial reviews have been encouraging from the beta version of iPadOS, further details will be revealed as Apple introduces iPadOS' stable build as well, later this year. Until then, the company encourages every user to download these updates in order to patch hidden vulnerabilities in the system.