Traditionally, owning an iPhone in India is something that many aspire for, given that the iconic device is considered somewhat of a style statement. In fact, it might not be wrong to say that many folks buy and use iPhones just because they're iPhones, and not for the features and capability these devices bring with them. However, judging by the data and insights from the Great Indian Smartphone Survey 2020, the latest numbers seem to indicate that the brand is now moving from aspiration to reality. Here's why we say so.
Massive jump in ownership share
By comparing the data from the survey we conducted in 2019 against responses from the 2020 edition of the Great Indian Smartphone Survey, we have the numbers required to come up with some very interesting insights. As far as Apple is concerned, one of the biggest points we observed this year is the jump in ownership share. While 1.8 percent survey respondents said they owned Apple iPhones last year, the figure stands at 3.2 percent this year. This represents a massive jump of almost 78 percent, which indicates that the brand's smartphones have found many new takers. Just to be clear, the figures mentioned in this survey don't cover the new iPhone 12 range that has just gone on sale in India recently.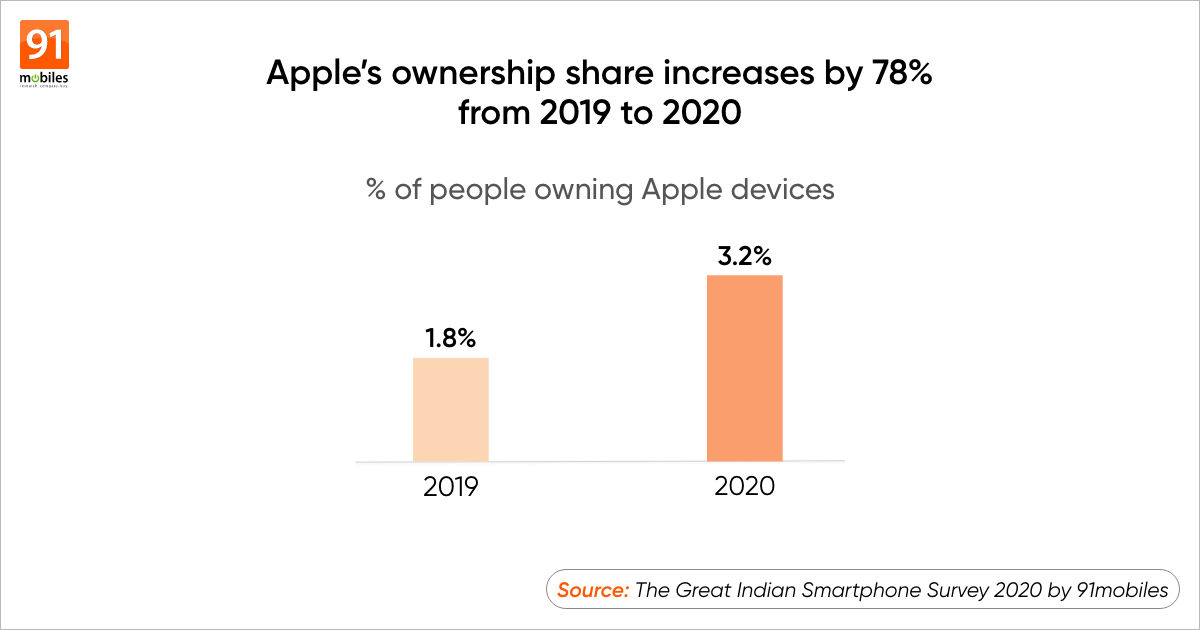 One reason for this jump could be cost, since Apple does seem to be going more aggressive with its pricing strategy. Just to give you an example, the most affordable iPhone in India in 2018 was the iPhone XR, which was launched at a starting price of Rs 76,900. In comparison, the most affordable new iPhone model in India in 2019 came in the form of the iPhone 11, which carried a sticker price of Rs 64,990. During the same time period, Apple also upped its Make in India efforts, and started manufacturing quite a few models, including the iPhone 11, in the country. This allows the company to avoid import duties, keep prices in check, and also make sure local demand is met.
There could be quite a few other factors behind the surge in Apple's numbers. The iPhone 11 series of phones turned out to be extremely capable as compelling all-rounders, getting positive reviews from experts and users globally. They also upped the ante significantly in terms of photography. Worth mentioning that the iPhone 11 came across as a more 'complete' phone due to its dual-camera setup, as compared to the iPhone XR before it that only offered a single camera.
Then there's the fact that Apple has increasingly been offering more choice to prospective buyers. Earlier this year, the brand launched the iPhone SE 2020, which, apart from being affordable, didn't skimp on important aspects like performance. Various sales and discount offers, running through the year at different points in time, must have also played a role in getting more users into the iPhone fold.
Growth prospects on the horizon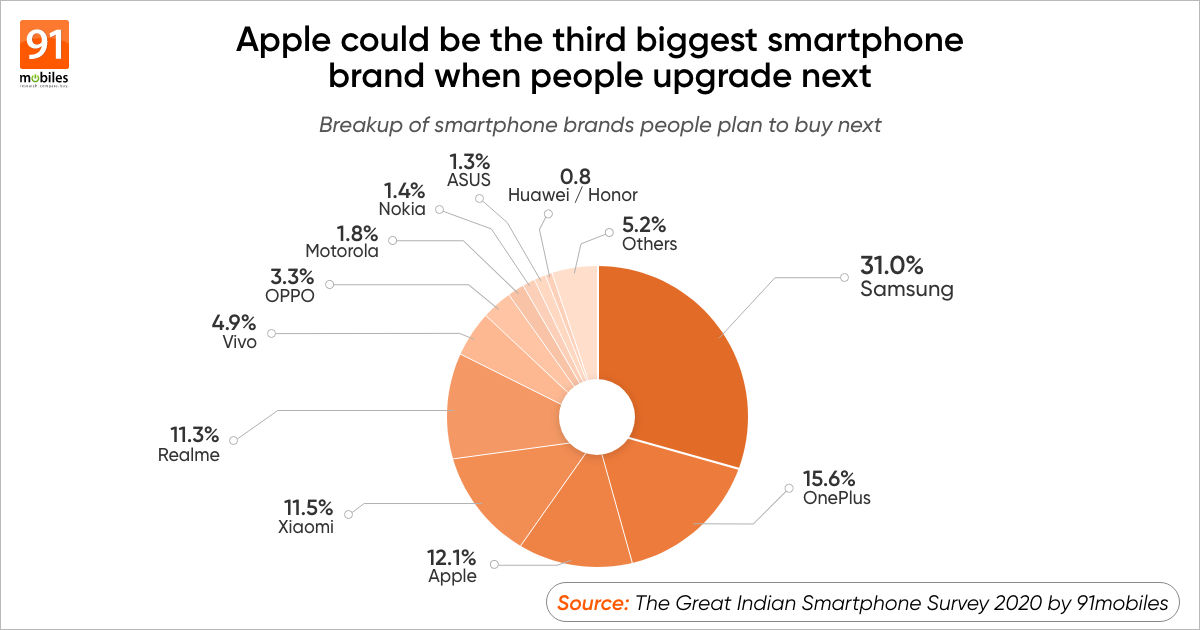 Next up is another data point from the Great Indian Smartphone Survey. This shows that Apple is placed third on the list when it comes to the smartphone brand users are likely to buy whenever they upgrade next. To tell you the truth, these numbers could still be aspirational in nature, since not everyone among those 12.1 percent respondents who said they will buy an iPhone next might actually buy one. That said, it's still an interesting point to note, and indicates a larger share for Apple going forward. Above Apple, we have OnePlus with 15.6 percent votes, and Samsung topping the list with 31 percent respondents who plan to buy from these respective brands.
The brand with the most loyal set of users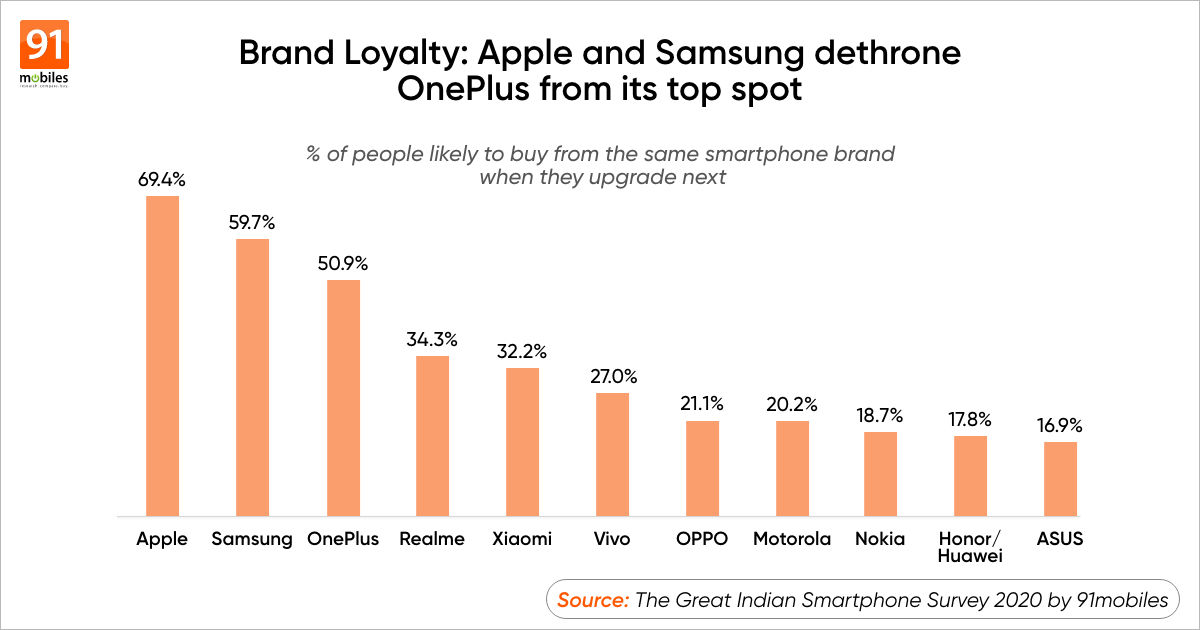 Brand loyalty is a big deal for any company, and even more so in the smartphone space… since it's an industry that sees cutthroat competition. Apple seems to be sitting on top of the world here, with our survey showing that 69.4 percent current iPhone users will buy an iPhone again whenever they upgrade next. With this percentage, the Cupertino giant is topping the charts in terms of brand loyalty. Samsung is placed second with 59.7 percent and OnePlus third with 50.9 percent of its current owners saying they'll stick with the same brand when they upgrade next.
With such a large chunk of loyal users and many new ones joining the bandwagon, Apple seems poised for big growth.
A happy set of satisfied users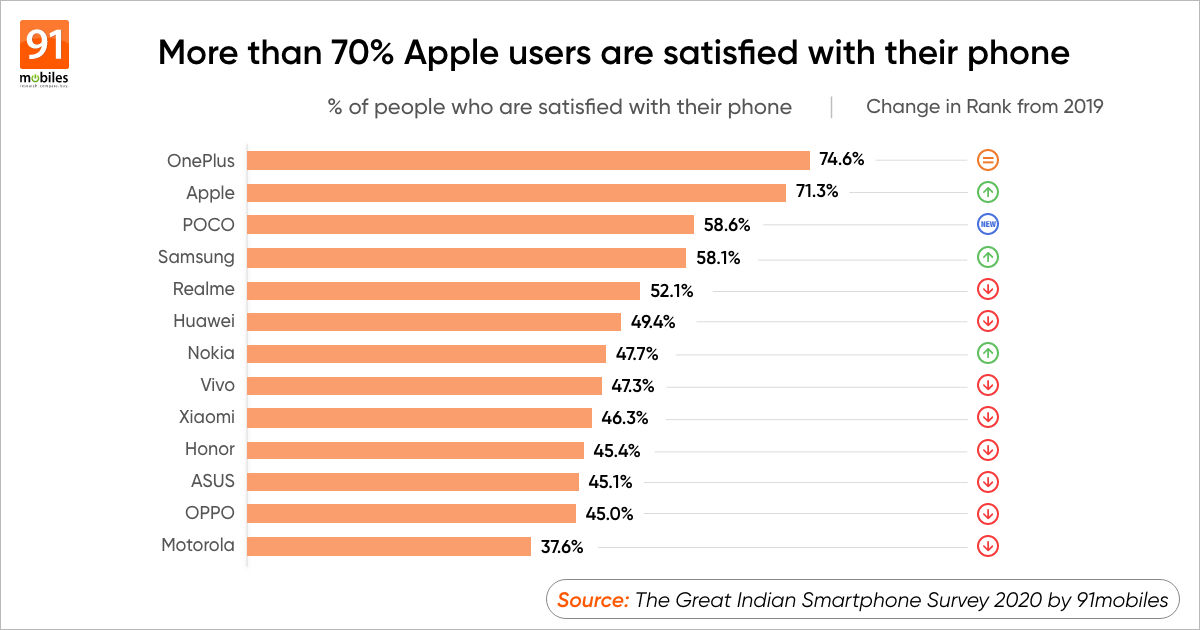 With so many users saying they will stick to an iPhone whenever they upgrade, it's obvious they must be satisfied with their current daily drivers. While this is a very logical statement to make, data from our survey corroborates that too. Apple actually tops the list when it comes to the percentage of users who're satisfied with their phone's cameras. 74 percent iPhone users are satisfied with the rear cameras on their handsets, while 65.1 percent said they're happy with the front camera.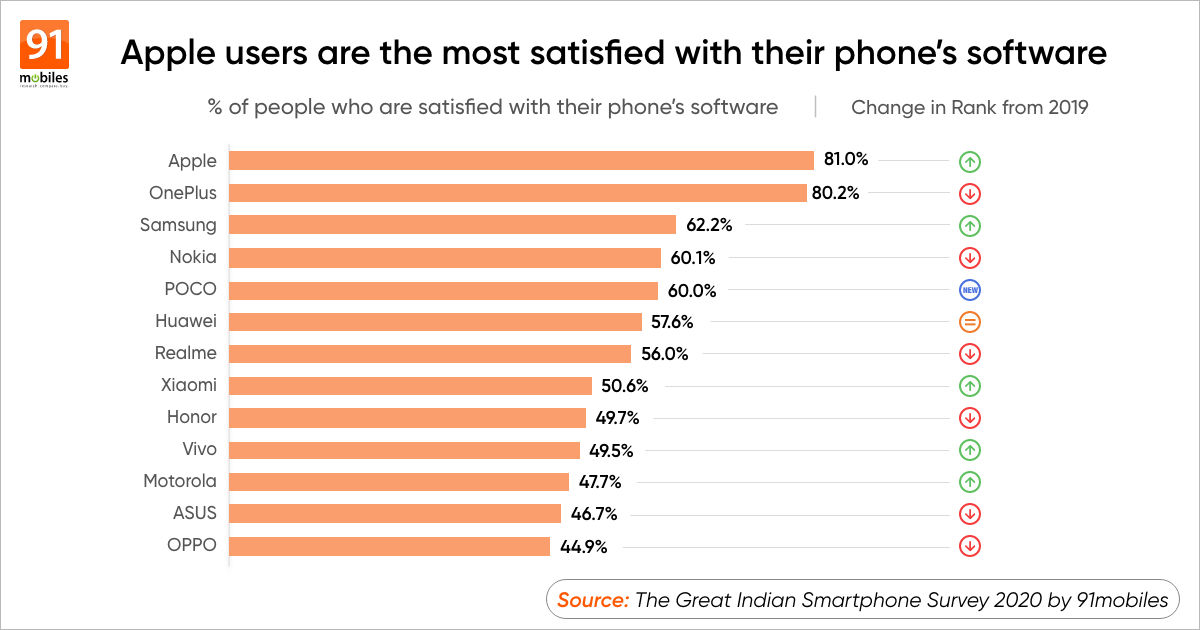 Apple also tops the list when it comes to user satisfaction (scoring 81 percent votes) related to software. This too doesn't come as a surprise, since iOS is known for its ease of use, fluidity, and platform updates. Everything put together, when it comes to overall user satisfaction, more than 70 percent Apple users have said they're satisfied with their phones.
Apple shines in service and support too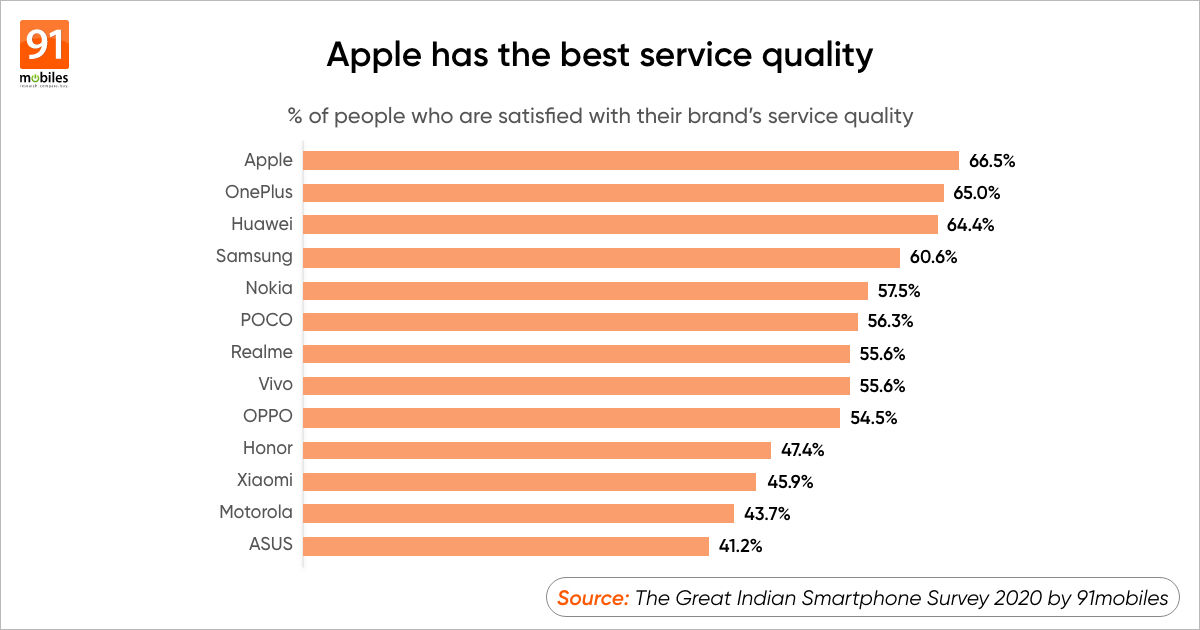 Another crucial, and often underrated aspect when it comes to long-term smartphone usage is service and support. As per numbers from the Great Indian Smartphone Survey 2020, Apple tops the charts in that aspect too, this time with 66.5 percent votes, edging out OnePlus that garnered 65 percent. Goes without saying that this number bodes well for brand Apple as well, since users do seem to have a lot of faith in the company, and trust that in case something happens to their daily driver, the issue will be resolved to their satisfaction.
The data from this survey has lots of points for Apple to be pleased about. The increasing ownership share and a loyal set of users who are extremely satisfied with their iPhones, and also rate the service quality as very high are aspects that should translate into big growth in the time to come. And there are other aspects too that seem to be working in the brand's favour. Apart from a heavier emphasis on local manufacturing, Apple has recently launched its own online store in India and started selling to consumers directly. Also, the new smartphone range that comes in the form of the iPhone 12 series offers a wider choice to prospective buyers with four models in the lineup. What's more, each of them is 5G-enabled, making the purchase future proof. Suffice it to say, we won't be surprised if we see Apple breaking new records in the country in 2021, and you can be sure we'll be around to bring you the details.