"Apple is not expected to launch an iPhone with in-display fingerprint sensor till at least 2020"
Just a few days ago, Apple was granted a patent that described a new technology that could allow the company to offer an in-display fingerprint sensor on the iPhones. Now, yet another patent from the Cupertino tech giant has appeared on the website of the United States Patent and Trademark Office. The new patent is named "fingerprint biometric sensor for generating three-dimensional fingerprint ridge data and related methods", and it was published on May 7th, 2019. The company originally filed for this patent in September 2016.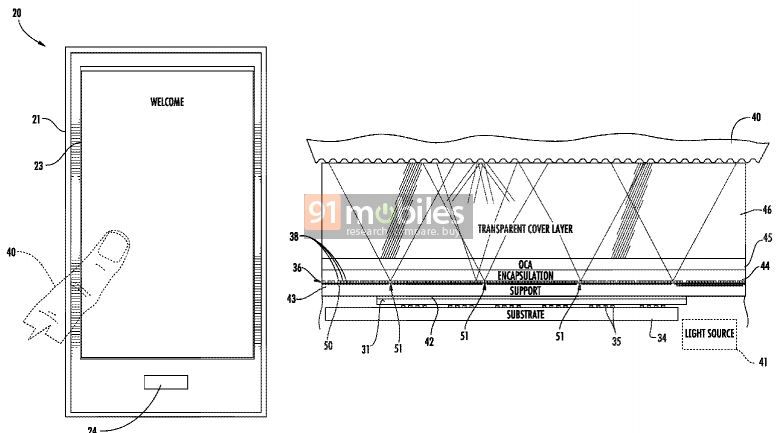 The new Apple patent indicates that the brand might be getting closer to utilise an in-display fingerprint sensor on the iPhones. This patent suggests that the company could offer an optical image sensor on the future iPhones to capture the 3D data of a fingerprint of the user. As per the patent, this type of fingerprint sensor may have a dielectric layer featuring a front surface that can receive a user's fingerprint data. There's also a source that can inject light into the user's finger to capture a 3D data of the same.
Apple in-display fingerprint sensor patent
The abstract of the patent says, "A fingerprint biometric sensor may include a dielectric layer having a front surface capable of receiving a user's finger thereon and at least one light source capable of injecting light into the user's fingerprint. The finger biometric sensor may also include image sensors adjacent a back surface of the dielectric layer defining overlapping target areas directed toward the user's finger, and a controller capable of collecting image data from the image sensors based upon diffuse scattering and specular reflections from the user's finger, and generating fingerprint ridge three-dimensional (3D) data".
Unfortunately, the patent hasn't revealed any other details regarding the fingerprint scanning technology, except that an optical sensor will be employed. The current-gen iPhones utilise Face ID sensors for user authentication. If reports are to be believed, Apple won't be offering an in-display fingerprint sensor on the iPhones at least until next year. So it's unlikely we will have the brand utilising the new biometric authentication technology any time soon.