"The new COVID-19 screening tool from Apple asks you a set of detailed questions around risk factors, recent exposure and symptoms for themselves or a loved one"
Apple has partnered with the United States Centre for Disease Control and Prevention (CDC) to introduce a new COVID-19 Screening Tool. The online test can be either accessed via the website, or by downloading the Apple COVID-19 app on the App Store via the iPhone, iPad or Mac. Alongside offering the test, the page offers users an updated feed of news about the coronavirus, and a knowhow of its most common and known symptoms. It also offers an advisory on what individuals can do to keep themselves safe, including resources on self isolation. Lastly, it also offers guidance on COVID-19 testing, around which some confusion still prevails.
The Apple COVID-19 screening tool begins with asking users of their age, followed by a set of questions that attempt to identify any possible symptom that a user may be showing. It then attempts to match the symptoms with any existing health condition that may be a causal agent to aggravate these conditions, including aspects such as existing cardiac conditions, extreme obesity and more. Followed by this, it asks users about what they know about the COVID-19 spread near the area in which they live, and subsequently, to the best of their knowledge, if they have been in contact with any individual who may have been unwell.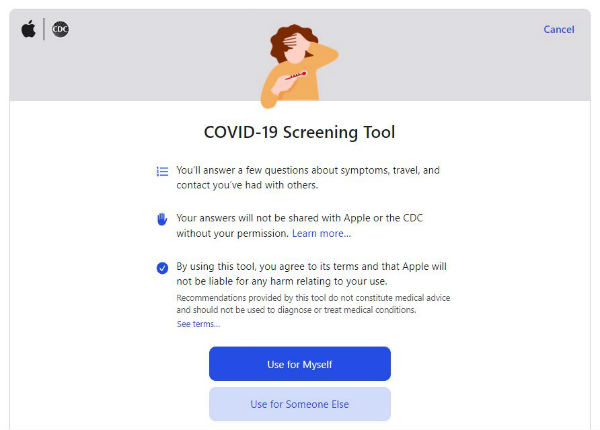 Based on a set of permutations depending on the results, Apple's COVID-19 Screening Tool suggests the next steps that users should follow. For instance, in cases where a user may be going through new or intermittent coughing symptoms, Apple shows up a recommendation to quarantine themselves at home, while closely monitoring the next 72 hours (since taking the test) for any sign of fever. It also recommends to eat healthy and consume plenty of fluids, and also certifies that at this stage, a test is not required. This is crucial, since COVID-19 tests still remain in crisis and at a premium, and should hence be offered to those in dire need first.
A statement on the site regarding privacy by Apple states, "Apple is not collecting your answers from the screening tool. To help improve the site, Apple collects some information about how you use it. The information collected will not personally identify you." With more technology firms pulling in their might in the global battle against the coronavirus pandemic, tools such as Apple's will be crucial in keeping individuals well informed, and helping them to undertake regular checks to understand when might it be the right time to consult a doctor and get tested.