"The price of the 5G iPhone will probably be rather high and Apple will be hoping for a stellar sales year to bear the steep cost of the agreement"
Qualcomm has revealed the price that Apple is paying for settling its long-drawn legal disputes outside of court. As stated during a recent earnings call, Qualcomm disclosed that it will receive anywhere between $4.5 billion to $4.7 billion from Apple as part of compensation for accepting Qualcomm's grounds of objection. The amount does not include any other aspects, such as future royalties that will come up against the iPhone maker's usage of Qualcomm's technologies in the upcoming handsets.
However, Apple will certainly hope that the steep price it is paying Qualcomm will come of good use, and the initial signs are positive. Against its settlement, Apple has managed to strike a six-year patent licensing deal with Qualcomm, with the opportunity to extend the deal in future before new negotiations are made. The licensing deal will see Apple being privy to Qualcomm's top tier technologies in the field of 5G modems, which will eventually power Apple's 5G-enabled iPhones. This, as it seems, is Apple's only way of going about its business, since Intel is out of the 5G modem business and Huawei faces suspicions of data surveillance and security backdoors in communication equipment.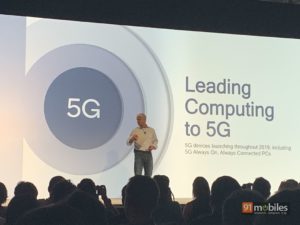 Apple is also expected to make its own 5G modem at some point of time, but that is presumably some time away. It has, however, hired Intel's ex-head of 5G development, Umashankar Thyagarajan, to develop the same, while its previous leader Ruben Caballero quit the company. Apple is also believed to have been in talks with Intel to acquire its 5G division prior to its legal settlement with Qualcomm, which could have fueled its attempt to make its own 5G modem. Right now, Apple has its own custom fabrication department that procures processing cores and customises them to bring out the best of performance from that.
It remains to be seen how Apple and Qualcomm's deal pans out in future. While Apple had initially accused Qualcomm of abusing its dominating position in the industry, the chipmaker had responded by accusing the Cupertino-based company of procuring its patented technologies and handing them over to Intel, thereby breaching intellectual and commercial property rights. While such a situation has been taken care of for now, Apple may decide to call it off and go solo at some point in future, although the first 5G iPhone is almost certain to feature a Qualcomm modem inside.