Highlights
The global smartphone market seems to have recovered from the COVID 19-induced slowdown.
Apple sold the most number of smartphones this quarter, overtaking Samsung by a wide margin.
Chinese firms like OPPO, Vivo, Realme, and Xiaomi have retained their positions in the market, with Huawei taking a nosedive.
Market research firm Counterpoint Research has posted its findings for the global smartphone market for Q4 2020 and the enture year 2020. Despite lukewarm Galaxy S20 series sales, Samsung has maintained its hegemony in the global smartphone market. However, the number of units shipped fell from 296.6 million units to 255.7 million units between CY 2019 and CY 2012. In contrast, Apple shipped 201.1 million units, which is much higher than last year's 195.6 million units. We can attribute that rise to the massive popularity of the iPhone 11 and iPhone 12 series.
Despite the lack of Google Play Store on its phones, Huawei managed to move over 187.7 million units. However, that number will only go down in subsequent quarters, given its inability to source parts from the open market. It is followed by its compatriots Xiaomi, OPPO, Vivo, Realme, and Lenovo in the list of top smartphone vendors in the world.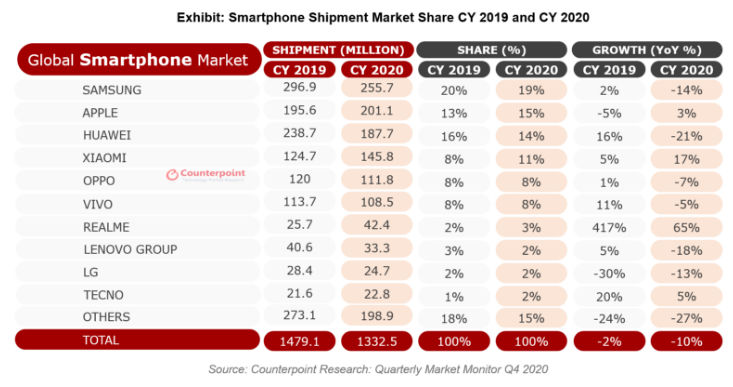 Xiaomi has cemented its position as a global smartphone giant with an impressive 14 percent increase in shipments. It shouldn't be long before Xiaomi overtakes Huawei in the global market. It could even take on the likes of Apple and Samsung in the coming years.
Despite shipping a paltry 42.4 million units globally, Realme saw the highest growth among the lot with 65 percent more smartphones sold compared to last year. Realme's meteoric rise has come at an expense at other BBK International subsidiaries OPPO and Vivo, who saw volumes dip by 7 percent and 5 percent, respectively. Lastly, LG continues on its downward spiral with just 22.8 million units sold.
Shifting the focus to just Q4 2020 paints a completely different picture. Despite the higher overall number of units shipped, Samsung takes a bow to Apple as it managed to sell 81.9 million iPhones this quarter. 5G-ready iPhones, along with the widespread expansion of 5G networks, helped Apple secure the first place. In contrast, Samsung only managed to sell 62.5 million units of its Galaxy-branded smartphones. Things are expected to get better this quarter because the Samsung Galaxy S21 series of smartphones offer significant upgrades over their predecessors.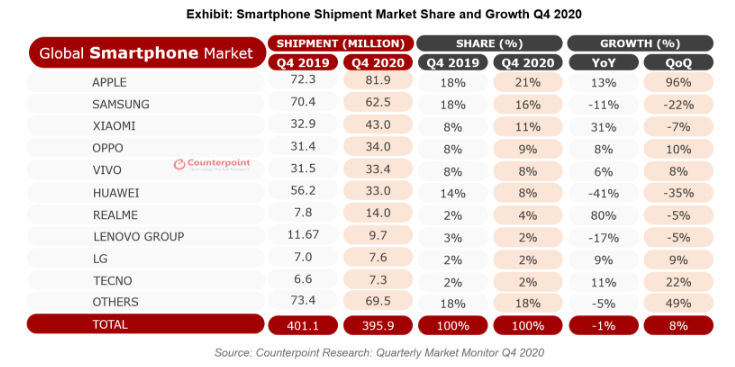 Although Xiaomi and Realme did well throughout CY 2020, their Q4 2020 results are a tad lacklustre, with 5 percent and 7 percent drop in shipments compared to last quarter respectively. As expected, Huawei saw a nosedive in the number of units shipped due to the conditions mentioned earlier. China-based
Tecno
managed to sell 7.3 million smartphones in Q4 2020. Although its products aren't very successful in India, they are very popular in African countries such as Nigeria, Kenya, and Uganda, where it leads the market.