"Apple is expected to equip the new generation Apple Watch with an OLED display panel, while offering it in two distinct case materials"
The Apple Watch is one of the products from Apple's stable that is set to see a new generation being launched at the iPhone launch event next month. Now, a new image has surfaced online, showing the purported new generation Apple Watch up close. Not much seems to be different in terms of the overall design, apart from slightly thinner bezels than before. This will keep the Apple Watch's overall design nearly stagnant ever since it was launched, which makes us wonder if Apple is delaying a shift in the overall design of the Watch for a bit too long.
The image in question has the model number A2157, which will be a new entrant in Apple's device log. Furthermore, the Apple Watch Series 5 appears to be running on the Orange France network, and also bears an IMEI number, suggesting that it will come with cellular connectivity. That, though, should not be a surprise, since the watch incorporated cellular connectivity already in its previous generations.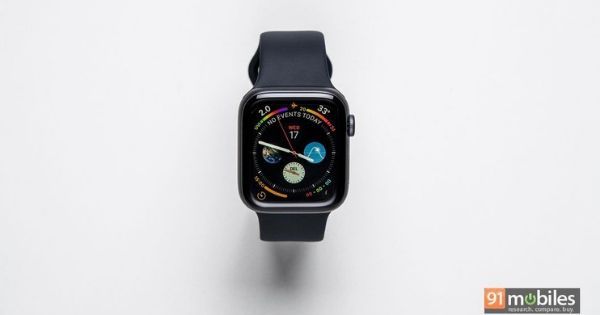 In terms of major changes, the Apple Watch Series 5 is expected to come equipped with an OLED display, which should produce deeper blacks, while improving the overall battery life of the product. The next-generation smartwatch is expected to run WatchOS 6.0, which is also expected to be launched in its stable build at the hardware event itself. This year, Apple is expected to bring a whole lineup of hardware at its event, alongside the iPhones that will understandably be centrestage. These will include new iPad and MacBook models as well, which have already been spotted in multiple leaks leading up to the launch.
Despite remaining similar in design and features, the Apple Watch has maintained its overall industry lead in terms of market share, primarily owing to seamless integration through its ecosystem, steadily increased battery life and an overall design that, while dividing opinions, still qualifies as a premium wearable. The new watch will likely attempt to improve on the premium aspect by reintroducing ceramic as one of the case materials, while also bringing in titanium cases, in order to appeal to the lifestyle category of technology as well.