Highlights
The new Apple Watch faces are discoverable through the App Store or from links through websites and social media
WatchOS 7 will remind you to wash hands when you return home

Apple watchOS 7 will be available for Watch Series 3, Watch Series 4, or Apple Watch Series 5 paired with iPhone 6s or later running iOS 14 or later
Apple watchOS 7 has debuted at the WWDC 2020 developer conference alongside iOS 14 and iPadOS 14. The company had introduced the Apple Watch Store last year, which now has over 20,000 apps. WatchOS 7 brings customisation tools and new health and fitness features. It allows users to discover and set custom watch face configurations and also share them with others. Apple has finally added a sleep tracking feature and an automatic handwashing detection mode. Apple watchOS 7 also gets a new dance workout-tracking mode, and it can recognise hip hop, Bollywood, Latin, etc. Apple Watch uses sensor fusion to detect dance movies using motion.
Faces are a central part of the Apple watchOS, and users are now getting a new way to discover and share combinations to completely configure the watch face. These can be shared through Messages or Mail. The Apple Watch faces are discoverable through the App Store or from links on websites and social media. Furthermore, developers can now offer more than one complication per app on a single watch face. The watchOS 7 also brings sleep tracking, and this will guide users to get the desired amount of sleep and create a pre-bedtime routine to meet the sleep goals. Apple watchOS 7 captures when the wearer is sleeping and the amount of sleep they get by detecting the micro-movements from the watch's accelerometer. In Sleep Mode, Apple Watch turns on Do Not Disturb and automatically darkens the screen overnight.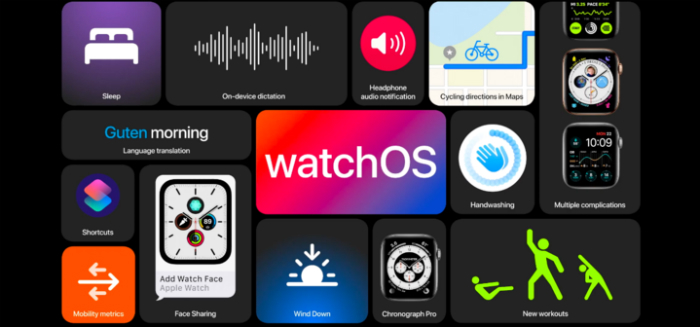 As for the handwashing feature, Apple watchOS 7 uses the motion sensors, microphone, and on-device machine learning to automatically detect handwashing motions and sounds. It automatically initiates a 20-second countdown timer, and if a user finishes early, they will be prompted to keep washing. It will also remind you to wash hands when you return home. Apple watchOS 7 brings four new workout types: Core Training, Dance, Functional Strength Training, and Cooldown. The redesigned Activity app on the iPhone is now called Fitness. It offers a streamlined view of data including daily Activity, Workouts, Awards, and Activity Trends on one tab, and Activity Sharing and Activity Competitions on another.
watchOS 7 also features cycling directions that are large and easy to read and new Mobility Metrics are available in the Health app. The watchOS 7 adds support for hearing health with headphone audio notifications. As for the availability, the developer beta of watchOS 7 will be available starting today. For the first time, a public beta will be available to watchOS users next month. watchOS 7 will be available this fall for Apple Watch Series 3, Apple Watch Series 4, or Apple Watch Series 5 paired with iPhone 6s or later running iOS 14 or later.