Swipe to type keyboards make typing faster and error-free on Android
Touchscreens on our mobile phones and tablets have completely changed the way we interact with them. It's much more intuitive to use them for typing, browsing, navigating, pinching (to zoom), and more. But, do you know that you can make your typing even faster and better by swiping across the characters instead of tapping them individually?
There are several keyboard apps available on Play Store which give you this functionality such as SwiftKey, Swype, and SlideIT. Even Google's stock keyboard for Android Operating System has this capability integrated into several devices. Google has also made the Keyboard app available on Play Store, although it is not available to download through Play Store in India yet. In our experience and usage, we have found paid apps are a lot better simply because of the advanced level functionality and features they offer.
Swipe it to Write it!
As mentioned earlier, the Swipe to type functionality allows one to harness the touchscreen's capability by swiping on the keyboard to form a word as opposed to entering it by tapping on the touchscreen. Let's say you want to type 'Hello', you can do that in a jiffy by moving your fingers on the characters 'h', 'e', 'l', 'l' and 'o'. The app also tries to predict the word(s) you are typing, so if it is suggesting the word correctly, you can select that instead of typing it out. Swipe input based apps help you to automatically add spaces and periods whenever needed.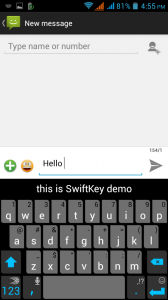 What's more interesting and useful is that the apps like Swiftkey also let users swipe whole sentences without even taking the finger off the screen. This can be done by starting swiping for the first word and then swiping to spacebar and subsequently typing other words.
Personalized Dictionary
As we stated in the first point, these apps try to predict the word users are intending to type. A great feature is that such apps lets user add multiple dictionaries which include more than 60 languages. More importantly, aimed at Indian users, these apps also comes with 'Hinglish' dictionary (Combination of Hindi and English words).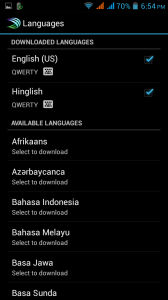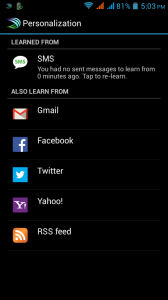 These apps also learns users' typing habits by connecting to services like SMS, Gmail, Facebook, and Twitter. This way, these apps learn what a user usually types. However, this does not inflict on their privacy and if users are not comfortable with this option, then they can disable it.
Custom Layouts
Smartphones and Tablets, along with newly created category of phablets, comes in different sizes. Therefore we have devices ranging from a display size of 3 inches all the way up to 10 inches. So, it does not really make any sense to have a fixed size keyboard with just blown up keys for larger screens. Moreover, it becomes difficult to type on such keyboard comfortably in large devices. But, the swipe to type apps allow users to have a custom layout basis of screen size for better comfort and utility.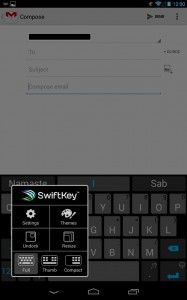 Users can choose from different layouts: Full, Thumb or Compact. Full keyboard as the name suggest will open keyboard in full size, whereas the Thumb mode is useful on tablets, and allows users to type on a large screen using both thumbs. Compact layout can prove useful for supersized phones, where typing with one hand is a problem. In this layout, the keyboard can be moved to the right or the left, depending on the user's preference.
The keyboard can also be personalized by choosing a color theme. In addition, the keyboard can be undocked from its position and can be placed anywhere on the screen.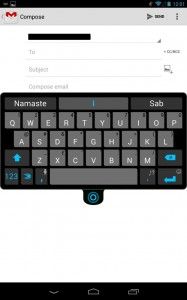 Multiple Devices with Cloud Connect
If you own several Android devices, you would know the pain of treating them as totally separate disconnected devices when it comes to typing. Would not it be better if all of them know your typing habits including user dictionary as it would remain the same, no matter what the device is. That's exactly one of the key features of SwiftKey which syncs all the typing data online, so that your typing experience remains similar across all devices.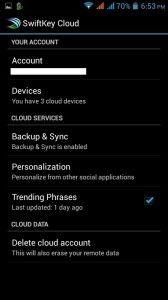 Another point to note that is even if your device is lost, since all your data is synced on cloud, you will get the same experience on new device as well.
Conclusion
If you type a lot on your smartphone or tablets, then an app like
SwiftKey
, or
Swype
is definitely worth the investment. It not only makes typing faster, but error-free, as well. If you are still not sure if such an app is needed or not, then you can also try them for free as most of these apps come with a trial period of 30 days. This should be enough to give a fair idea about their usability and whether they are beneficial or not. However, if you do not want to pay for an app, then Google Keyboard is an excellent alternative. Its feature set is not as extensive as these apps, but it does offer the intuitive swiping to type capability. As it is not available in India yet, you can download its
apk from here
.