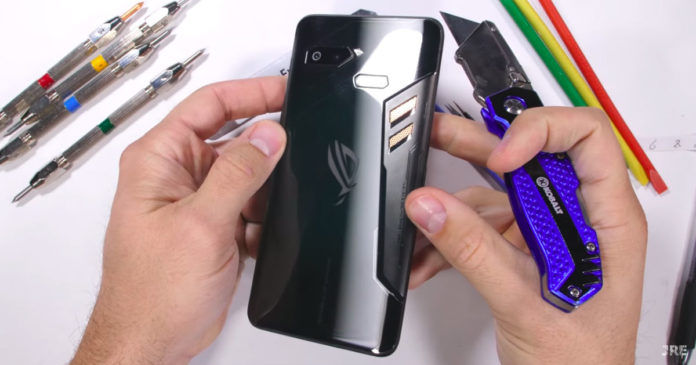 "From the looks of it, the ASUS ROG Phone is not just a pretty good smartphone, but is also a rather durable one in overall terms."
ASUS has had a specialised gaming lineup, the Republic of Gamers, for quite some time in the market. While the Taiwanese company has always done relatively well in terms of its PC components, laptops and peripherals, its smartphone business has been a bit of a roller coaster ride. There were questions galore when the company first launched its gaming-oriented ROG Phone, particularly since most of these hyperbolic gadgets often turn out to be a cosmetic overhaul of otherwise usual, everyday technologies. The ROG Phone, however, took it a step ahead, by actually making a competent smartphone that somewhat tries to justify its tag of being a gaming-first device.
Now, in JerryRigEverything's latest video, the ASUS ROG Phone (review) has picked up yet another cause for gaining respect. Faced with the now-infamous razor, lighter and the evergreen bend test, the ASUS ROG Phone actually came out from the test relatively unscathed. That is to say, while it did pick up the expected tarnishes on its metal edges, and the aesthetic copper finish did peel off the speaker grilles after much force, there was very little significant damage to the phone.
Perhaps the least impressive bit about the ASUS ROG phone is its separate cooling accessory, which connects to the dual-USB C port on the right hand side of the device. It is made of plastic, is not really much of a heatsink, and as Jerry states, is actually "more of a fancy USB fan". It is this that got very easily scratched and torn open, and ASUS' claim of it being capable of reducing the exterior temperature by 4.7 degrees Celsius now seems rather doubtful.
The highlight of the test, however, is how the rear glass and the Corning Gorilla Glass 5 protection remained largely impervious to the razor's blade. In the lighter test, while the AMOLED display did end up with a white burn spot at the centre, it did not stop working minus the dead pixels where the lighter was held. In the bend test, while the ROG Phone did emanate a few deadly popping and cracking noises, there were no fatal damages that it sustained, and at the end of it all, the ASUS ROG Phone still remained a working device.
Hence, if you happen to be looking for a flagship phone, do not mind spending a hefty amount and durability is your absolute priority, it is safe to conclude that the ASUS ROG Phone will not disappoint you as long as you don't try to burn it down.