"ASUS has launched a refreshed range of the TUF Series, with FX505 and FX705 laptops"
ASUS today officially launched its new range of gaming laptops under the TUF series, along with a TUF Desktop. Named the FX505 and FX705, the laptops are sized 15.6-inch and 17.3-inch respectively and have been priced affordably. ASUS had sent out invites for the launch event a few days back. We placed our bets on which laptops were going to be launched and as we claimed, the company launched the FX505 AND FX705 at today's event.
Talking about the TUF Gaming laptops, the FX505 and the FX705 are powered from upto Intel Core i7-8750H processors and the graphic on the laptops uses NVIDIA GeForce GTX 1060. Users are sure to get an immersive experience, owing to the fact that the FX505 and the FX705 feature ultra-slim 6.5mm and 7.8mm NanoEdge displays respectively, with upto 144Hz high-refresh rate, assuring impressive gaming visuals.
The laptops have passed MIL-810G military grade tests and feature gamers' beloved RGB keyboard which comes with WASD key cap design for intuitive controls. The keyboard also features a keycap curve of 0.25mm and OverStroke technology which ensures precise and effortless control; it can also stand over 20 million presses. Both laptops offer 7.1-channel virtual surround sound, providing users with profound and immersive audio experience.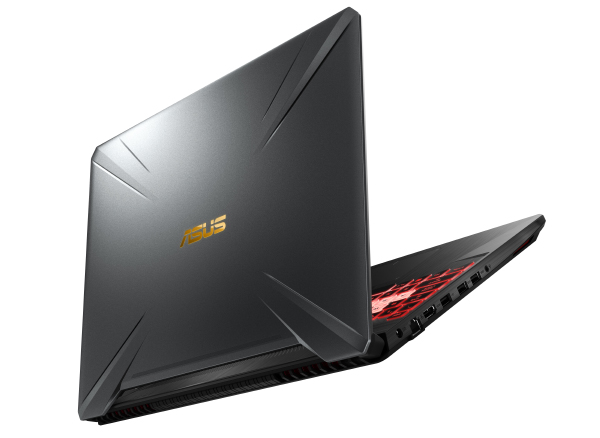 The FX505 and FX705 can withstand intense gaming sessions, as they feature Anti-Dust Cooling (ADC) system, Fan OverBoost technology, and dual-fan cooling CPU and GPU from both sides. Speaking about the laptops, Arnold Su, ROG & PC Head, Asus India, said, "As one of the most trusted global tech brands, ASUS has constantly endeavored to empower its customers with innovative products which operate at the intersection of power and affordability. The launch of the latest TUF Gaming laptops is testimony to this vision. Both FX505 and FX705 have been designed to deliver unmatched performance, durability, and style, and are perfect for gamers who prefer an immersive gaming experience. We are confident that our latest offerings will meet and exceed the expectations of the Indian gaming community, and will receive heartening market reception."

Talking about the TUF Desktop, the FX10CP comes with GTX 1060 NVIDIA GPU and i7-8700 Intel processor. The desktop features isolated air chambers, because of which the thermal design is well integrated in the design structure. Other features of the desktop include, up to 32GB RAM with 1TB primary storage and 128GB secondary storage.
The FX505 is available at a starting price of Rs 79,990, whereas the larger FX705 starts at Rs 1,24,990. Both laptops are available across all offline and online channels. The TUF Desktop FX10CP is priced at Rs 91,990 and is available at offline stores across India.