Online shopping through major e-commerce sites like Amazon and Flipkart is usually a great experience since there are so many different products to compare and choose from, and there are even so many difference payment methods you can take advantage of. However, one thing that ends up bothering many is the safety aspect of using credit cards online. News about credit card fraud reaches us almost on a daily basis, with newer methods are regularly being developed by hackers to steal our financial details. Sure, you can use your debit card or better yet, choose the 'cash on delivery' option, but what about when you don't have enough money and still need the product on EMIs? It's exactly for such situations that ZestMoney exists.
The utility of this service is extremely simple – shop now and pay in EMIs without using a credit card. Not even your debit card details are needed in order to take advantage of the ZestMoney. You can use this option instead of your credit card for buying new smartphones, booking flight tickets, making hotel reservations, and so much more. There's no credit score to worry about as well – there's a simple registration process, after which you're good to go with whatever it is you wish to buy.
How to register for ZestMoney
You first need to head to the service's official site, and sign up. Once you've done that, you need to start the process of linking your bank account with ZestMoney. This step involves uploading your KYC documents, including copies of your PAN and Aadhaar cards, on the service's official website. You will also need to upload your bank statement for the last 3 months. This helps the service determine what your credit limit will be. After these steps are completed successfully, your account will get linked to ZestMoney for the monthly retrieval of the EMI amounts. You will also find out your credit limit, which you will be able to use to make that long due online purchase on EMIs, without using your credit card.
How to purchase on EMI with ZestMoney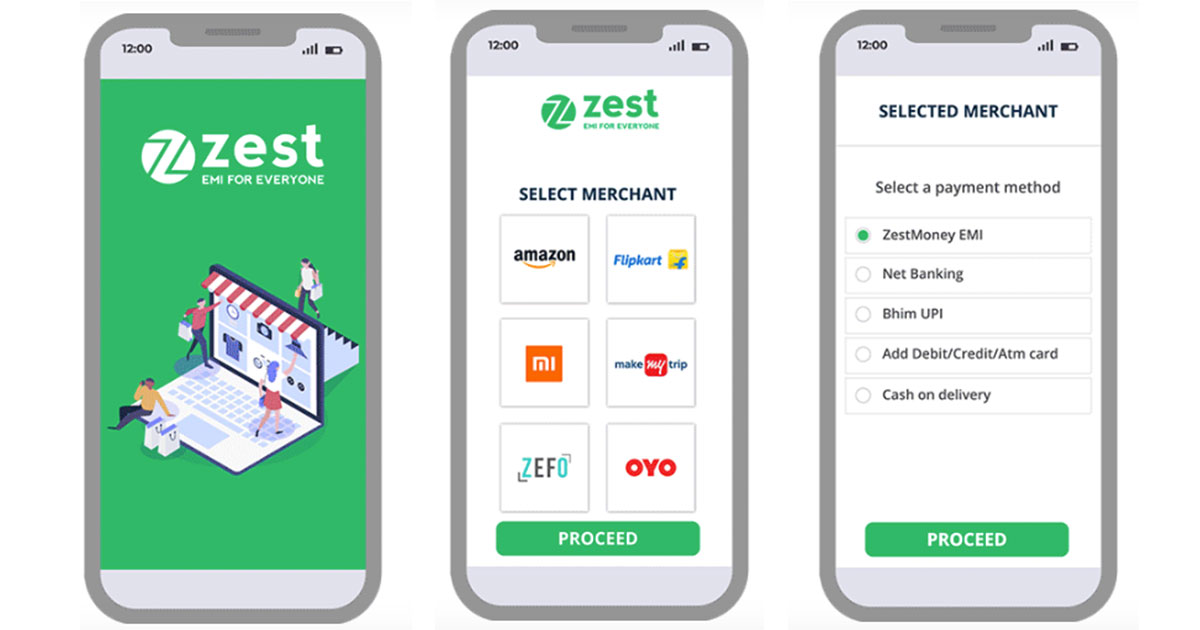 Your newly made ZestMoney account can be used in two ways. The first method is a direct one. You can head to the listing of the product you wish to purchase on platforms like Amazon, Flipkart, Paytm, Mi.com, Tata Cliq, etc and hit the buy button. Among the payment options available there will be the option to buy the product on EMIs. Under this EMI menu is the option to pay using ZestMoney. Clicking on it will let you use your ZestMoney sign-in credentials and then choose the duration of your EMIs before making the purchase.
As for the second option, it is also a fairly simple one and is meant for when the ZestMoney option is not available in the EMI menu. Its basic concept is that the service will generate a gift card for you, which you can then redeem on platforms such as Amazon, Flipkart, etc and pay back the amount in EMIs. For this, you will need to head to the ZestMoney website first. There, you will be asked to enter the cost of the product you wish to buy and which website it is listed on. This will be followed by a menu showing the various durations you can pick up the loan for, along with the applicable interest charges. Once you've chosen that, the gift card will be generated, and you can now head to the desired e-commerce website and redeem it to make the purchase.
Something to note is that the credit limit that's given to you at the start cannot be more than Rs 50,000. But that shouldn't stop you from buying something that's pricier than that since you can use the second method mentioned above to get a gift card worth Rs 50,000, and pay the remaining amount using another payment method, preferably 'cash on delivery'. As an example, suppose you wish to buy for yourself the new Samsung Galaxy S20, but you don't want to spend the entire sum of Rs 66,999 at the moment. You, hence, decide to use the EMI option to make the purchase, but that would require you to use your credit card. You can head over to the ZestMoney website and apply for an Amazon or Flipkart gift card of Rs 50,000. Choosing to pay back this amount in 3 months will entail zero percent interest, so you will be needed to make 3 payments of Rs 17,422. Now this amount actually comes up to Rs 52,266, but the extra cash will be delivered by the company to your ZestMoney account as cashback every month.
Choosing a 6-month period will require six payments of Rs 9,090 each, while choosing the 9-month plan will cost Rs 6,486 each. The 12-month plan on the other hand, will ask for twelve payments of Rs 4,943 each. You can make this choice according to your financial planning, and get the Rs 50,000 gift card delivered to you. You can then redeem it on Amazon or Flipkart and pay the rest of the amount on a 'cash on delivery' basis. That's how, you'll be able to get a swanky new Samsung Galaxy S20 on EMI without using your credit card.