Highlights
59 China-based apps, including TikTok and ShareIt, have been banned in India
TikTok alternatives include Miron, Chingari, and Roposo
WhatsApp is a great alternative to WeChat and other video calling apps
On Monday, the government of India decided to ban 59 China-based apps as they were deemed "prejudicial to the sovereignty and integrity of India, defense of India, the security of the state, and public order." The list of banned apps in India included the highly popular social platform TikTok, web browsers like UC Browser, and file sharing apps like ShareIt, among others. A few of these apps have already been pulled from Google Play Store for Android and App Store for iPhones in the country. Those who have already downloaded the banned apps will likely be unable to use them once internet service providers block access.
With some popular apps with several million users now being banned in India, we take a look at some alternative apps you can try out instead.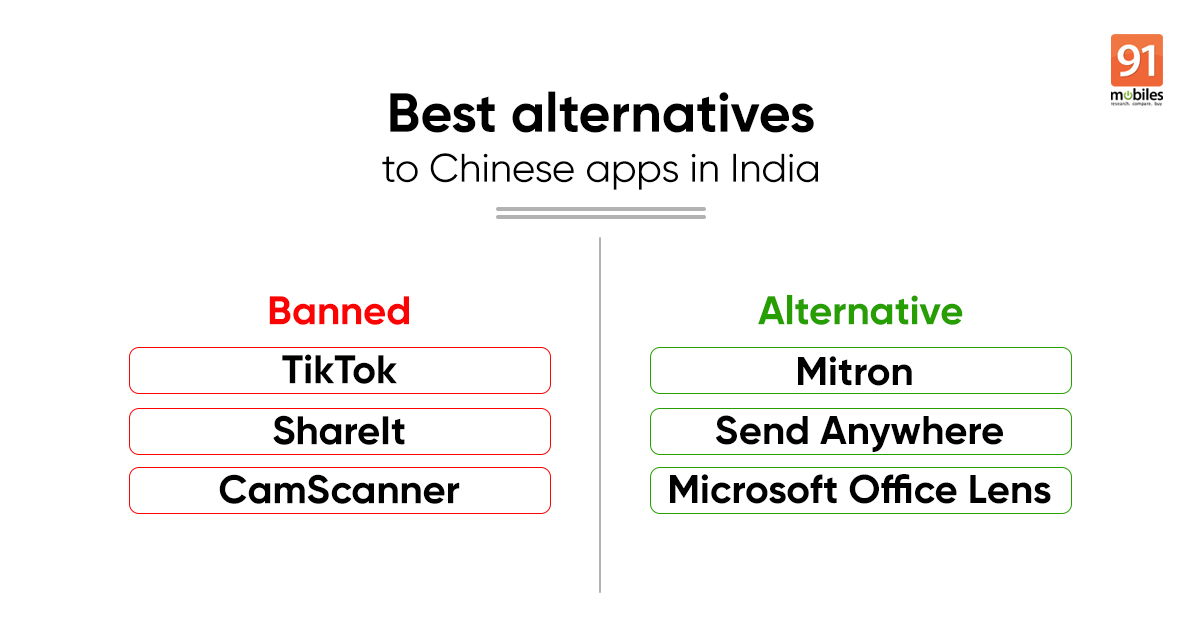 Alternatives to TikTok, Likee, Helo, Vigo Video
The ban on TikTok in India would have come as a major blow for millions of users and content creators. However, there are a few alternatives to TikTok, Likee, Helo, Vigo Video, and Weibo that you can check to fill the void. Apps like Roposo, Mitron, and Chingari have been in the news over the past several weeks and are being seen as Indian alternatives to TikTok. Mitron, in fact, was removed from the Google Play Store for being almost identical to TikTok in terms of its UI. These apps have already garnered millions of users in India. If none of these apps are useful, there is always Instagram, where many popular TikTok creators already share their videos.
Alternatives to ShareIt, Xender
ShareIt has been a popular cross-platform file sharing app, allowing users to effortlessly send files, apps, video, and music across devices. Some alternatives to ShareIt, Xender, and other banned file sharing apps include Send Anywhere, which lets you share files across platforms. If you want to share files, videos, and photos between iOS, macOS, and iPadOS devices, there's nothing better than AirDrop. Android users can use the Files app by Google to transfer files without using data.
Alternatives to CamScanner
CamScanner was a widely used app in India, allowing people to easily scan a document and send it via mail or message. The free version of CamScanner showed ads and would include a watermark on scanned documents. Luckily, there are some trusted alternatives like Microsoft Office Lens and Adobe Scan.
Alternatives to Clean Master, Virus Cleaner, Cache Cleaner
Android phone cleaning apps like Clean Master have been used to remove junk files and improve the device's memory performance. Some also try to remove viruses from the phone. However, Google has improved the security of Play Store over the years and Android phones these days offer great performance across price segments, so you don't need to have these cleaning apps. However, if you really need a phone cleaning app, you have alternatives like Phone Master and AVG Cleaner on Google Play Store.
Alternatives to UC Browser, DU Browser, APUS Browser, CM Browser
UC Browser, DU Browser, APUS Browser, and CM Browser are among the web browsers that have been banned in India. There are plenty of good alternative web browsers available to use such as Google Chrome (which comes preloaded on Android phones), Safari (for Apple devices, comes preloaded), Firefox, and Opera Mini, among others.
Alternatives to Mi Video Call, WeChat, etc
WeChat is a widely used chat service in China and has seen millions of users in India as well. Mi Video call, on the other hand, is Xiaomi's own video and chat service that is typically used among Xiaomi phone users. The most obvious alternative to these apps is WhatsApp, which is the biggest messaging service around. Telegram is another excellent and safe messaging platform. For video calling, you can use WhatsApp as well or check out dedicated services like Zoom or Skype.
Alternatives to other banned Chinese apps
There are a bunch of other apps that have been banned as well, but you can find alternatives for most of them. Baidu Maps, for example, can be replaced with Google Maps. NewsDog and QQ Newsfeed can be replaced with Google News and Flipboard. Selfie City, Wonder Camera, Photo Wonder, Sweet Selfies, YouCamm, and other third-party camera apps can be replaced by Instagram, which also allows you to tweak your selfies with filters and more.