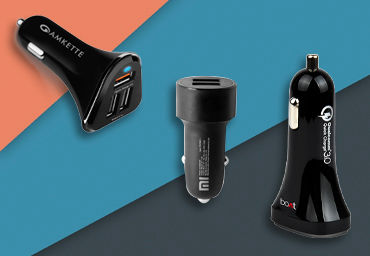 If you drive around a lot and carrying a power bank does not sound like the best idea, then getting a car charger should be on top of your shopping list. These fit onto the consoles of your car and use the car's battery to support charging. The chargers come with dual USB ports, letting you charge multiple devices at the same time. Most chargers give you Quick Charge 3.0 support and can be used to charge any USB-centric device. Here are some of the best car chargers you can get for under Rs 1,000.
1. Amkette Power Pro 3
Premium
The Power Pro 3 supports Quick Charge 3.0 technology with compatible devices. It features advanced chipset protection against overheating, overcharge, and short circuit. The charger has three USB ports, offering charging speed up to 33W in terms of output. The overall shape and design of the Power Pro 3 make it ideal to fit on dashboard of any car model. And the charging ports make sure you can charge all kind of devices with this charger. The build quality of the charger features robust and high-quality materials that makes sure it won't break quickly.
2. Mi Car charger
User recommended
This car charger from Xiaomi gives you charging speeds of up to 18W for compatible devices. It supports Qualcomm Quick Charge 3.0 technology that allows you to charge a wide range of devices at faster speeds. It features a stylish blue LED ring that makes it easier to spot USB ports in the night. The charger comes with four layers of protection to prevent overcurrent, short circuit, overvoltage, and high temperature. The compact design of the charger makes it lightweight, which helps it fit easily into most car consoles. You can charge multiple devices simultaneously using the dual USB ports.
3. PTron Bullet
This car charger from PTron has three USB ports offers 3.1A charging speed on all of them for quick charging. The best part is, you can use all the three ports to charge devices at the same time. You can connect to car unit and do not have to worry about power surge damaging the device. It also offers protection against overvoltage, high temperature and short circuit. But the durability does not compromise on its portability. The compact design easily fits into any car console.
4. Dyazo Carbon Fibre Print
This charger features a compact design that is essential for any unit that fits in your car's dashboard. It has smart control chip that ensures no phone or device is charged beyond its optimum speed. The same chip protects the charging device from short circuit, overvoltage and overcurrent as well. This unit has two charging USB ports that offer 2.4 Amp charging speed. The carbon fibre finishing gives it a premium look inside the car and catches your eye.
5. Systene Dual Port
Also consider
Systene car charger offers charging speed four times faster than regular ones you get in the market. It has dual USB output ports for charging multiple devices at the same time. The brand has smartly added an LED indicator that tells you the current charging voltage of the charger. It features an LED light covering the circumference of the charger that adds extra appeal and makes it look good inside the car. Besides all the design aesthetics, this charger protects devices against overcurrent, overheating and more importantly avoid overcharging.
Other options to consider
JOYSEUS
SpinBot ChargeUp 3
Premium
Anker PowerDrive
Best in class
Nokia Essential Car Charger
Budget pick
Portronics Car Power 2T POR-663
Value for money
AmazonBasics Dual USB car charger
Best value
boAt Dual Port Rapid
Popular