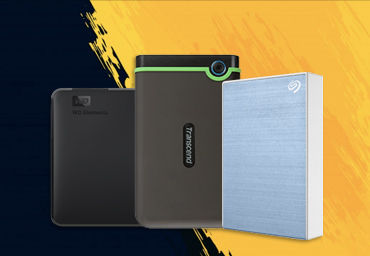 An external hard drive can be a great investment for users who don't have enough storage space on their computers. These portable drives are compact and easy to carry, which allows users to keep all of their files with them at all times. All of the hard drives listed below offer up to 1.5 terabytes of storage, which is enough for most customers. If you're looking to buy an external hard drive that costs less than Rs 5,000, we have listed some of the best ones available on Amazon India right now. Check them out below and pick yours.
Best external hard drives under Rs 5000
1. Western Digital Elements 1.5 TB
Popular
The Western Digital Elements is one of the few external hard drives available online that offer 1.5TB of storage capacity under Rs 5,000. This is a popular HDD that has received plenty of positive reviews on Amazon. It offers high speed data transfer with support for USB 3.0, and comes pre-formatted for Windows. Of course, it can also be used with MacOS, and is a great external drive at this price point.
2. Transcend StoreJet 1TB
Best in class
The Transcend StoreJet is the most expensive hard drive on this list, but makes up with the features on offer. This compact drive offers 1 terabyte of storage capacity while supporting USB 3.1 Gen 1 SuperSpeed standard. If you are someone who is known to accidentally drop things, then this hard drive is for you as it comes with military-grade shock resistance. It gets a durable rubber outer case, an internal hard drive suspension system, and also offers 256-bit AES hardware encryption.
3. Seagate Backup Plus Ultra Touch
The Seagate Backup Plus Ultra Touch works with systems running on Mac OS and Windows platform. You get storage support up to 1TB with plug and play support provided via the USB 3.0 interface. It features woven textile finishing that comes in black and white colour options. It offers password-protection for data on the drive with 256-bit AES encryption. The drive offers maximum transfer speeds of up to 120 Mbps. Seagate is a reliable brand in the storage market and with the Backup Plus Ultra Touch, you can be rest assured about performance and effective storage solution.
4. ADATA HD710M Pro 1 TB
Feature packed
This drive stands out with the waterproof cover that gives it extra durability. It comes equipped with shock sensors that allow you to detect any major vibration while transferring data. It features three-layers of anti-shock technology that gives it military-grade durability. What this means is, the drive can withstand drop from up to 1.5 meter height and still remain functional. In addition to this, you can submerge the drive for an hour and with the built-in IPX8 rated protection, the drive will work normally. You can transfer data using the built-in USB 3.0 interface at fast speed.
5. Toshiba Canvio Advance 1TB
Value for money
The Canvio Advance external hard drive from Toshiba offers 1TB space to store data and files. This drive is USB 3.0 compatible and delivers fast read and write speeds. It works with most operating systems that includes Windows, Mac OS, and Linux. The drive features glossy piano finish and gets a single LED indicator when it gets connected to a system. In terms of device compatibility, the drive will also work with consoles like the Xbox One and Sony PlayStation 4. And security features include auto-backup software and password protection tools.
Also consider these external hard drives
Lenovo
A-DATA HD-650
Also consider
Western Digital My Passport
Toshiba Canvio Basics
ADATA HV620S
Feature packed
Seagate Backup Plus Slim