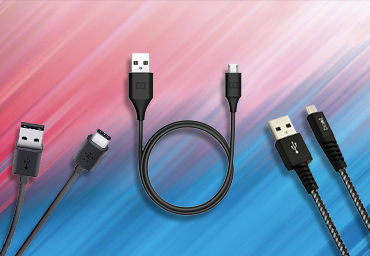 Although most modern smartphones come with a USB Type-C connector, there are plenty of mid-range and budget devices that still feature a microUSB port. Other gadgets such as tablets, power banks, wireless headphones might also require a microUSB cable for charging and data transfer. If you're on the lookout for a good quality microUSB cable that will last long, then we've got some great options for you. Below, we list some of the best microUSB cables that are currently available on Amazon India for under Rs 500.
Best microUSB cables on Amazon India
1. Mi Micro USB Cable
Popular
The Mi Micro USB cable is a popular product and has received thousands of positive reviews. It is 120 cms in length, which is long enough for most users, and offers data transfer speeds of up to 480Mbps. This is an excellent choice for Xiaomi smartphone users, but will also work perfectly fine with other gadgets that feature a microUSB port. The cable also supports 2A fast charging, which will be able to fast charge compatible devices.
2. Ambrane Unbreakable 3A Micro USB Cable
Most popular
If you're looking for an extra durable microUSB cable, then you should consider the Ambrane Unbreakable 3A cable. This one has a braided cable, rugged interior bindings, and strong rubber ends. You will not be able to easily break this one anytime soon. For the price, this is both a budget pick and total value for money. The cable also offers 3A fast charging support, 480 Mbps data transfer speeds, and has an ideal length of 1.5 meters.
3. BlueRigger
This microUSB cable gets a slim fit and flexible design that makes it durable to rough usage. This standard cable can be used to charge Android phones, digital camera and MP3 players. The USB connector features metal moulded finishing that helps it last for years. The gold-plated connectors ensure the cable does not corrode easily. But importantly, these offer reliable signal for data or power transfer without interfering during the process.
4. Belkin USB-A to Micro USB
The Original microUSB cable offers fast charging and data transfer speed for devices. In addition to this, you can use this cable along with Quick Charge compatible adapters to get fast charging speeds. It features vulcanised rubber connectors with hybrid PVC cable that can handle 4000+ bends with ease. The overall build quality of this cable is made to last you for long time. You can smartly manage the tangling of the cable with the rubber tie that is wrapped around the cable at the top. The cable is compatible with all microUSB-supported devices that includes smartphones, tablets, digital camera and more.
5. AmazonBasics Micro USB
And finally, you have the microUSB cable for AmazonBasics. This can be used to charge Android phones, tablet or to connect hard drives or printer. You can also transfer data, for which the cable offers speed up to 480 Mbps. The gold-plated connectors resist corrosion, giving you long life and improved power transmission. The smaller connector is capable of fitting in tight spaces of devices. The length of the cable allows you to connect it from a distance, offering mobility even while the device is charging.
Other micro USB cables to consider
AT&T
Portronics
Dyazo
Mivi Micro USB 6 Feet Cable
User recommended
WeCool
Amkette Original
Best in class
URBN Micro USB Charging Cable