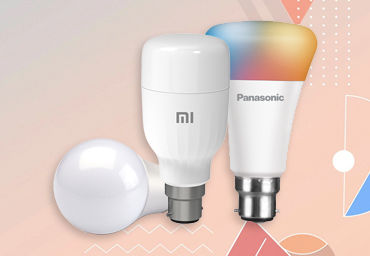 With the internet becoming affordable in the country, many people are opening to the smart home ecosystem. And a crucial part of that setup are smart bulbs that work through your local Wi-Fi network. The best thing about these bulbs is that you can control them through voice and mobile app on your smartphone. You can switch colours and even set alarm through them. So, if you want to get one of these, you will have to spend more than what you do for a regular bulb. Here are the top smart bulbs you can get in the market.
1. Panasonic WiFi Enabled Smart LED
This smart LED bulb connects to your local Wi-Fi network to offer its smart capabilities. Once connected, you can pair it using the mobile app to control its colour temperature, luminosity level and more. The bulb features standard B22 socket that fits into Indian light holders. You can also give voice commands to the bulb using Amazon Alexa assistant through the mobile app. The bulb can also be set to schedule a particular activity or event, based on your requirement. The bulb consumes 9W of power and its LED nature means you get long shelf life. To use the bulb, you can pair the app through Android or iOS phone.
2. SYSKA Wi-Fi Enabled Smart
Value for money
Next on the list is the smart bulb from Syska. This bulb works with any standard Wi-Fi router available in the market. You do not need a separate hub for the bulb to work. Just connect it to your local Wi-Fi network. The bulb consumes 9W of power and comes with a lifespan of up to 25,000 hours. You can control the bulb using a voice assistant like Alexa and Google Assistant from your paired Android or iOS phone. The use of standard B22 plug means it will work on Indian sockets and bulb holders. Because of its smart capabilities, the bulb also doubles up as an alarm or scheduler, giving alerts as per the set time.
3. MI LED Smart Color
Best in class
Then you also have the Mi smart colour bulb from Xiaomi worth considering. This bulb works through the Mi Home mobile app that can be downloaded on Android or iOS phone. It offers 105 lumens of power that allows the bulb to last for well over 10 years or 25,000 hours. You can adjust its brightness, colour temperature from the Mi Home app and it also gets power on/off feature. Voice command support is available through Alexa and Google Assistant. The unique part about the Mi bulb is that you can pair it with other Mi smart lights and create a group setting in your room.
4. Helea 9W Wi-Fi Smart
Also consider
This colour smart bulb works through voice control, provided by Alexa or Google Assistant. The paired app offers compatibility with Android and iOS phone. The bulb offers white and other bright colour options that can be set based on the requirement. It features standard B22 plug that does not require additional holder to work. Connect the bulb to Wi-Fi network and you will be able to control the intensity of the light, set schedule or timers also. The paired phone allows you to control the bulb from anywhere inside the house.
5. Wipro WiFi Enabled Smart
And finally, you have Wipro chipping in with its own smart LED bulb in the market. The features are similar to what you get with other smart bulbs. It offers RGB light colours and you can control the brightness level once the bulb is connected to Wi-Fi in the house. It also can set schedule, for which you get alarm feature. You can control it using voice command through Alexa or Google Assistant running on your phone. And just like the Mi bulb, you can have multiple bulbs in the room, pair them using the Wipro Next smart app and you create light settings together for all of them.
Other options to consider
Philips Smart Wi-Fi LED
Solimo Wi-Fi Smart Light
Budget pick
EcoEarth Neo Smart
Feature packed
Havells Glamax
Also consider
HomeMate® WiFi Smart LED Bulb
Hoteon Smart LED Light Bulb